Who Is the New Narrator in 'Narcos: Mexico' Season 3 and Why Did They Change the Actor?
Narcos: Mexico fans might notice one significant change to the show they know and love in Season 3: the narrator has changed.
Scoot McNairy, who portrays DEA Agent Walt Breslin, has narrated the show since its first season, recounting the history of the Mexican drug trade even when his character wasn't playing a major part in the story itself.
But in Season 3 that's all changed, because McNairy has stood aside for newcomer Luisa Rubino to provide commentary on the season as her character, journalist Andrea Nuñez.
McNairy and Rubino spoke to Newsweek about why it "didn't make sense" for Breslin to narrate Season 3, and explained why Nuñez was the perfect replacement for him.
Why was the narrator changed in Narcos: Mexico Season 3?
"I was so mad that I told them I may not do the show," McNairy joked when asked about the change. "No, one thing I love about Narcos and this franchise is the way they mix things up and change things and bring characters back and forth and jump around with different timelines.
"I thought, what a better way to narrate this season from the perspective of a journalist who can, I guess, give more information through that narration as well?"
Of being asked to do the narration, Rubino said: "It was amazing because Carlo, the producer Carlo Bernard, came up with the big news that I was going to be the narrator of the story and he was super excited because it was a fresh new start for the narration and Narcos.
"And he was very excited about my voice, and I was excited as well because it was like 'hey!' It was my first time narrating something so, yea, I think I did a good job and I'm super proud of myself, and super grateful for the opportunity."
How difficult was it for Luisa Rubino to replace Scoot McNairy, and what did he think of her performance?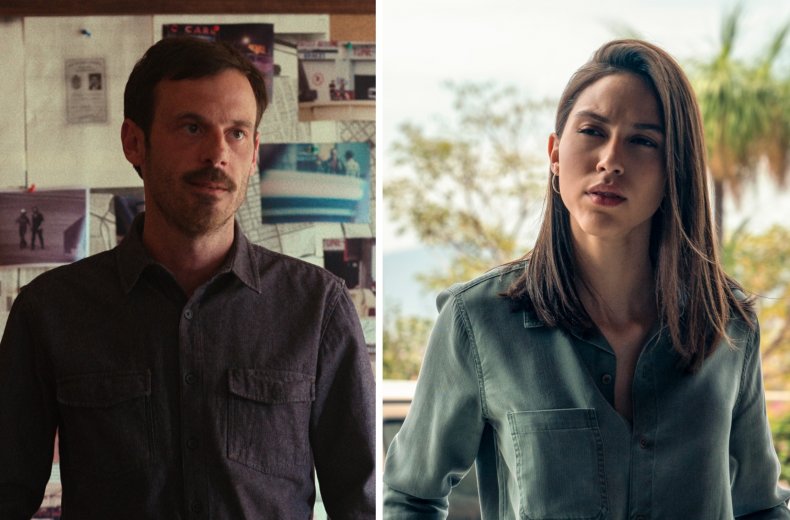 Rubino described how much work went into narrating the third season, saying for some episodes she'd have to spend two days recording lines.
She explained: "Well that was a whole different world, I had to have a lot of preparation because of course I do speak English and I'm getting better at my accent, blah, blah, blah.
"But, still, it's super hard to find the way to make the audience be entertained while looking at pictures from history and stuff.
"So, I had to build the narrations with my coach who's in Los Angeles and we were [working] via zoom. And, yea, it was great.
"It took a lot of time, and a lot of work, and a lot of practice, and lots of hours in the studio for ADR, you know, five, six hours per episode and if they were super long we would take two days."
Commenting on her performance, McNairy added: "I thought she did an incredible job, I've been in there, I've been in the booth, and it's very meticulous these narrations and it's tough, and I was just really impressed and happy that she did such a great job with it.
"And, having listened to the voice over, I don't know that it would have made sense for Walt to sort of narrate this season, or wrap it up based on the place where we leave [him] at the end of the show."
Narcos: Mexico Season 3 is available to stream on Netflix now.