Narcos: Mexico's second season ended with kingpin Miguel Ángel Félix Gallardo (played by Diego Luna) being sent to prison and the cartels taking a chunk of the Mexican drug trade for themselves in his absence.
With Gallardo out of the picture, those who were previously on the sidelines now have their chance in the spotlight, namely the Tijuana, Juárez, and Sinaloa cartels.
But sharing power is not something on the cartels' agenda, and so war is all but inevitable in the Netflix show's final season.
Here is everything you need to know about Season 3 of Narcos: Mexico.
When Is 'Narcos: Mexico' Season 3 Out?
As with previous seasons, Narcos: Mexico's third season will be released in a an all-in-one-go format on Netflix, ready to be binged.
The 10-episode production will land on the streaming platform on Friday November 5, with the season being released at 8am.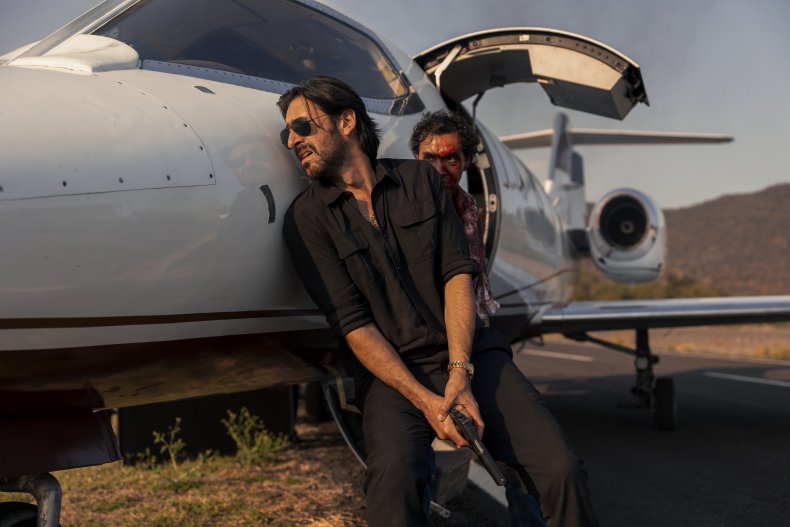 Who Stars in 'Narcos: Mexico' Season 3?
While he was the lead actor for Seasons 1 and 2, Netflix confirmed when it first renewed the show in October 2020 that Luna would not be returning to reprise his role as Gallardo.
Instead, the focus of the series has shifted to the other key figures in the Mexican drug cartels, all of whom have appeared in previous seasons but who were subordinate to Gallardo.
José María Yazpik will return as Amado Carrillo Fuentes, a drug lord who seized control of the Juárez Cartel following Gallardo's incarceration.
Scoot McNairy reprises his role as DEA agent Walt Breslin, who acted as narrator of the show and played a prominent part in Season 2, which focused on his covert operation to track down Gallardo for the death of fellow agent Kiki Camerena (Michael Peña)
Alfonso Dosal will return as Tijuana cartel boss Benjamín Arellano Félix, while Manuel Masalva is back as his brother Ramón Arellano Félix, and Mayra Hermosillo returns as their sister Enedina Arellano Félix.
Other key cast members include Alejandro Edda as Joaquín "El Chapo" Guzmán, of the Sinaloa cartel, Matt Letscher as DEA Agent Jaime Kuykendall, and Alberto Ammann who reprises his Narcos role of Cali Cartel boss Hélmer "Pacho" Herrera.
What Will Happen in 'Narcos: Mexico' Season 3?
Following Gallardo's incarceration there is a power vacuum in Mexico, with the various cartels engaging in a blood-drenched war.
Without a leader, the cartels struggle to cooperate with each other, and instead aim to fight for dominance in the drug trade.
On the other side is the DEA and its conflict with the crime syndicates. Led by Breslin, the government agents work towards catching and arresting the leaders of the drug cartels.
Is There a Trailer for 'Narcos: Mexico' Season 3?
Yes, there is a trailer for Narcos: Mexico which teases the war between the Tijuana, Juárez, and Sinaloa cartels
The trailer is full of gun fights, and it's clear chaos reigns supreme as the violence escalates between Mexico's new generation of kingpins.