Narrowing Down the Longlists: National Book Awards Finalists Announced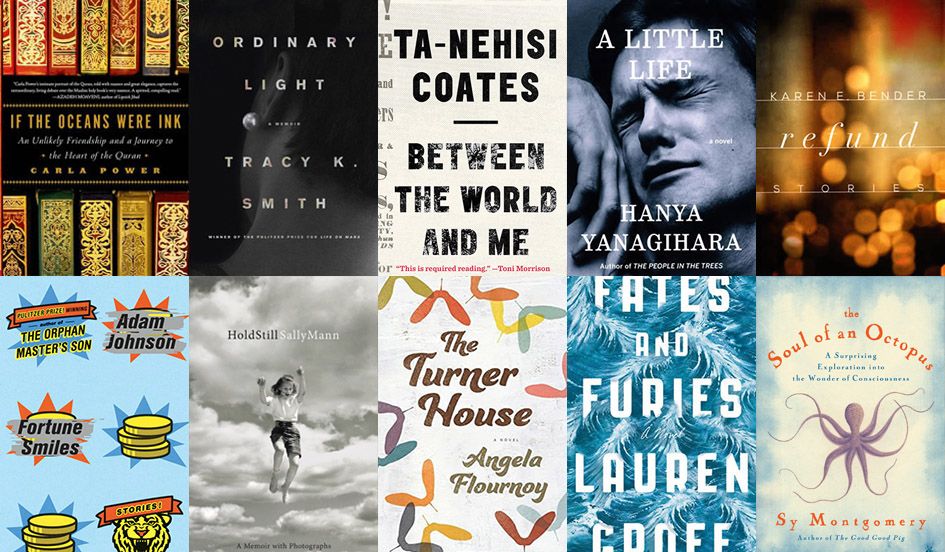 Recently named MacArthur fellow Ta-Nehisi Coates and Pulitzer Prize winners Tracy K. Smith and Adam Johnson were among the finalists announced Wednesday for the National Book Awards. NPR's Morning Edition show partnered with the National Book Foundation to reveal the five contenders in each category—fiction, nonfiction, poetry and young people's literature.
These finalists were whittled down from the longlists in each category, which the foundation released in mid-September. To compile the longlists of the top 10 candidates for each award, the foundation said it had to pick from a pool of 1,428 submissions from publishers, including 419 entries in fiction, 494 in nonfiction, 221 in poetry, and 294 in young people's literature.
The category winners will be announced on November 18 at a gala dinner and ceremony in New York City, which will be live-streamed on the National Book Foundation's website. Best-selling author and comedian Andy Borowitz, who created the 1990s sitcom The Fresh Prince of Bel-Air and started the satirical news column "The Borowitz Report" (now part of The New Yorker) is set to emcee the ceremony.
At last year's ceremony, which was hosted by author of children's and adult fiction Daniel Handler, Phil Klay received the award in fiction for Redeployment, while Evan Osnos took nonfiction for Age of Ambition: Chasing Fortune, Truth, and Faith in the New China, Louise Glück won in poetry for Faithful and Virtuous Night and Jacqueline Woodson won in young people's literature for Brown Girl Dreaming.
The 2015 finalists announcement comes just one day after another prestigious award declared its 2015 recipient—Marlon James became the first Jamaican-born author to win the Man Booker Prize for his novel A Brief History of Seven Killings—and less than one week after Belarusian author Svetlana Alexievich was honored with this year's Nobel Prize in Literature for her writings about life in the former Soviet Union.
The awards were established in 1950 by the nonprofit National Book Foundation to recognize excellence in American literature. Previous winners include Norman Mailer, Philip Roth and Alice Walker. Finalists receive $1,000, a bronze medal and a citation at a private ceremony the evening before the gala, while winners receive $10,000 and a bronze statue.
The full lists of finalists in each category are:
Finalists for Fiction
Karen E. Bender, Refund
Angela Flournoy, The Turner House
Lauren Groff, Fates and Furies
Adam Johnson, Fortune Smiles
Hanya Yanagihara, A Little Life
Finalists for Nonfiction
Ta-Nehisi Coates, Between the World and Me
Sally Mann, Hold Still
Sy Montgomery, The Soul of an Octopus
Carla Power, If the Oceans Were Ink: An Unlikely Friendship and a Journey to the Heart of the Quran
Tracy K. Smith, Ordinary Light
Finalists for Poetry
Ross Gay, Catalog of Unabashed Gratitude
Terrance Hayes, How to Be Drawn
Robin Coste Lewis, Voyage of the Sable Venus
Ada Limón, Bright Dead Things
Patrick Phillips, Elegy for a Broken Machine
Finalists for Young People's Literature
Ali Benjamin, The Thing About Jellyfish
Laura Ruby, Bone Gap
Steve Sheinkin, Most Dangerous: Daniel Ellsberg and the Secret History of the Vietnam War
Neal Shusterman, Challenger Deep
Noelle Stevenson, Nimona