Is the Jay-Z and Nas Feud Still Happening? A Timeline of Rap's Biggest Beef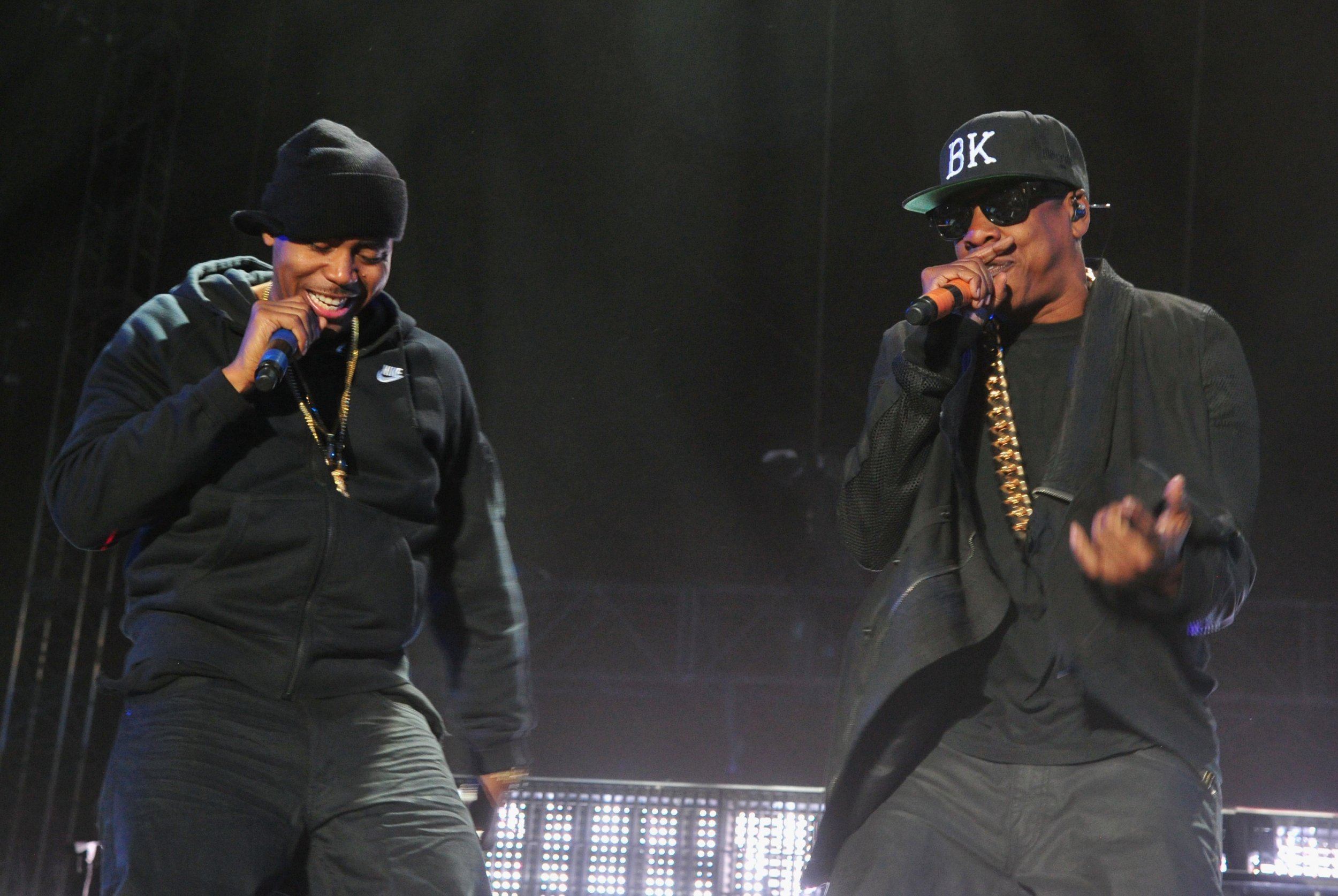 What started as an innocent no-show for a scheduled guest feature on a song sparked one of the biggest rap-lyric feuds of all time. Nas and Jay-Z have been throwing subliminal jabs at each other ever since Nas failed to show up for an appearance on Jay-Z's classic 1996 song "Dead Presidents II" on his debut album, Reasonable Doubt. So when both rappers dropped albums this week—a day apart—many music critics and theorists thought it was a strategic subliminal shot. After all, Jay-Z and Nas have a history of engaging in hip-hop lyrical fisticuffs with each other. Here is Newsweek's look back at the history of their feud.
After the 1996 no-show, the producer of "Dead Presidents II," Ski Beatz, decided to make up for Nas's absence by sampling a lyric from the artist's song "The World Is Yours." Nas, in return, threw the first subtle jab of what turned into an epic lyrical battle for rap supremacy. Nas, who calls himself Escobar (inspired by the drug lord Pablo Escobar),unleashed the lyric,"Lex with TV sets the minimum"on the track "The Message." The emcee admitted to Complex that the verse was about Jay-Z, who, at the time, was driving a Lexus with TVs inside it.
Nas continued to fire an array of warning shots at Jay—but Jay never responded. It wasn't until September 11, 2001, when Jay-Z released the acclaimed project "Blueprint." He debuted the track "Takeover," a dis song produced by Kanye West that consists of samples by The Doors ("Five To One").
The song strategically broke down Nas's 10-year career. From mocking and criticizing his flow, to exposing his flaw of not sticking to one identity as an artist, Jay-Z's hard-hitting bars sparked the attention of the mainstream audience. Jay also bragged about the success of "Dead Presidents II" ("So yeah I sampled your voice, you was usin' it wrong / You made it a hot line, I made it a hot song").
But Nas decided to respond in the dis track "Ether." The response was dubbed a "classic" among hip-hop fans, DJs, producers and critics. Nas unleashed a plethora of personal attacks at Jay, addressing his street cred ("In '88, you was gettin' chased to your buildin' / Callin' my crib, and I ain't even give you my numbers / All I did was give you a style for you to run with."). Nas continued his lyrical attack by exposing accusations of an affair with female rapper Foxy Brown, and clique-hopping to elevate his name for fame while insisting that Eminem outshined Jay-Z on an album deep cut track titled "Renegade." ("Your a** went from Jaz to hangin' with Kane, to Irv to Big / And, Eminem murdered you on your own s*** / You a d***-ridin' f*****. You love the attention.")
But things took a turn in 2001 when Jay unexpectedly responded to "Ether" with a two-song medley freestyle of his own called "SupaUgly." Jay-Z attempted to redefine the personal by exposing Nas's "dirty laundry." He bragged about sleeping with Carmen Bryan, the mother of Nas daughter ("I came in ya Bentley backseat / Skeeted in Jeep / Left condoms in the baby seat").
Hov's devastating wordplay led to his mother, Gloria, stepping in to demand her son to apologize to Nas and his family. He eventually did, which led to Nas putting a halt on their beef due to his mother slowly dying from sickness.
Fast forward to 2005, and both of these rap giants shocked the world when Nas appeared as a special guest on Jay's "I Declare War" tour. Even though the name didn't match with the theme of the tour, Jay-Z decided to go on a peacemaking spree, during which he squashed the epic feud for good when both artists performed on the tracks that started it all,"Dead Presidents" and "The World Is Yours."