NASA Faces $1.9 Billion Bill to Clean up Contaminated Sites Across the U.S.
NASA faces a bill of about $1.9 billion to clean up its sites across the U.S, a report by government auditors has found.
The space agency faces soaring costs for the restoration of former sites, with the potential costs having increased by 45 percent since 2014, according to the Government Accountability Office report published last Friday.
Environmental cleanups could cost $1.9 billion as of fiscal year 2020, a rise of about $180 million from 2019 and a rise of $724 million from 2014.
The bulk of those predicted costs, or "environmental liabilities," comes from the Santa Susana Field Laboratory—located about 30 miles northwest of downtown Los Angeles—that played a key role in the Apollo and space shuttle programs.
Rocket engine testing at the site between 1948 and 2006 left behind chemicals that are potentially dangerous to humans and wildlife.
The cost of cleaning the area has risen by about $502 million between 2014 and 2019, auditors found, bringing the total to approximately $798 million.
Auditors, who interviewed NASA officials and studied the agency's documents, noted in their report that testing at the Californian site "required the use of solvents, petroleum-based fuels, and oxidizers."
"Contaminants from these products include volatile organic compounds (VOC), polychlorinated biphenyls (PCB), and other compounds that can be harmful to the human body if enough of the contaminant to cause injury enters the body," it read.
"With significant exposure, some VOCs can affect the nervous system, while
others affect internal organs. The effect of chemicals such as PCBs on
human health vary, depending on the significance of exposure."
Expected Cleanup Costs at 14 NASA Sites
$1.5M Goddard Space Flight Center, Greenbelt, MD
$2.1M Johnson Space Center, Houston, TX
$2.5M Glenn Research Center, Cleveland, OH
$3.8M Langley Research Center, Hampton, VA
$9.7M Armstrong Flight Research Center, Edwards Air Force Base, CA
$10.6M Stennis Space Center, southern Mississippi
$11M Michoud Assembly Facility, New Orleans, LA
$11.9M Wallops Flight Facility, Wallops Island, VA
$56.1M Jet Propulsion Laboratory, Pasadena, CA
$64.8M Ames Research Center, Moffett Field, CA
$106.5M Marshall Space Flight Center, Huntsville, AL
$197M Kennedy Space Center, central Florida
$257.9M White Sands Test Facility, southern New Mexico
$798.7M Santa Susana Field Laboratory, Ventura County, CA
SOURCE: Government Accountability Office using NASA data
NASA is embroiled in a dispute with California over the responsibilities for soil restoration at the Santa Susana site, which is now largely owned by Boeing and has suffered a number of environmental disasters.
A nuclear reactor's partial meltdown in 1959 led to a release of radioactive gas, while wildfires have also caused damage in recent years.
According to the government audit, conducted from April 2020 to January 2021, NASA hopes a "risk-based" approach will reduce its liabilities by about $355 million.
Newsweek has contacted NASA for comment.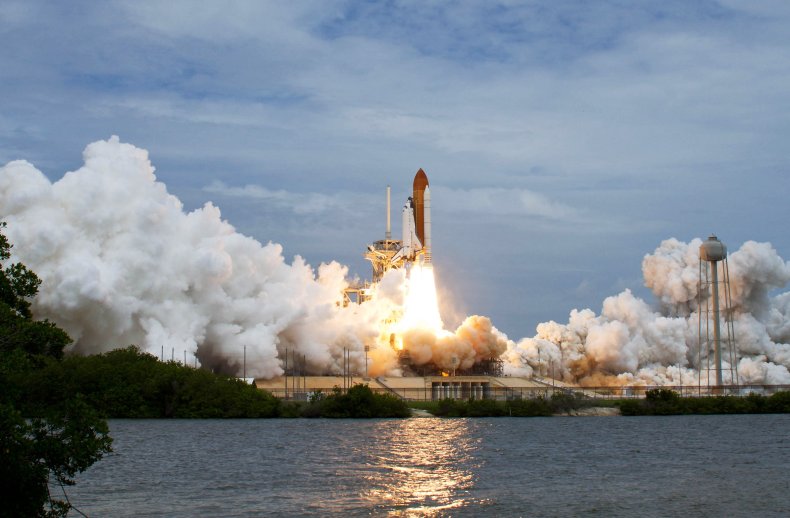 What are 'environmental liabilities'?
The Federal Accounting Standards Advisory Board defines environmental liabilities as a probable, measurable and reasonably estimable future outflow or expenditure of resources for environmental cleanup.
Federal government is financially liable for cleaning up areas where its activities have contaminated the environment. These predicted costs have grown rapidly in recent years and are now the fourth-largest liability held by the government.
Since the 1980s, NASA has spent part of its budget to clean up contaminated sites, but the majority of this work remains unfunded as estimated future costs.
NASA officials told auditors it had assigned $124 million toward cleanup projects in 2019, leaving $1.6 billion in estimated costs without funding.