NASA 2020 Rover: More Than 10 Million People Are Sending Their Name to Mars—Here's How to Sign Up
More than 10 million people from around the world have signed up to have their names etched onto a microchip aboard NASA's Mars 2020 rover which will launch for the Red Planet next year.
Earlier this year, NASA asked the public to submit their names, which would then be sent to the Microdevices Laboratory at the space agency's Jet Propulsion Laboratory in Pasadena, California.
There, scientists will use a beam of electrons to etch the names onto silicon chips in lines of text smaller than one-thousandth the width of a human hair. These chips will be then be attached to the rover before it is sent to Mars.
Currently, the country with the largest number of name submissions is Turkey with more than 2.5 million, at the time of writing. In second place is India with just over 1.7 million names, while the United States takes up third place with around 1.4 million submissions.
The rest of the submissions come from countries including China, Iran, the U.K., Indonesia, South Korea, Israel, Mexico, Italy, Egypt, Brazil , Russia, Thailand, Spain and Canada.
Within the U.S., the state boasting the most submissions is California with around 225,000. Next up is Texas with about 120,000, followed by Florida with just over 100,000.
Newsweek subscription offers >
If you haven't already and wish to do, submissions will remain open until 11:59 p.m. EDT on September 30, 2019.
All you need to do is fill out this form on the NASA website and you'll receive a souvenir "boarding pass to Mars."
Participants will also receive "frequent flyer" points with their boarding pass as part of NASA's public engagement campaign for its planned missions to the moon and Mars. These can be used to download mission patches.
"This opportunity provides an incredible way for every person, in every nation around the world, to be part of this experience and to see their own names written among the stars," Lori Glaze, director of NASA's Planetary Science Division, told Newsweek.
The Mars 2020 mission is scheduled to launch in July 2020, and is expected to reach the red planet in February 2021. The 2,300-pound rover is designed to search for signs of past microbial life, gather data on the planet's climate and geology, and collect samples that will be returned to Earth.
The mission is a key part of NASA's long-term goal of putting humans on the Red Planet in the 2030s. The space agency also wants to return humans to the moon in 2024 before this is achieved.
Currently, the Mars 2020 rover is unnamed. NASA has asked students in schools across the country to submit a proposed name by November 1 along with a short essay explaining their choice. The winner will be chosen on February 18.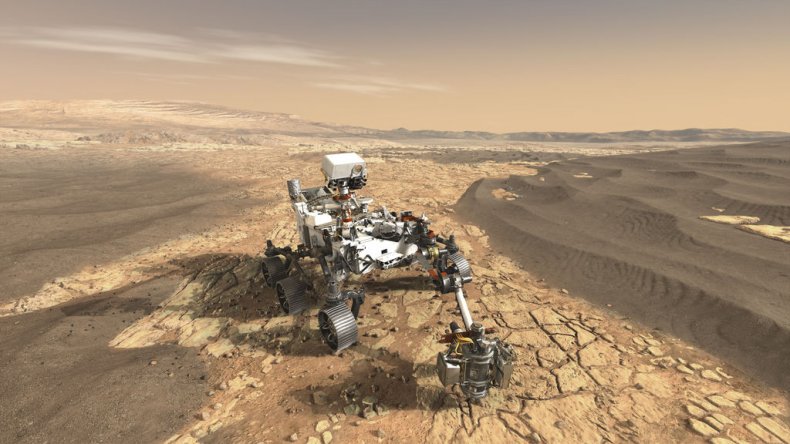 NASA 2020 Rover: More Than 10 Million People Are Sending Their Name to Mars—Here's How to Sign Up | Tech & Science