Russian wildfires that are devastating multiple areas in Siberia have been spotted from space, with two thermal hotspots in the Arctic detected with NASA's Aqua satellite.
On Twitter, Mark Parrington, a senior scientist at the European Center for Medium-Range Weather Forecasts, said the first high latitude thermal hotspots of the year had been detected in the Sakha Republic on Wednesday. He explained that while it was unclear from the images from the NASA satellite, there was a "strong possibility" they were related to the wildfires.
Russia is hit by wildfires every year, with the season normally peaking between June and August. Recent years have seen extreme heatwaves and prolonged droughts that have led to unparalleled wildfires, with 2021 becoming the worst ever recorded in Russian history.
This year, fires broke out around mid-April. On Tuesday, Russia's state news agency Tass said around 4,000 wildfires had been reported so far this year. Footage shared by English-language newspaper The Siberian Times showed widespread devastation, with streets of buildings burning.
Russian President Vladimir Putin met with local governors on Tuesday to discuss the problem, saying federal funds had been allocated to prevent wildfires following the devastation of 2021. According to tayga.info, he asked them: "Resources are allocated—do you use them?"
According to a report in The Washington Post on April 26—when wildfires had already been raging across the eastern part of the country for a week—experts had raised concerns that Russia's invasion of Ukraine would make this season much more difficult to control. Mark Cancian, a senior adviser with the International Security Program at the Center for Strategic and International Studies, told the newspaper the Russian military would normally aid firefighters during wildfire season.
"There's no question that Ukraine has been a huge drain on the ground resources for Russia," he said. "They moved a lot of troops outside of the country. Any troops that are going back are pretty beat-up. It's going to be harder to fight [the fires]."
Parrington told Newsweek the thermal anomalies detected with satellites show that surface temperatures are far above what they should be, indicating the presence of a heat source.
"Isolated hotspots have been observed across this region in May during recent years, typically in areas where the snow cover has started to recede," he said.
"These hotspots are a concern as they are likely to be indicating that as soon as the ground is thawing the flammability of the fuel/vegetation is high and ready to burn when there is an ignition source."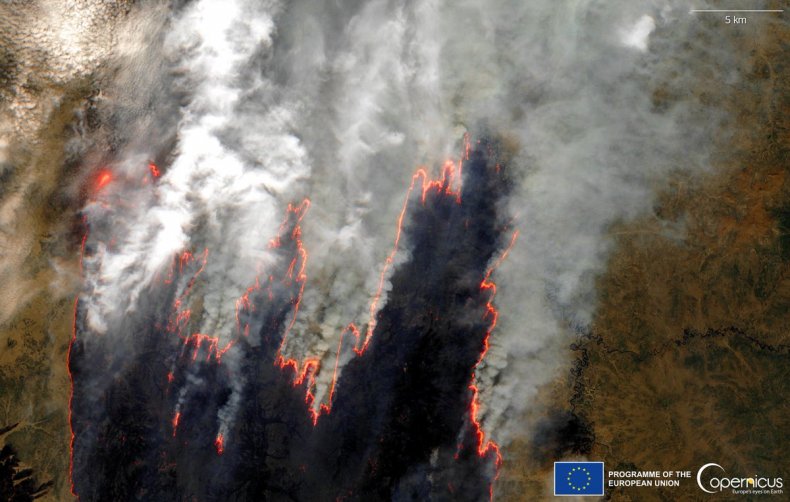 Images from the European Union's Earth-observing Copernicus satellite also show fires burning on the ground.
How long these fires will burn and whether 2022 will be another record-breaking year is unclear. "It's difficult to say right now if this is providing any indication of what may happen in terms of wildfires in this region for the rest of the summer," Parrington said.
According to RIA Novosti, 20 have died as a result of the wildfires. Russian news outlets are reporting the latest wildfires were caused by faulty electric lines, with dry grass providing the fuel needed for the fire to spread. According to The Moscow Times, three employees from electricity company Rosseti Sibir have been charged with manslaughter.