Who Are the NASA Astronauts Flying to ISS on Historic SpaceX Mission?
On May 27, NASA astronauts Bob Behnken and Doug Hurley will fly to the International Space Station (ISS) aboard SpaceX's Crew Dragon spacecraft in a landmark mission.
Known as Crew Dragon Demo-2 (DM-2), the flight will mark the first time that American astronauts have launched from U.S. soil into space since the end of the Space Shuttle Program in 2011. The mission will also be the first time that astronauts get to test out the next-generation Crew Dragon spacecraft in orbit. But who are the astronauts that have been chosen for this historic task?
NASA selected Behnken and Hurley due to their extensive test pilot and flight experience, with both being veterans of two space shuttle missions. The pair were among the first astronauts to begin working and training on SpaceX's next-generation crew vehicle.
Hurley will be the spacecraft commander for the mission, responsible for tasks such as launch, landing and recovery. The 53-year-old was selected as a NASA astronaut in 2000, and has served as a pilot on two space shuttle flights, STS‐127 and STS‐135—the latter being the last ever shuttle mission in July 2011.
Prior to his NASA career, the New York-native was a fighter pilot and test pilot in the U.S. Marine Corps. He holds a Bachelor of Science in Civil Engineering from Tulane University and graduated from the U.S. Naval Test Pilot School in Maryland. Hurley was born on October 21, 1966 in Endicott, New York and is married with one child.
"From a personal standpoint there aren't the words to even approach thanking all the people that have contributed to this effort both at SpaceX and at NASA," Hurley said in a video press briefing. "It's just been an incredible undertaking to see where we've come just in the last five years that Bob and I have been a part of this."
"To be shortly flying to the International Space Station with the Crew Dragon it just overwhelms you to think about [it.] We'll do our part to make it successful and to get back here and celebrate with everybody in a few short months," he said.
Like his colleague, Behnken was selected as a NASA astronaut in 2000 and has also completed two space shuttle flights. He will be the joint operations commander for the DM-2 mission, responsible for tasks such as docking and undocking the Crew Dragon spacecraft to and from the ISS.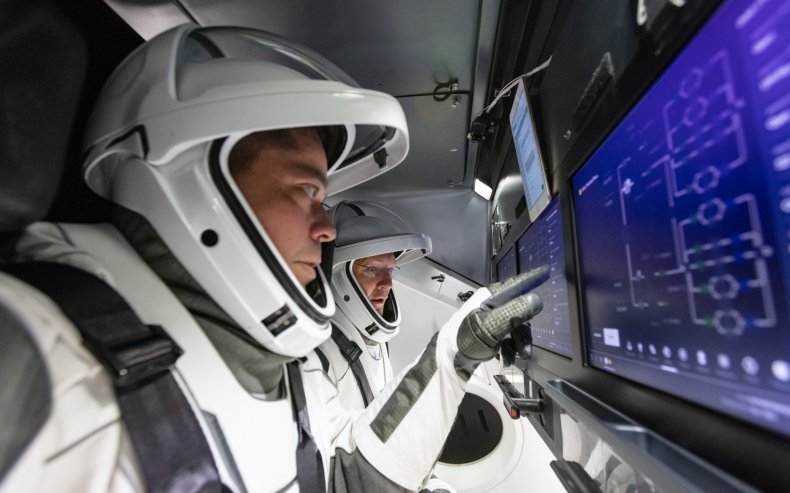 Born in St. Anne, Missouri, on July 28, 1970, the 49-year-old has logged more than 708 hours in space aboard the shuttle missions STS-123 and STS-130 in March 2008 and February 2010, respectively. During those flights he completed six spacewalks with a total duration of 37 hours.
Before joining NASA, Behnken was a flight test engineer for the U.S. Air Force. He holds a bachelor's degree in physics and mechanical engineering from Washington University, and a master's and doctorate in mechanical engineering from the California Institute of Technology. He is married to fellow NASA astronaut Katherine Megan McArthur and the couple have a son together.
"Having grown up with watching the shuttle program and being a child that was inspired by [NASA missions], I think it's important for the U.S. to continue to have these exciting things because [they] motivated me to go into this sort of a career. And I know that it motivates other children having done interviews or discussions with school kids around the country," Behnken said in a video briefing.
"I'm just one piece of a multi-thousand member team that's going to hopefully pull this off in short order, and I'm really excited to be a part of that. On a deeply personal level, I'm really excited that my son is going to get a chance to see me launch into space. Being an astronaut has been a little bit of an abstraction for him because he's seen me do it in the old videos but he hasn't seen me do it for real."