NASA Cancels First All-Female Spacewalk, Says There Aren't Enough Spacesuits That Fit
NASA's plans for an all-female spacewalk this week have been canceled because of "spacesuit availability" issues.
The U.S. federal agency announced plans earlier this month to have astronauts Anne McClain and Christina Koch conduct the spacewalk by leaving the International Space Station (ISS) to install new batteries on March 29. It would have been the first time an all-female team conducted the mission, which has previously been completed by an all-male or male-female team.
In a statement Monday, NASA changed its plans, "due in part" to a lack of fitted spacesuits for the astronauts. After Koch and McClain realized they required the same size spacesuit, it was discovered that only one could be made by the mission's scheduled date. That suit will go to Koch.
"Mission managers decided to adjust the assignments, due in part to spacesuit availability on the station," the statement reads. "McClain learned during her first spacewalk that a medium-size hard upper torso—essentially the shirt of the spacesuit—fits her best. Because only one medium-size torso can be made ready by Friday, March 29, Koch will wear it."
Last week, McClain became the 13th female to take part in a spacewalk, with fellow NASA astronaut Nick Hague, NASA said. Koch is set to be the 14th.
Due to the shortage in spacesuits in Koch and McClain's size, Koch will instead carry out the mission with Hague this Friday. The pair will "install powerful lithium-ion batteries for one pair of the station's solar arrays," according to the agency.
Live coverage of the walk will be broadcast on NASA TV from 6:30 a.m. ET on Friday, with the walk scheduled to take place around 8:20 a.m. ET. The event will last roughly six and a half hours.
McClain's next spacewalk has been "tentatively scheduled" for April 8. She is expected to conduct the mission with Canadian Space Agency astronaut David Saint-Jacques.
Soviet cosmonaut Svetlana Savitskaya became the first female to walk in space when she walked out of the Salyut 7 space station 35 years ago.
The infographic below, provided by Statista, illustrates the number of graduated female NASA astronauts.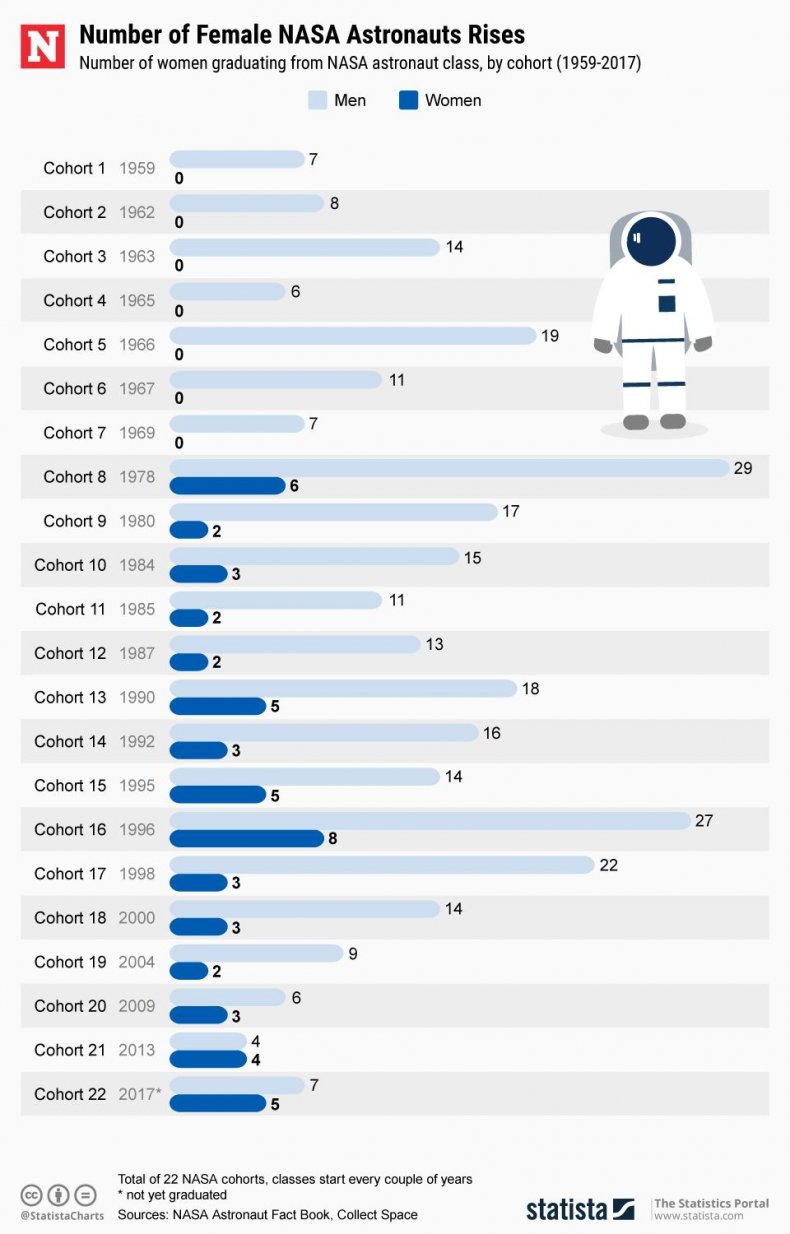 This article was updated to include an infographic.