NASA's Christina Koch Set to Return to Earth After Record-Breaking Stint on ISS: Watch Live
NASA astronaut Christina Koch is set to return to Earth on Thursday after a record-breaking stint on the International Space Station (ISS)
Koch will have spent a total of 328 days living continuously aboard the ISS, the longest single spaceflight completed by any woman. In this time, Koch has orbited the Earth more than 5,200 times—a journey of around 140 million miles—according to NASA.
During the mission, Koch also took part in what was the first all-female spacewalk alongside NASA astronaut Jessica Meir. The pair were sent to the ISS to fix a failed battery charger on the spacecraft.
At 12:50 a.m. EST, February 6, a Russian Soyuz spacecraft is scheduled to undock from the ISS carrying Koch as well as her Expedition 691 colleagues Commander Luca Parmitano (European Space Agency) and Alexander Skvortsov (Roscosmos, the Russian space agency.)
Just over two hours later (3:18 a.m.) the Soyuz will make a de-orbit burn before touching down on the remote steppes of Kazakhstan at the scheduled landing time of 4:14 a.m. EST.
If you would like to watch Koch's return, NASA TV will be streaming the astronaut's return live with coverage beginning at 9 p.m. EST on Wednesday, February 5.
Koch launched for the ISS in March 2019, and since then has spent 11 months orbiting the Earth at an altitude of around 250 miles. After touching back down on Earth, her 328-day stint will be the second-longest single spaceflight by a U.S. astronaut.
The record for longest single spaceflight is held by retired NASA astronaut Scott Kelly who spent a continuous 340 days aboard the ISS between 2015 and 2016. Expedition 61 is Koch's third mission aboard the ISS and in total she ranks seventh on the list for overall time spent in space among U.S. astronauts.
In total, Koch spent 42 hours and 15 minutes outside the ISS conducting spacewalks during ISS Expedition 61—including the historic all-female spacewalk with Meir.
Koch was also involved in more than 210 scientific investigations aboard the ISS which have provided researchers with data that will prove valuable for NASA's long-term plans for human exploration of the moon—as part of the Artemis program—and Mars.
Many of these investigations have explored various aspects of how the human body responds to long-term spaceflight, taking into account factors such as weightlessness, isolation, radiation, and the stress of long missions. In Koch's case, this kind of research will also help scientists to understand the differences in how male and female bodies adapt to the unique conditions of space.
Among the most notable experiments Koch participated in over the course of her mission was the Vertebral Strength investigation which looked into how spaceflight affects the bones of the spine.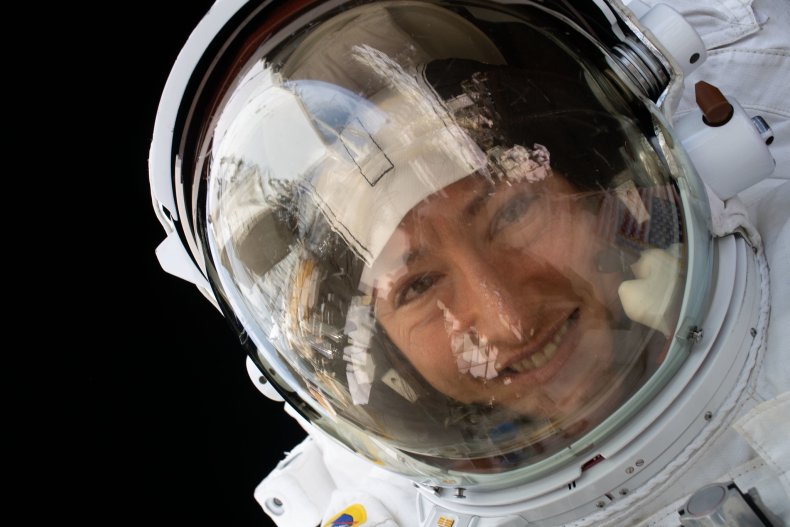 She also conducted research with the Cold Atom Laboratory (CAL), an experiment which makes use of the ISS's microgravity environment to observe quantum phenomena that would not be detectable on Earth.
The CAL produces clouds of atoms which have almost no motion and an incredibly low temperature of just one ten billionth of a degree above absolute zero (minus 459.67 degrees Fahrenheit.) This is colder than the average temperature of deep space.
Aside from taking part in scientific investigations, Koch has also captured numerous spectacular pictures of the Earth and other other phenomena from the ISS. Below are some of our favorites.