An incredible time-lapse image showing star trails over Earth has been created from images taken by NASA astronaut Christina Koch. The image, compiled from more than 400 photographs taken over 11 minutes, shows natural and artificial lights, with thunderstorms, stars, city lights and fires burning.
Kock took the photos as the International Space Station—where she has been since March—traveled over Namibia toward the Red Sea. The time-lapse image was chosen by NASA Earth Observatory as its picture of the day.
Describing the image, NASA said: "On the ground, stationary features like cities appear as pale yellow-white dotted streaks; with each dot marking another frame captured. Many of the thinner dotted lines with darker orange hues are fires burning across Angola and the Democratic Republic of the Congo."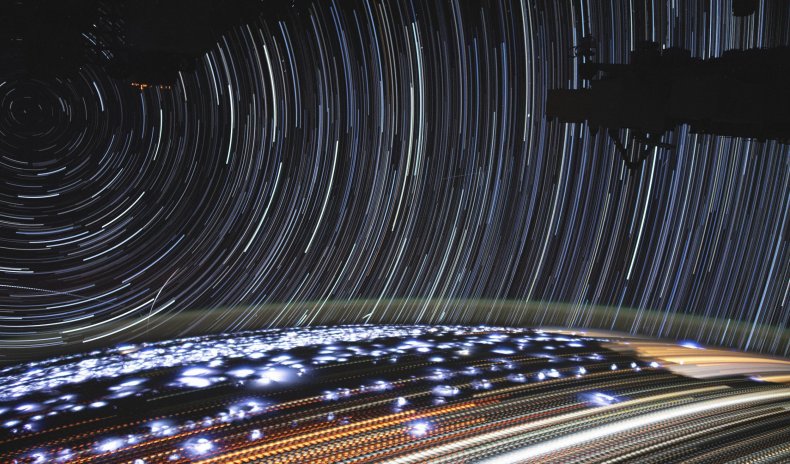 It said that towards the north, thunderstorms can be seen covering most of central Africa. The white flashes show lightning, while the "faint green-yellow glow" above the horizon is a phenomenon known as "airglow." This is where molecules of nitrogen and oxygen are energized by UV radiation and sunlight. In the upper atmosphere, the molecules release this built up energy by emitting photons—creating bands of light in the atmosphere in the process. Above Earth, star trails can be seen coming from the top left corner of the image.
In a statement, Matthew Osvog, from NASA Johnson Space Center, said: "This point is essentially normal (perpendicular) to the ISS orbital plane, directly out of the port side of the vehicle based on the spacecraft silhouettes."
The rotational movement of the ISS means that the closest stars appear stationary, while those further away appear to move, creating these circles. "As seen in this composite image, the star trails eventually get large enough to dip behind Earth's limb," NASA said.
The release of the image follows Koch's historic spacewalk on October 18. She and fellow NASA astronaut Jessica Meir took part in the first all-female spacewalk. Over seven hours, the pair worked outside the ISS to fix a failed power controller on the space station.
In an interview after the spacewalk, Koch said the huge interest in the first all-female spacewalk made the experience better. "If anything, it just added to the moment, it added to the amazing experience of being able to contribute to this program in that way," CBS quotes her as saying.
"I wouldn't call it a weight [on our shoulders], I would call it the opposite, something uplifting, something that allowed us to be our best, to bring our best to that day and to recognize that we have a gift and an opportunity to potentially inspire the future."