NASA Says Conditions Right for Fire to Tear Through Amazon and Hurricanes to Form
This year, the North Atlantic has been experiencing warmer than average sea surface temperatures. And these conditions are setting the stage for a particularly active fire season in the southern Amazon rainforest, while also raising the risk of hurricanes forming, according to scientists.
Evidence suggests that when surface water temperatures in the northern tropical Atlantic rise sufficiently, moisture is pulled northwards by shifting wind patterns. This brings heavier rains to the north of the rainforest while leaving southern portions drier and, thus, more vulnerable to fires associated with human activity.
At the same time, this process also creates more favorable conditions for hurricanes to form in the Atlantic. These powerful storms require warm, moist air as fuel, which is why the they only form over warm ocean waters near the equator.
Based on climate conditions this year, the latest Amazon fire forecast, co-created by Doug Morton from NASA's Goddard Space Flight Center and Yang Chen with the University of California, Irvine, suggests the fire season may be as severe as 2005 and 2010, which saw record droughts in the rainforest and significant fire activity, accompanied by an active Atlantic hurricane season.
"The fire season forecast is consistent with what we saw in 2005 and 2010, when warm Atlantic sea surface temperatures spawned a series of severe hurricanes and triggered record droughts across the southern Amazon that culminated in widespread Amazon forest fires," Morton said in a statement.
"Our seasonal fire forecast provides an early indication of fire risk to guide preparations across the region," Morton said. "Now, satellite-based estimates of active fires and rainfall will be the best guide to how the 2020 fire season unfolds."
According to the forecast, the Brazilian states of Pará, Mato Grosso and Rondônia are predicted to be particularly hard-hit this year by fires, which tend to peak in the Amazon in September. These regions, among others, experienced significant fire activity during last year's season, which made headlines around the globe. In fact, data shows that 2019 saw the largest number of fire detections in the Amazon basin since 2010.
Morton and Chen say the severity of the fires this year may even be exacerbated by the ongoing COVID-19 pandemic, which could hamper the work of emergency responders.
"You have a perfect storm: drought, the recent increase in deforestation, and new difficulties for firefighting. 2020 is set up to be a dangerous year for fires in the Amazon," Morton said.
While dry weather—which is becoming more common in the region with climate change—helps to provide the right conditions for fire in the Amazon, the blazes tend to be started by humans, either deliberately or accidentally. Fire is commonly used in the Amazon as a technique to clear land for cattle ranches, soy plantations or other uses.
This human activity is difficult to predict, introducing a significant unknown into long-term forecasts, according to the researchers.
"Changes in human fire use, specifically deforestation, add more year-to-year variability in Amazon fires," Chen said.
In terms of the Atlantic hurricane season—which officially runs from the beginning of June until the end of November, peaking in August and October—this year has already been particularly active clocking up six named storms already with the formation of Tropical Storm Fay on Thursday.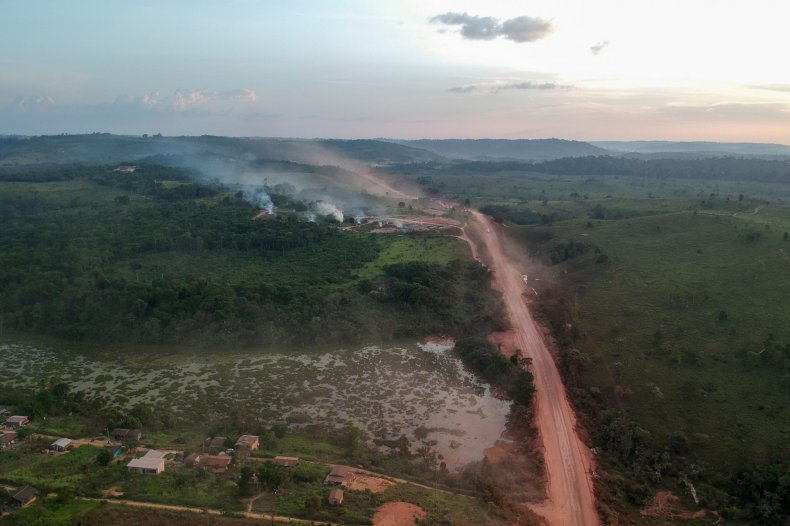 In fact, two storms formed before the season officially began. And Fay became the earliest forming storm beginning with an "F" since records began, Earther reported. Hurricanes in a season are named in alphabetical order using a predetermined list.
Meteorologists had predicted prior to June that this year's hurricane season would be particularly active, with the National Oceanic and Atmospheric Administration (NOAA) forecasting up to 19 storms and six major hurricanes. While there is still some time to go, it appears that this prediction could turn out to be relatively accurate.
Forecasts for an active season were based on observations of warmer ocean temperatures in the Atlantic and a trend towards La Niña conditions over the spring and summer. La Niña is the periodic cooling of the equatorial eastern and central Pacific Ocean, which can affect weather patterns all over the world.
On Thursday, the NOAA issued a La Niña Watch, saying the phenomenon could form in fall. This has significant implications for the formation of hurricanes. The effect of La Niña in the tropical Atlantic is to weaken a characteristic known as wind shear, the change in wind speed and/or direction with height into the atmosphere, that typically hampers the formation of hurricanes.