NASA Suspends Construction of World's Most Powerful Rocket Due to Coronavirus Pandemic
NASA has suspended production and testing of the rocket and crew module for its Artemis moon program amid the COVID-19 pandemic.
The space agency announced that it was temporarily closing down its Stennis Space Center and nearby Michoud Assembly Facility in New Orleans, where the powerful rocket—known as the Space Launch System (SLS)—is being built.
Both Michoud and Stennis have moved to "Stage 4" of NASA's pandemic "Response Framework" as of Friday, March 20. This means that all NASA employees at both facilities must work from home until further notice, in an attempt to slow the spread of the novel coronavirus in the area.
The restrictions at Stennis were announced after a rise in the number of COVID-19 cases in the community around the center, a confirmed case in the NASA team there, and an increasing number of employees self-isolating, according to the space agency. Although no cases of the disease have been reported at Michoud, the facility is also moving to Stage 4 of the Response Framework due to the spike in cases in the local area.
"Access to Stennis and Michoud will be limited to personnel required to maintain the safety and security of the center, as approved by agency leadership and the resident agencies," NASA Administrator Jim Bridenstine said in a statement.
"All previously approved exceptions for onsite work are rescinded and new approvals will be required in order to gain access to the center.
"NASA will temporarily suspend production and testing of Space Launch System and Orion hardware. The NASA and contractors teams will complete an orderly shutdown that puts all hardware in a safe condition until work can resume. Once this is complete, personnel allowed onsite will be limited to those needed to protect life and critical infrastructure," Bridenstine said.
The SLS, and the upcoming Orion Multi-Purpose Crew Vehicle, are part of NASA's Artemis program which will involve crewed missions to the moon. These will serve as crucial preparation for a manned mission to Mars in the 2030s.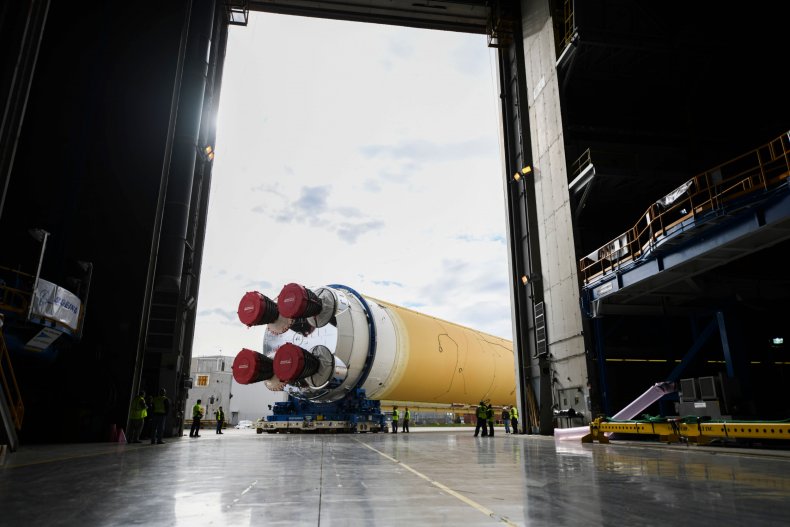 The SLS will be the most powerful rocket ever built once complete when measured by total thrust, with its initial configuration capable of sending more than 26 metric tons to orbits beyond the Moon.
Three Orion spacecraft—which will carry crew on deep space mission—are currently under construction, with the first of these due to be launched in 2021 as part of Artemis 1, an uncrewed flight test for the Artemis mission. However, the COVID-19 pandemic could potentially affect NASA's future plans.
"We realize there will be impacts to NASA missions, but as our teams work to analyze the full picture and reduce risks we understand that our top priority is the health and safety of the NASA workforce," Bridenstine said.
"I will continue to say, so none of us forget—there is no team better prepared for doing hard things. Take care of yourself, your family, and your NASA team."