NASA Awards SpaceX $50 Million Contract to Launch Satellite That Studies Black Holes and Neutron Stars
NASA has awarded SpaceX a contract to launch an advanced new observatory that will enable scientists to study some of the most exotic objects in the universe in unprecedented detail.
According to the space agency, the Imaging X-Ray Polarimetry Explorer (IXPE) is a space observatory that's designed to collect polarized (restricted to a single plane) X-ray light data from extreme phenomena such as black holes and neutron stars—incredibly dense, compact objects that are left behind when massive stars explode as supernovae.
IXPE will also prove beneficial in the study of phenomena such as active galactic nuclei, magnetars (a type of neutron star with a particularly powerful magnetic field) and pulsar wind nebulae (nebulae found inside the remnants of supernovae), TechCrunch reported.
IXPE consists of three identical space telescopes equipped with sensitive detector technology that will enable it to probe the extreme gravitational, electric and magnetic fields observed around such objects.
In total, the mission contract is worth around $50.3 million, which covers the costs associated with launching one of SpaceX's Falcon 9 rockets.
Currently, launch of the IXPE is scheduled for April 2021 from Complex 39A at the Kennedy Space Center, Cape Canaveral, Florida.
"SpaceX is honored that NASA continues to place its trust in our proven launch vehicles to deliver important science payloads to orbit," Gwynne Shotwell, SpaceX president and COO, said in a statement provided to Newsweek. "IXPE will serve as SpaceX's sixth contracted mission under NASA's Launch Services Program, two of which were successfully launched in 2016 and 2018, increasing the agency's scientific observational capabilities."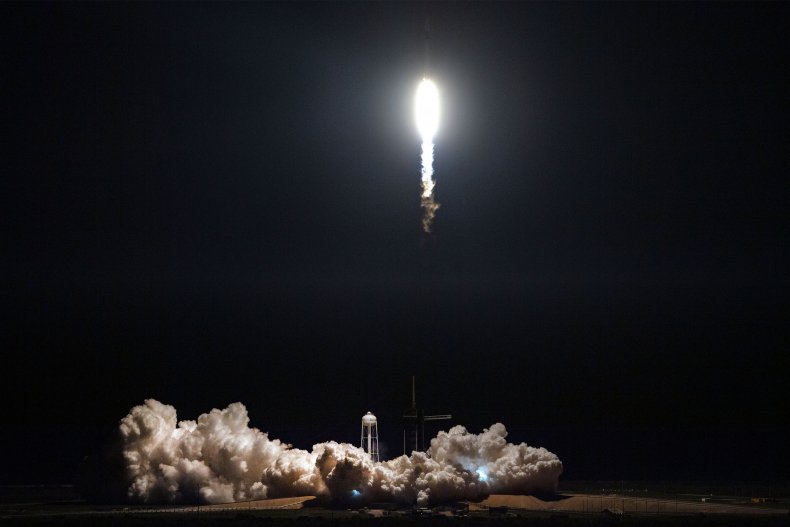 NASA hopes that the two-year IXPE mission will help address one of the goals of its Science Directorate "to probe the origin and destiny of our universe, including the nature of black holes, dark energy, dark matter, and gravity."
The space agency says that IXPE will improve sensitivity over the only previous X-ray polarimeter—aboard the Orbiting Solar Observatory-8—by two orders of magnitude.
According to a study published in the journal Results in Physics, the IXPE will expand "observation space by simultaneously adding polarization to the array of X-ray source properties currently measured—energy, time, and location. IXPE will thus open new dimensions for understanding how X-ray emission is produced in astrophysical objects, especially in systems under extreme physical conditions."
NASA has already awarded several launch contracts to SpaceX. "To date, SpaceX has completed 74 Falcon 9 and Falcon Heavy missions, including two for NASA's Launch Services Program, Jason-3 and TESS," James Gleeson, a spokesperson for SpaceX, told Newsweek. "In addition to IXPE, SpaceX's future launch manifest includes NASA's LSP missions SWOT, Sentinel-6A, and DART."
Last month, the company completed what Musk described as its "most difficult" mission ever when it launched a host of scientific payloads into space for the Department of Defense's (DoD) Space Test Program-2 (STP 2.) In total, the rocket deployed 24 satellites at three different orbits in a mission lasting over six hours.
The graphic below, provided by Statista, highlights SpaceX launches since 2006.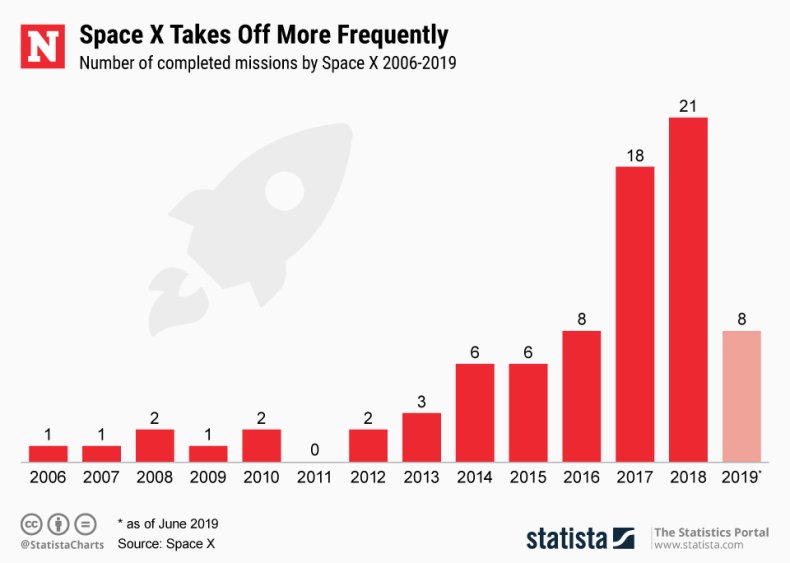 This article was updated to include an infographic and comments from James Gleeson.