NASA: Dinosaur Footprint Discovery Reveals Ancient Feeding Frenzy in Space Agency's Own Backyard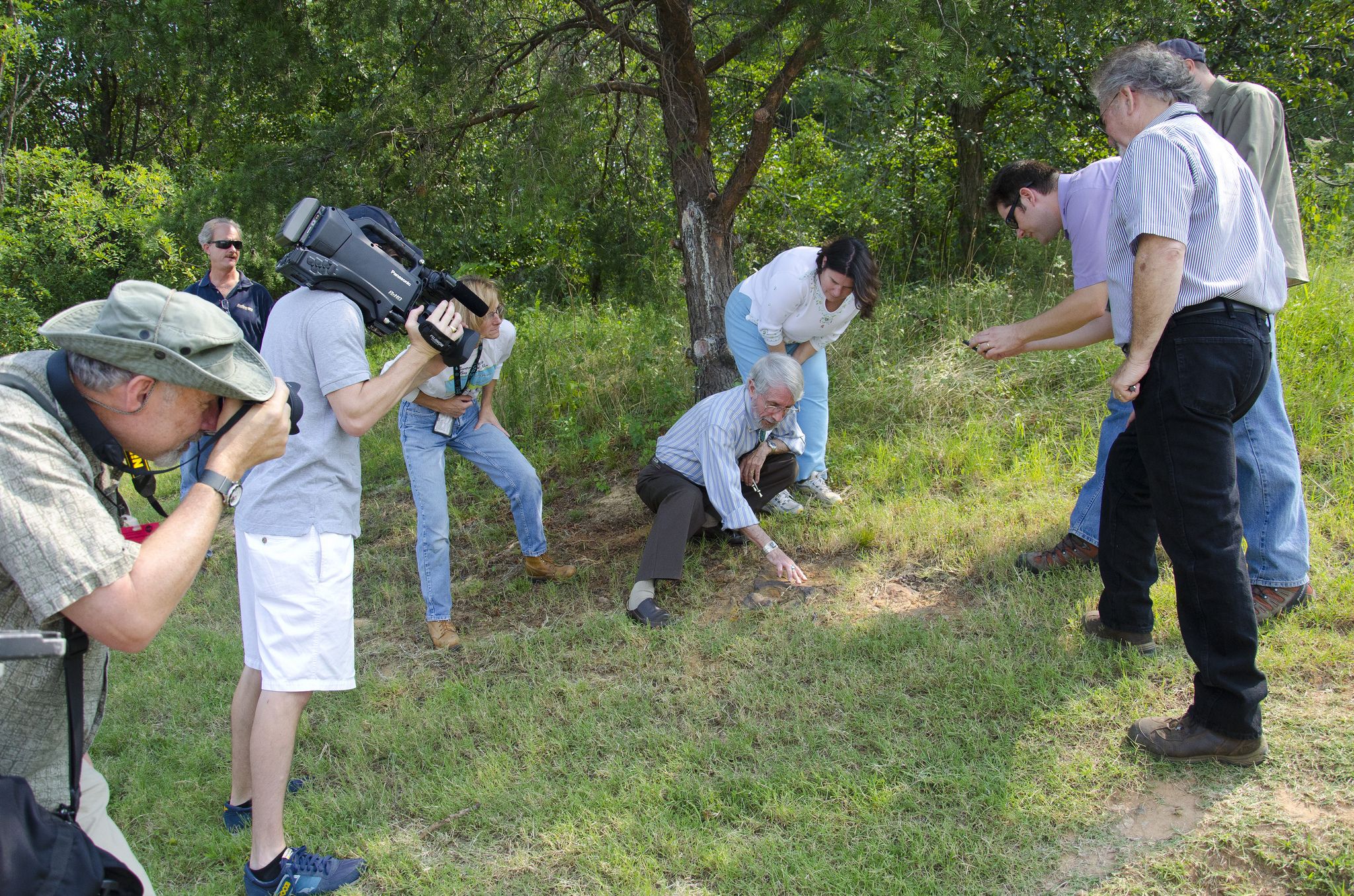 Updated | A dinosaur expert examining ground outside a NASA facility in Maryland has discovered footprints of more than 70 prehistoric creatures—one of the most concentrated hauls of mammal tracks from this period ever uncovered on Earth.
Ray Stanford found the huge number of tracks on a strange looking rock at the NASA Goddard Space Flight Center in Greenbelt, Maryland. The footprints reveal a few days in the life of the adults, young, predators and prey roaming a small patch of hot, swampy Maryland more than 100 million years ago. Scientific Reports published an analysis of the ancient tracks on Wednesday.
In 2012, Stanford was dropping off his wife at her job at the NASA facility when he noticed a large rock exposed on a hillside. On closer inspection, he found a 12-inch-wide dinosaur track, later revealed to be part of a dining table-sized slab covered in footprints. Scientists have been analysing the rock ever since.
"The mother lode" of tracks
"The concentration of mammal tracks on this site is orders of magnitude higher than any other site in the world," said Martin Lockley, a paleontologist with the University of Colorado, Denver, and co-author on the new paper. "I don't think I've ever seen a slab this size ... where you have over 70 footprints of so many different types. This is the mother lode of Cretaceous mammal tracks."
Snapshot of a multi-species feeding frenzy
The slab immortalised the tracks of ancient mammals as small as squirrels and as big as a tank. Researchers think it might reveal the paths of predators and prey across the passage of just a few days: a Cretaceous-era feeding frenzy. The Cretaceous period spanned 79 million years, from 145.5 million years ago until the mass extinction of many animals, including the dinosaurs.
"It's a time machine," Stanford said. "We can look across a few days of activity of these animals and we can picture it. We see the interaction of how they pass in relation to each other. This enables us to look deeply into ancient times on Earth. It's just tremendously exciting."
That first track discovered by Stanford was confirmed to be the footprints of a nodosaur, which he describes as a "four-footed tank." This massive dinosaur was likely accompanied by a baby, nearby tracks reveal.
The discovery of this ancient slice of Earth's own history at a seat of space discovery is "poetic," Stanford said in a statement in 2012. "Space scientists may walk along here, and they're walking exactly where this big, bungling heavy armored dinosaur walked, maybe 110 to 112-million years ago."
Correction: An editing error meant an earlier version of this story mistakenly referred to the mass extinction of "all animals." The article has now been amended to correct this.