NASA Reveals Spectacular, Terrifying Images and Videos of Hurricane Dorian From Space
NASA and the National Oceanic and Atmospheric Administration (NOAA) have released several spectacular and terrifying images of Hurricane Dorian captured from space.
In the past few days, the two agencies have been monitoring the hurricane, providing fascinating insights into the storm's terrifying power.
American astronaut Christina Koch—who is currently resident on the International Space Station (ISS)—captured these photos from an altitude of around 250 miles above the Earth early on Monday morning, revealing the vast scale of the storm as it battered the Bahamas.
The image below shows infrared observations collected by the NOAA-20 satellite, which circles our planet from pole-to-pole, crossing the equator about 14 times every day. The satellite observed the hurricane at 2:13 a.m. EDT on Monday. According to NASA, this observation is a "classic presentation of a strong hurricane, with nearly symmetrical circulation."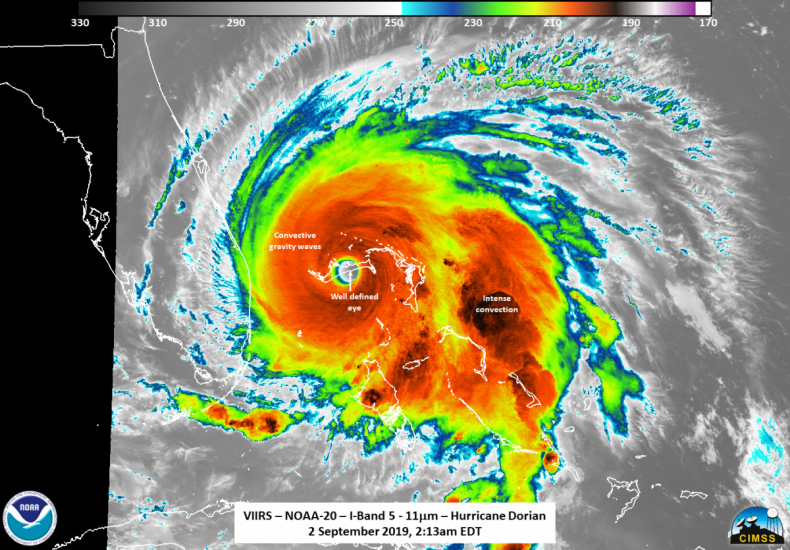 The next image—which is also based on data collected by NOAA-20 at 2:13 a.m.—shows the general structure of the storm, as well as areas where lighting strikes are occurring.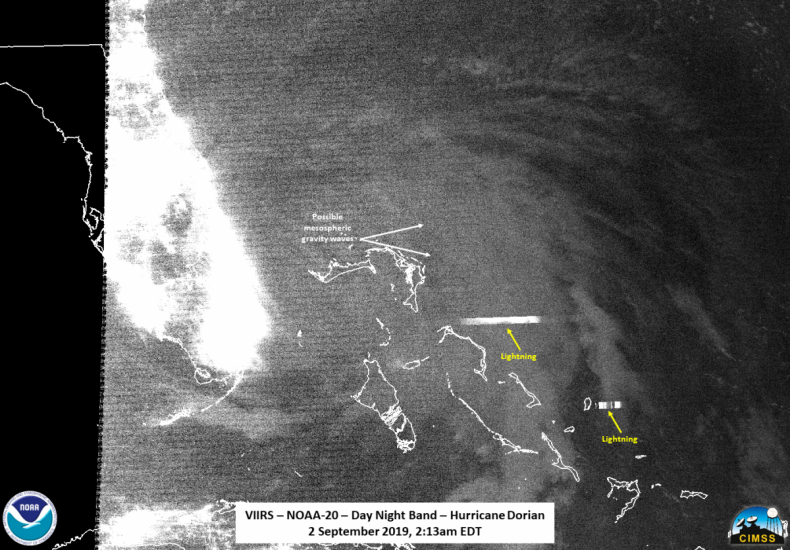 At 3:03 a.m. EDT that same day, the NOAA/NASA Suomi NPP satellite made further infrared observations, revealing the storm's eye in fine detail as it hovered over Grand Bahama as a Category 5 hurricane.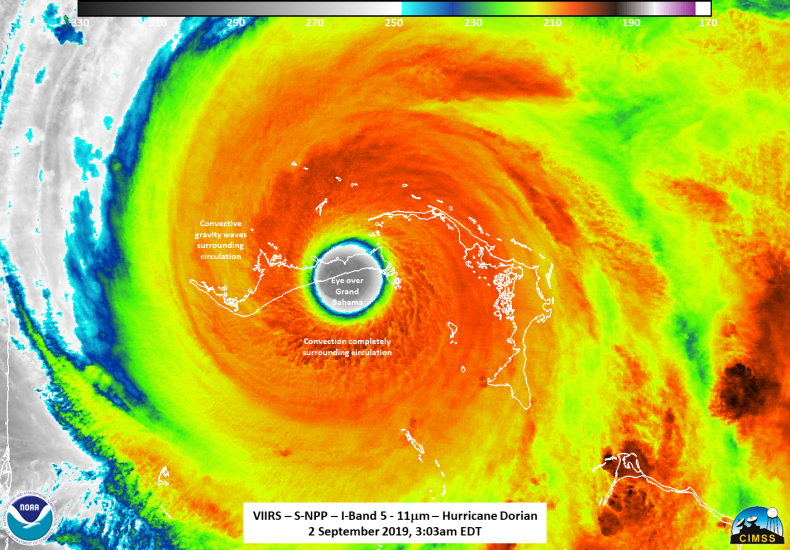 On Monday, Dorian's inner core was producing between 6 and 14 inches of rain, according to NASA, a process that is revealed in the map below provided by the space agency's Global Precipitation Mission. To produce this map—which shows the accumulation of rain in the area—a NASA algorithm known as IMERG combined observations from several satellites.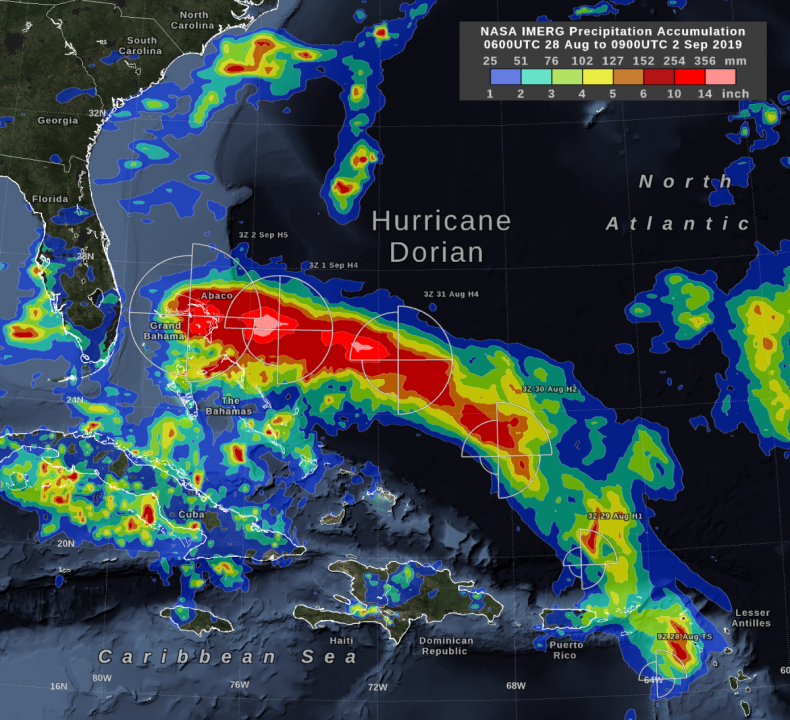 Finally, cameras on the outside of the ISS captured this spectacular—albeit sobering—video of Dorian at 11:27 a.m. EDT on Monday as it was crawling at speeds of just one mile per hour over the northwestern Bahamas.
Hurricane Dorian continues to batter the Bahamas after causing catastrophic damage and killing at least five people, although it has now weakened slightly to a Category 3 storm with maximum sustained wind speeds of 120 miles per hour.
The hurricane is now practically stationary, hovering above the island of Grand Bahama—which will only exacerbate the damage being done on the ground—but forecasters say that it will move "dangerously close" to the Florida east coast late today before tracking northeast, skirting the coasts of Georgia, South Carolina and North Carolina through midweek.
As of 2 a.m. EDT, Dorian was located about 30 miles northeast of Freeport on Grand Bahama and 100 miles east of West Palm Beach, Florida. The storm has equaled the record for the most powerful Atlantic hurricane ever to make landfall in the Bahamas—tying with the Labor Day hurricane of 1935—the Associated Press reported.