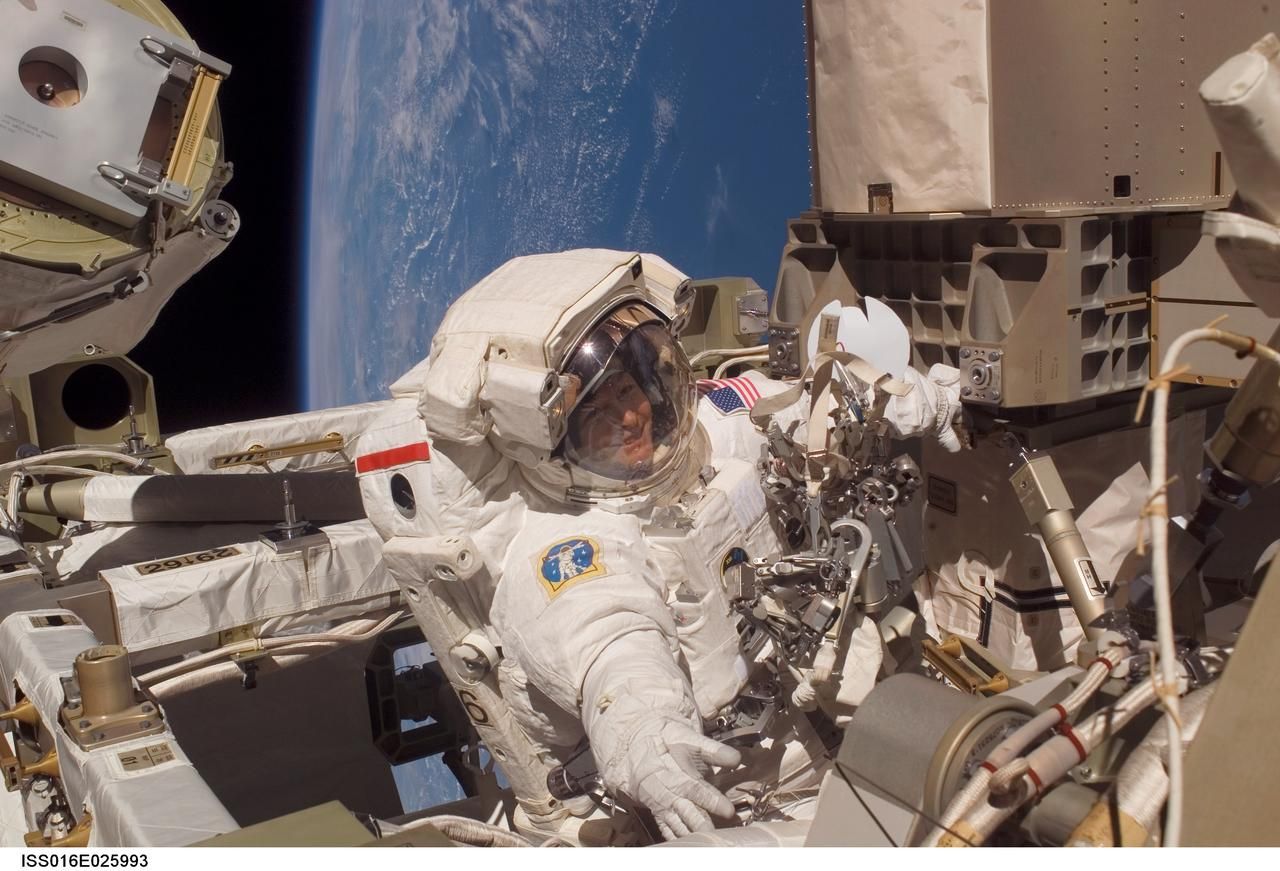 NASA astronauts Anne McClain and Christina Koch were originally expected to complete the first all-female spacewalk together Friday but the assignments were changed this week. "After consulting with McClain and Hague following the first spacewalk, mission managers decided to adjust the assignments, due in part to spacesuit availability on the station," NASA said in a release about the change.
The change in plans caused an ever bigger stir than the original news of the walk assignment did, with many chiming in that it was a prime example of sexism. The change was all due to the fact that there were not two medium-size HUTs, or hard upper torsos, ready for the walk. McClain and Koch both require medium sized HUTs, the part of the suit that also holds the portable life support system, or PLSS, necessary to keep the astronauts alive and well while they complete their tasks outside of the station. Former Secretary of State Hillary Clinton even weighed in on the news, tweeting "Make another suit."
"To get the second medium ready for the spacewalk would take 12 hours of crew time, which would mean delaying the spacewalk, which would be difficult with the space station's upcoming schedule of cargo spacecraft arriving," Brandi Dean with NASA's public affairs office told Newsweek.
Not only would changing out the HUTs take time, it could also be potentially dangerous for the astronaut in the adjusted suit. "It would also incur additional risks, since it would expose the connections between the torso and the life support system," Dean said.
The lack of available suits that properly and safely fit female astronauts on board the station isn't intentional by NASA, but reflects that there are rarely two women on board at once and when there have been, they've never needed to both be outside of the station at once. Even then, the smallest size HUT available is a medium. In all there are two mediums, two larges and two extra larges, "One of the mediums and one of the extra larges are spares that would need additional time to configure for a spacewalk," Dean said.
"The fact that we have two women up there at the same time is an accident," author Mary Robinette Kowal told Newsweek. "It wasn't designed to be an all female spacewalk, it's actually an accident of staffing it was not something that they set up ahead of time," she said. Kowal was referring to the October rocket failure that caused the astronauts on board, bound for the ISS to immediately return to Earth, the aborted mission caused a change in scheduling.
Following the announcement about the change in walk plans, Kowal tweeted a detailed thread about the state of NASA's spacesuits and how necessary a properly fitting suit is for a walk.
"This decision to me makes complete sense, especially because one of the scenarios that could have happened if we put the priority on 'Let's have an all women spacewalk, we said we were going to, maybe we really need to,' what happens then is either they have to rush refitting a suit or one of them has to go out in a suit that doesn't fit, neither of those are good," Kowal explained.
The suits themselves are stiff and those in space are used far less frequently than those that the astronauts train in on Earth, so they're even stiffer. Additionally the HUT is similar to wearing a soda can on your torso meaning any movement is difficult, retired astronaut Cady Coleman told Newsweek.
"The suit weighs 300 lbs and is blown up like the Stay Puft Marshmallow Man so when you bend your arm, you have to work to compress the suit itself. Like folding a stiff balloon in half," Coleman said. "A bigger suit might mean that you are having to bend the suit more to get the reach that you need—and a stiffer suit makes that hard," she explained.
She said when McClain trained on Earth, she probably used a medium and a large suit and figured she could wear either in space. After her first walk, McClain probably realized the medium was best and safest and spoke up like NASA encourages astronauts to do.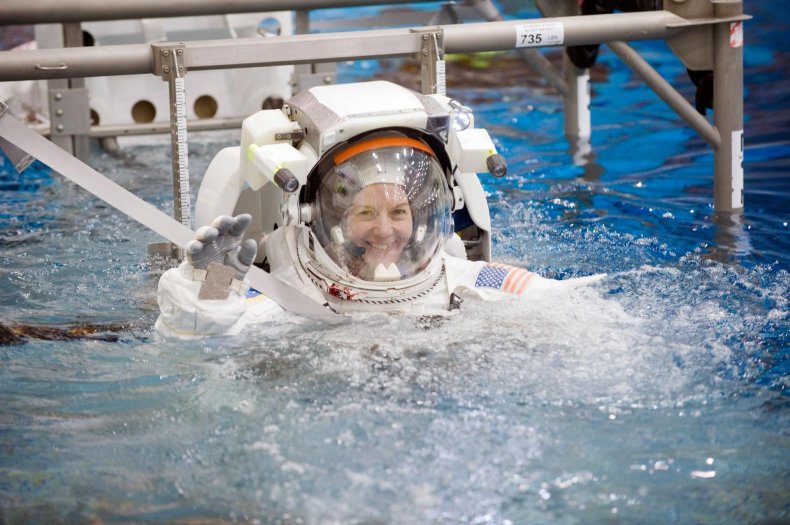 While training in water is as close as astronauts can get to feeling like they're in space, there's no true way to know what suit will fit best until they're actually wearing the suits in a zero-gravity environment. The lack of gravitational pull on their body and the suit, and the two combined, is far different in space than on Earth's training tanks.
"NASA is making the right decision given the circumstances that we understand. They have several able bodied astronauts capable of EVA—and a medium and large suit are ready. They have to put people in that are comfortable in those sizes," Coleman said.
But Kowal said the lack of available suits that fit women is a problem that's built up over decades. "The EMU, the extra vehicular mobility units, the EMU, basically it's a one person spacecraft," she said. "So it's not just an article of clothing, it is a spacecraft, so very very complicated things."
And those suits are decades old, they were designed in the '70s to be used in space shuttle launches in the '80s, Dean told Newsweek. NASA didn't send its first woman to space until 1983 when Sally Ride launched, meaning the suits were designed when the astronaut classes were made up of mostly men.
NASA has been working to develop new ones but in the meantime has been relying on refurbishing the ones they already have, and working to keep them in good condition. Each suit spends about six years in space before it's returned to Earth to be refurbished, Dean told Newsweek.
Coleman said it's normal for it to take time for suits to be prepared before a walk and even getting a suit ready for Hague would take time. "In most male dominated fields, women still need to perform better than their male counterparts in order to be 'seen'—and spacewalking is no exception," Coleman said.
Kowal agreed, "The problem is that when NASA is deciding who's going to do a spacewalk what they look at is how well you perform in the neutral buoyancy lab, so women are handicapped from the very beginning when they don't have a suit that fits."
Women used to have a better chance, when NASA still made smaller suits, but they stopped years ago. "The small suit was eliminated from the inventory in the early '90s—taking away the chance for many women to demonstrate that they had the ability to carry out spacewalk missions. The fact that fewer of the smaller people—mostly women—could fit in medium suit decreases the number of chances that women and minorities can perform spacewalks," Coleman said.
A suit that's too big on Earth can cause the wearer to move around inside, either falling down so they have trouble seeing out of the mask or sliding up if they're upside-down so that their head hits the top of the helmet. Coleman experienced learning to spacewalk and earning her place in suits that were too large for her, as the smallest person to be qualified for a spacewalk on the space station. She says she accomplished it through hard work, determination, recruiting help and advice.
"I think that NASA made the correct decision for these circumstances, but I am looking forward to a future where the road to these missions is more inclusive, and includes the appropriate equipment for everyone for accomplishing those tasks," Coleman said.