NASA Chief Jim Bridenstine Lays out 'Artemis Accords' Plan to Police Exploration of the Moon Ahead of 2024 Return
NASA has unveiled the Artemis Accords, a collection of shared principles that aims to govern space exploration as humans look to return to the moon.
Named to reflect the U.S. space agency's Artemis program, which aims to land the first woman and next man on the lunar surface by 2024, before ultimately sending astronauts to Mars, the proposals set out some key ground-rules for space-faring nations.
An online overview that lays out the major points of the new agreement confirms some information that surfaced earlier this month, including the use of "safety zones" on the moon to reduce interference or conflict between rival operations.
Officials noted that the Accords are "critical to establish a common set of principles to govern civil exploration" by both countries and private sector companies.
"International space agencies that join NASA in the Artemis program will do so by executing bilateral Artemis Accords agreements, which will describe a shared vision for principles, grounded in the Outer Space Treaty of 1967, to create a safe and transparent environment which facilitates exploration, science, and commercial activities for all of humanity to enjoy," a description of the Artemis Accords continues.
According to NASA, a core of the shared principles is a requirement that all activities be "conducted for peaceful purposes" and ensure transparency is maintained.
The principles state all nations should provide emergency assistance to others in need, including assistance to any astronauts in distress. They will require partners to release scientific data publicly, and protect all historic sites and artifacts in space.
The proposals say NASA and partner nations will agree to plan to reduce orbital debris and ensure the safe and timely disposal of spacecraft at the end of their missions.
The Accords note that the ability to extract and utilize resources on the moon, Mars, and asteroids will be "critical to support safe and sustainable space exploration" but stress all partners should agree to work under the rules of the 1967 treaty, which says that no nation can claim ownership of the moon or other celestial bodies.
"It's a new dawn for space exploration!" NASA administrator Jim Bridenstine tweeted today, sharing a link to a website containing an overview of the plans.
"I'm honored to announce the #Artemis Accords agreements — establishing a shared vision and set of principles for all international partners that join in humanity's return to the Moon. We go, together," Bridenstine's Twitter post continued.
Last month, NASA confirmed that Blue Origin, SpaceX and Dynetics had been selected to design and develop human landing systems for the 2024 program.
Reuters reported the U.S. was in talks with Europe, Canada, Japan and the United Arab Emirates about the principles, but Russia would initially be absent.
Kremlin spokesperson Dmitry Peskov later said the principles would need thorough legal analysis. A full list of partner agencies was not available at time of publication.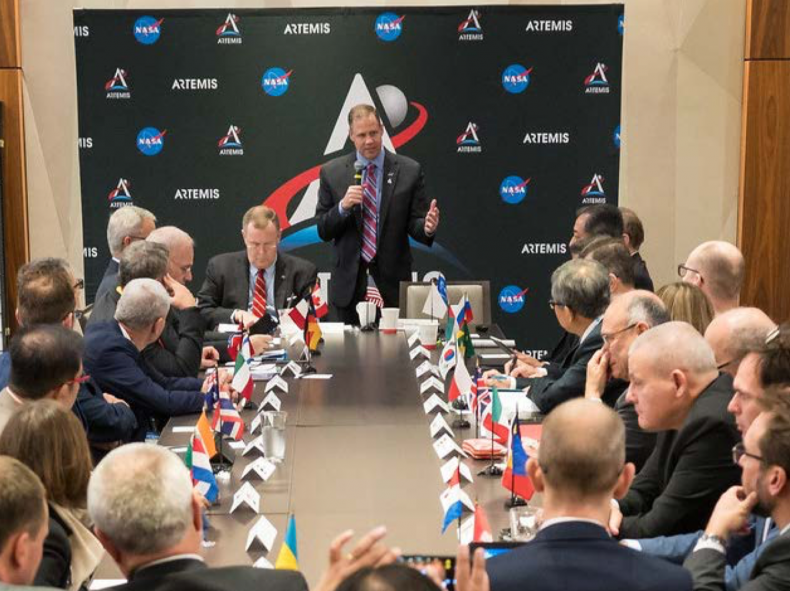 NASA Chief Jim Bridenstine Lays out 'Artemis Accords' Plan to Police Exploration of the Moon Ahead of 2024 Return | Tech & Science