Lake Powell Water Level Decline Seen in Shocking NASA Images
NASA has released satellite photos that show just how much Lake Powell, a key component of the Western U.S. water system, has dried out over the past several years.
Lake Powell, the second-largest reservoir in the country, is at around 26 percent capacity. This is the lowest point since 1967, the space agency said on Wednesday.
Located in northern Arizona and stretching up into southern Utah, Lake Powell can hold trillions of gallons of water and has more than 2,000 miles of shoreline. In excess of 3 million people every year visit the reservoir and the surrounding Glen Canyon National Recreation Area, according to online guide Arizona Leisure.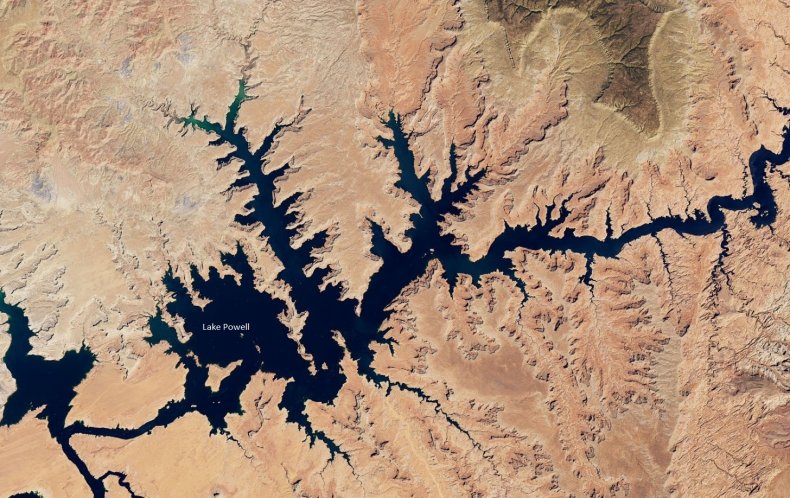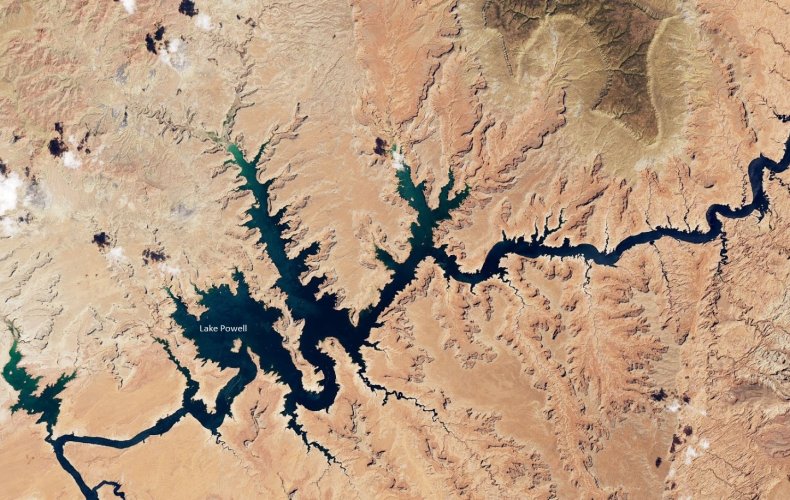 The top composite image was captured by NASA's Landsat 8 satellite in mid-2017, when the lake's water elevation was about 3,633 feet. The image above, captured by Landsat 9, shows the lake as it is in August 2022, with the water level almost 98 feet lower.
This year isn't a standalone case; the water level in Lake Powell has seen continued decline since 1980.
Water levels are only slightly above the minimum power pool elevation line, at which point hydroelectric turbines at the lake's dam can no longer make electricity efficiently. This could lead to a potential energy crisis for millions of people in the Southwest who depend on the dam for power, CNN reported in April.
Drought conditions have affected vast swathes of the U.S. this year, with 41 percent of the country in drought between August 10 and August 16, according to the government's National Integrated Drought Information System (NIDIS). More than 130 million people are affected.
Meanwhile the U.S. Drought Monitor shows large areas of the southern parts of the country are experiencing a D4-class "exceptional drought," which is the most severe kind. Parts of the Western U.S. and the High Plains are also suffering such conditions.
Lake Powell is not the only body of water to be affected by drought. Last month, NASA shared satellite photos of Lake Mead, which is the largest reservoir in the U.S. when at full capacity.
The photos show how the lake's shoreline has crept inwards over the space of two decades, with some sections drying up entirely.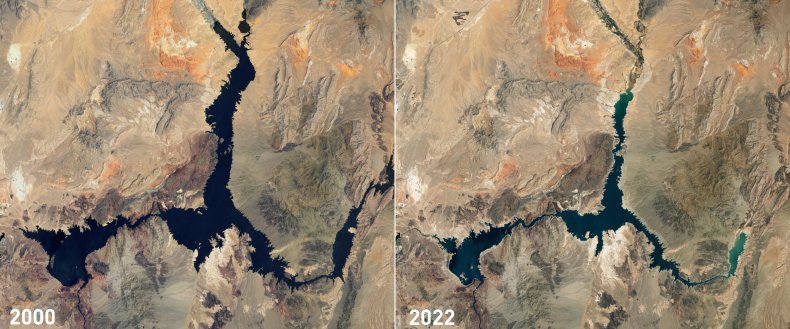 Drought conditions can be harmful since, depending on their severity, they may devastate crops and forests, cause food shortages for livestock, increase wildfire risk, and negatively affect economies.
Droughts are a natural part of the climate cycle, but climate change is making them increasingly frequent and severe as Earth's atmosphere continues to warm up, according to NASA. The space agency says it is "undeniable" that humans are driving this change, with warming occurring around 10 times more quickly than the average rate after an ice age.