NASA Administrator Says Americans Would 'Be on Mars Today Had it Not Been For Political Risk'
As the nation approaches the 50th anniversary of Apollo 11's historic landing on the moon, NASA Administrator Jim Bridenstine claimed people would likely already have ventured to Mars by this point if it had not been for "political risks."
Bridenstine appeared on CBS' Face The Nation Sunday to discuss NASA's schedule for space exploration, which includes going back to the moon and then to Mars within the coming years.
The administrator also shed light on what he believed were the reasons the space program had been prevented from returning to the moon and landing people on Mars in the many years since NASA's landmark moon missions. No human has stepped foot on the moon's surface since December 1972, when the crew of Apollo 17 departed on their return to Earth.
"There's two risks. There's technical risk and there's political risk. We would be on the moon right now if it weren't for the political risk. We would be on Mars, quite frankly, by now had it not been for the political risk," Bridenstine said, adding that funding for the space program was also an issue.
"In the past, in the 1990s and in the early 2000s we made efforts to go back to the moon and on to Mars, and in each case, the program was too long. It took too long and too much money," he continued. "What the president said, in order to retire the political risk, we want to go faster. We want to go within five years. The vice president delivered a message at the National Space Council and he said we want to go back to the moon within five years. Then they amended the president's budget request to give us the resources necessary to make it a reality and that's where we are."
Although President Donald Trump recently slammed NASA's desires to return to the moon—in a message on Twitter the president said the department should be focusing their efforts on sending people to Mars—Bridenstine insisted that the former real estate mogul and NASA were now on the same page regarding mission schedules. He also revealed Trump's goal of putting an American flag on the Red Planet.
"I talked to him after that tweet. I wanted to make sure we were in alignment—we absolutely are. He understands, and in fact, he said to me, 'I know we gotta go to the moon to get to Mars,' but he said, 'What is that generational achievement that will inspire all of Americans? It's putting an American flag on Mars.' He said, 'Make sure you're committed to the flag on Mars," Bridenstine said.
NASA in April announced the Artemis program and shared plans to send humans to the moon within the next five years with hopes of establishing a sustained human presence on and around the moon by 2028. Bridenstine harped on the timeline and noted NASA's commitment to making sure women were represented in the upcoming missions and claimed the first steps on the moon would likely be made by a woman.
"We want to go back to the moon sustainably, in other words, to stay, but we also want to keep our eye on what is President Trump's goal. What is his vision? He wants to put an American flag on Mars. So we go to the moon so we can learn how to live and work in another world and ultimately have more access to the solar system than ever before so we can get—no kidding—to Mars," Bridenstine said. "But here's what I think is the important part about Artemis specifically, in the 1960s we love Apollo. What an amazing program, contest of great powers, the United States of America in the Cold War and, of course, we came out on top. But I think the important thing is, in those days all of our astronauts came from test pilots and fighter pilots and there were no opportunities for women. Today under the Artemis program we have a very diverse highly qualified astronaut core that includes women, and Artemis in Greek mythology happens to be the twin sister of Apollo."
He added: "So now when we go back to the moon we go with all of America, and I think that's a great message."
Before moon and Mars missions are underway, NASA will send astronaut Andrew Morgan and a multinational crew of space travelers to the International Space Station on the 50th anniversary of the Apollo moon landing on July 20.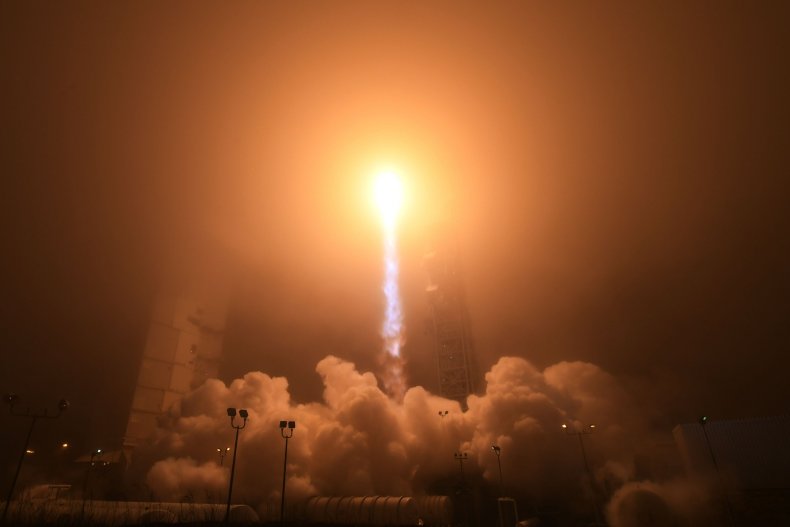 NASA Administrator Says Americans Would 'Be on Mars Today Had it Not Been For Political Risk' | U.S.