Ocean Meteorite Hunt: NASA May Have Found Space Rocks Under the Sea for the First Time
Earlier this week, scientists began searching the seas for hunks of a 2-ton meteorite that burst into the atmosphere over the northwestern U.S. on March 7. Now the team thinks they have found two small pieces of the space rock deep under the sea.
Preliminary visual analysis suggests the small chunks are pieces of fusion crust—a thin, glassy layer that forms when the edges of a meteorite melt as it charges through the atmosphere—according to an expedition statement. If further testing confirms they hail from a space rock, these will be the first known meteorite pieces recovered from the ocean.
The E/V Nautilus—a research vessel funded by the National Oceanic and Atmospheric Administration, the Ocean Exploration Trust and others—swept the seafloor with sonar and remotely operated vehicles equipped with hoses, scoops and magnetic plates to locate and collect sediment samples. Back on the boat, researchers searched the samples for meteorite chunks.
NASA cosmic dust curator Marc Fries performed the initial visual analysis of the sediment clumps. He tracked the meteorite fall back in March using a sophisticated radar system. Fries used radar data to map out 0.4 square miles of ocean where meteorite pieces had fallen, ocean the E/V Nautilus has been searching this week.
Although meteorites can survive for many thousands of years on land, they may degrade in the ocean. Scientists were in a race against time to recover the rocks from the seawater.
This meteorite fall was of particular scientific interest, Fries previously told Newsweek. Not only was it largest fall he had ever seen, but the meteorite appeared to be unusually hardy. "This fall features unusual fragmentation behavior, suggesting it is a mechanically tough and possibly rare meteorite type," Fries said. "All we need is a single meteorite in hand to find out."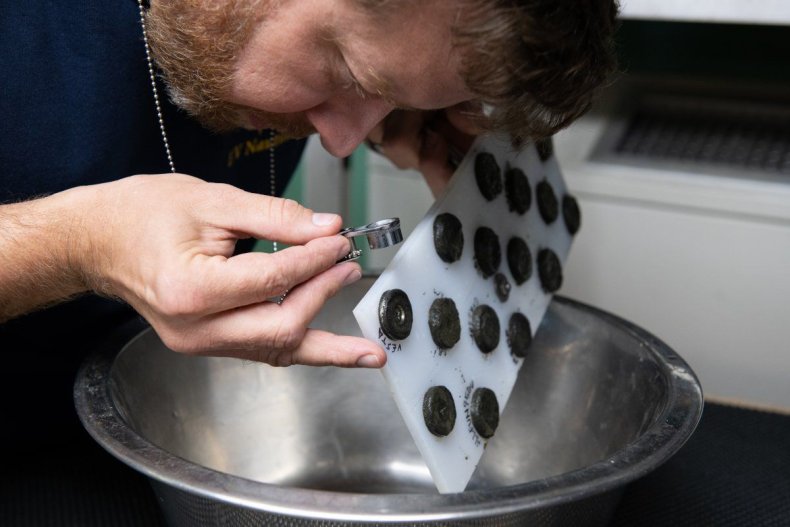 These ancient space rocks offer chemical clues to the early solar system and the history of our own planet. "Having any new piece of that puzzle is always welcome to the scientific community," Fries previously said.
After a busy week, the E/V Nautilus is now off to survey three northeast Pacific seamounts. Researchers will explore the biodiversity hotspots and use their trusty remotely operated vehicles to set up permanent monitoring instruments. You can follow the vessel's journey as it happens at Nautiluslive.org.
NASA did not immediately respond to a request for comment.