NASA Just Sent Lasers, E. Coli and Pizza to the ISS on the Orbital ATK's Cygnus Spacecraft
It may well be the oddest collection of items that has ever been blasted into space.
On Sunday, NASA launched some 7,400 pounds of cargo aboard commercial space company Orbital ATK's Antares rocket from the Wallops Flight Facility in Virginia.
The devliery included scientific samples, supplies and some goodies to keep the six astronauts on board the ISS cheerful as Thanksgiving and Christmas approach.
Around one-quarter of the cargo will be used for scientific research or testing technology in space. This includes a mission to test the effect of microgravity on the antibiotic resistance properties of the bacteria Escherichia coli (E. coli). The bacteria—which usually finds its way into humans through contaminated food or from other infected people—commonly causes diarrhea, vomiting and can lead to urinary tract infections.
The lack of gravity in space has been shown to weaken the human immune response, so scientists want to test whether E. coli is more or less resistant to antibiotics in space. Recent experiments aboard the ISS found that E.coli can "shapeshift" in space to defend itself against the drugs.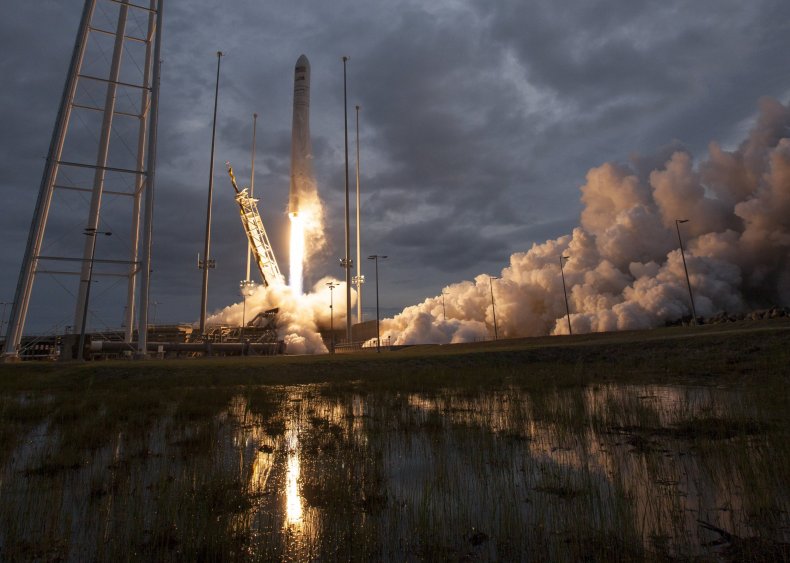 The cargo also includes equipment to study the effect of laser-based communications in space. Researchers want to know how the environment in space affects high-speed optical transmission of data, and the results could help boost communication speeds between astronauts in space and their teammates on Earth.
But perhaps most importantly for morale, the cargo includes some treats for the ISS astronauts, who usually survive on a diet of dry or freeze-dried space food— such as crackers and dehydrated mashed potatoes. ATK officials revealed that the Cygnus spacecraft's cargo would include a "cool box" filled with fresh fruit and vegetables.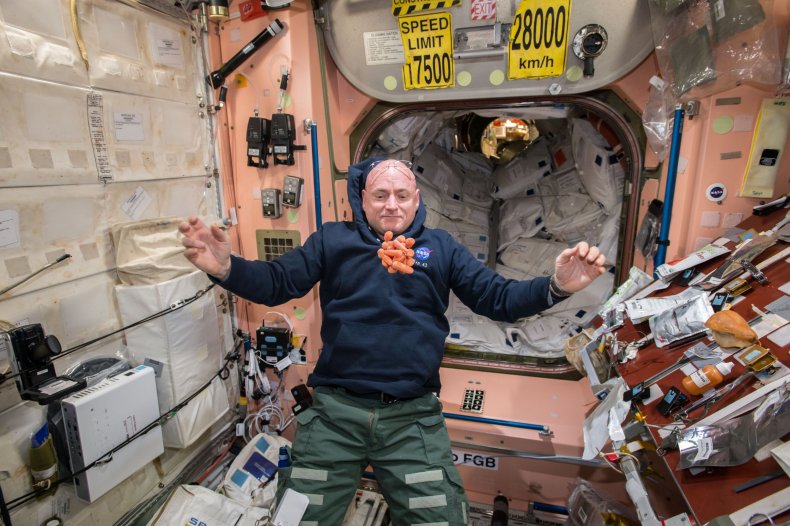 Read more: NASA wants to send your name to Mars—here's how to sign up
ISS deputy program manager Dan Hartman also said that some traditional food items associated with Thanksgiving—when Americans usually indulge in turkey, potatoes, and pumpkin pie—as well as Christmas gifts were on board.
While the entire menu wasn't revealed, it appears that two of America's favorite foods are en route to the ISS: pizza and ice cream. Joseph Acaba, one of three U.S. astronauts on board, tweeted his anticipation for the delivery on Sunday, adding that it was "packed full with #science and supplies!"
The ISS team will have to wait a little longer than originally planned for their delivery after the rocket launch was aborted at the last minute Saturday after a personal airplane illegally entered the site's restricted airspace.
The rocket eventually took off at 7:19 a.m. Eastern time on Sunday after being delayed by five minutes to ensure a pair of boats were outside the restricted area, Space.com reported. One of the ISS astronauts will use a robotic arm to grapple the cargo craft when it arrives on Tuesday.
Orbital ATK dedicated the cargo mission to Gene Cernan, a NASA astronaut who was the last person to walk on the moon in 1972 and one of only three people to go to the moon twice. Cernan passed away in January after health issues, his family said.