NASA Plane Flying Around San Andreas Fault Sparks Conspiracy Theories
On July 22, a large jetliner belonging to NASA was spotted flying low over the San Gabriel Valley in Southern California during afternoon rush hour.
A spokeswoman for the space agency, Kate Squires, subsequently told CBS Los Angeles (CBSLA) that the DC-8 plane was flying as a part of a mission to study the effects of fire smoke on air quality. However, this hasn't stopped some people online from spreading wild conspiracy theories in an attempt to explain the aircraft's movements.
According to the Los Angeles County Sheriff's Department, the plane—call sign NASA817—took off from Palmdale Regional Airport before flying in zig-zags for more than 2,000 miles over Central California and Nevada and finally landing at Boise Airport, Idaho.
Many Californians on the ground noticed the plane because it was flying below 1,000 feet at some points, Metro reported.
"It was scary, a little bit. You didn't know if was going to land," CBSLA reporter Jasmine Viel, who was commuting when the plane flew over her, said. "Everyone kind of stopped in their cars, looking up. It was big and loud."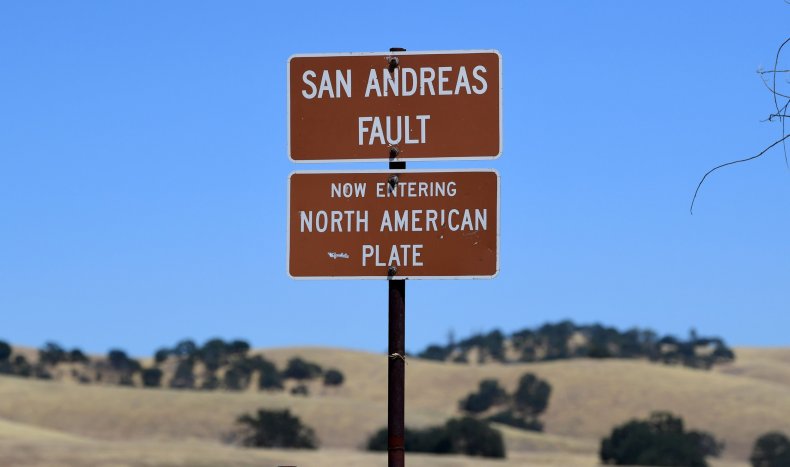 The conspiracy theories have largely stemmed from the fact that the plane's path appears to have taken it near or over some parts of the infamous San Andreas fault—a 750 mile-long tectonic boundary which runs through California where the Pacific Plate and the North American plate meet.
This fault system was responsible for the most catastrophic earthquake in the state's history—the San Francisco quake of 1906 which led to the deaths of 3,000 people and the destruction of 28,000 buildings.
However, since then, the fault has been relatively quiet, leading to fears that a large earthquake, often referred to as "the Big One," is overdue.
One popular conspiracy theorist, Tyler Glockner—who operates the YouTube channel secureteam10—suggested in a video that the plane was monitoring seismic activity.
"A registered NASA aircraft was noticed doing zig-zag flying patterns near and over the San Andreas fault line," he said in the clip. "It's almost as if it is scanning the ground as if to try and get more data about what is happening underneath. What is going on? Is something occurring? What do they know, are they gearing up for something? Do they know the Big One is coming?"
Meanwhile, conspiracy site allnewspipeline.com also made the connection between the plane and earthquakes, suggesting NASA and the U.S. government were hiding something from the public.
Despite these claims, Squires explained that the plane was part of a joint campaign led by NASA and the National Oceanic and Atmospheric Administration (NOAA) known as Fire Influence on Regional to Global Environments and Air Quality (FIREX-AQ.)
"I'd like to provide some context on why the aircraft was flying so low to the San Gabriel Mountains on July 22 as the aircraft transited to Boise for FIREX-AQ," she told Newsweek. "Since the plane was fully loaded with a suite of science instruments that are able to study different aspects of air quality, the California Air Resources Board took advantage of the opportunity to have the science team observe the Los Angeles Basin and Central Valley as the plane made its way out of the state and onward to Boise."
According to NASA, the FIREX-AQ mission is investigating several issues related to the effects of fire smoke. The aim is to better understand how smoke affects the weather, as well as the potential impacts on public health.
"FIREX-AQ is a mission studying the life cycle of fire smoke and its impacts to air quality," Squires said. "Using a variety of ground sensors, aircraft, and satellite measurements, the science team is aiming to answer questions about the chemical and physical properties of fire smoke, how it is measured and how it changes from the moment of combustion to where it settles hundreds or thousands of miles downwind."
"The overall goal of the mission is to better understand smoke impact on weather and climate and provide information that will lead to improved air quality forecasting," she said.
The NASA DC-8 is a flying laboratory which the space agency uses for a variety of Earth Science and Aeronautics research missions.
"The plane is a 50-year-old modified jet transport that can be customized with different science instruments, dependent upon the phenomena it is studying," Squires said. "It has been used to study areas including air quality, land and sea ice, emissions and contrails from aircraft, and storms over its tenure as a NASA platform. It has also frequently been used as a testbed for future space satellite sensors and for data calibration and validation of space satellites currently in orbit."
Last month, two large earthquakes measuring 6.4 and 7.1 on the Richter scale struck the Mojave Desert area of Southern California within the space of two days. Fortunately, relatively little damage was reported.
This article was updated to include additional comments from Kate Squires.