NASA Is Practicing Its Next Mars Landing Using Crushed Gemstones
In November, NASA will land its next robot on Mars, which means they have about eight months to practice sticking the landing. And it turns out the mission's engineers are making use of a surprising substance to do so: crushed garnet gemstones, as they revealed in a new 360-degree video of the testing center.
NASA has a good scientific reason for its taste in bling: crushed garnet turns out to be a pretty good way to mimic the surface of Mars, which is covered in sand and gravel. The term garnet applies to a whole range of specific gemstone chemical compositions and colors that share the same basic properties.
One of those properties is that while garnets are classified as gemstones, they're way more valuable crushed for industrial uses than for sitting around looking pretty. Crushed garnet is a very effective abrasive, so people use it for sandpaper, grinding lenses for glasses and sandblasting.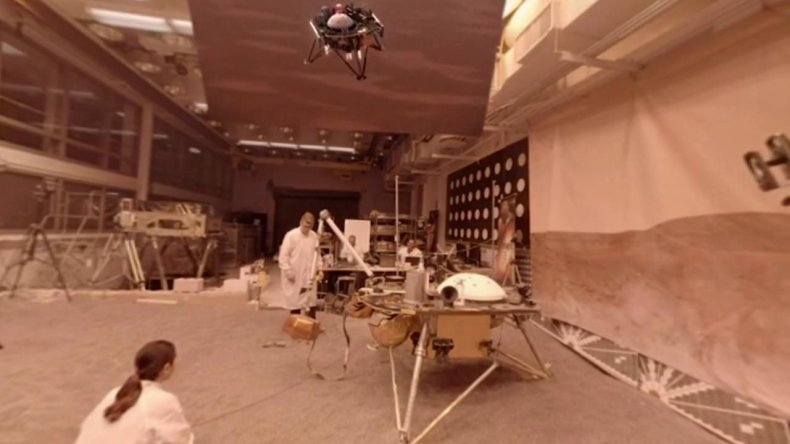 For NASA, crushed garnet is appealing because it can mimic the range of particle size found on Mars, where sand and gravel are mixed together, without producing a lot of dust.
One of the key challenges InSight engineers have to deal with is that they can't be sure precisely what angle the surface will be where the lander initially touches down. And unlike the Curiosity rover ruling the Martian surface now, InSight can't move to find a spot it likes better.
Read more: Watch NASA's Next Mars Lander Spread Its Wings Preparing for May Launch
That means that with their replica lander and crushed garnet planet, the engineers are practicing with tilts up to 15 degrees to make sure the lander can still successfully put each of its three science tools down on the surface of Mars.
Mars InSight is scheduled to launch as soon as May 5.