Now that the rain in the Carolinas from Hurricane Florence has officially stopped and the waters have started to settle, it's possible for the data collection on the actual amount of rain that fell over the states to begin.
NASA is doing just that with the help of several satellites. The maps that use the data show the impact of flooding in the areas of the Carolinas. One map shows the levels of moisture in the soil before the storm and the other shows it after the rain that accumulated September 13 through 16, according to NASA.
The level of moisture in the soil before the event can be significant because the more water already in the soil, the less it can take on when it begins to rain.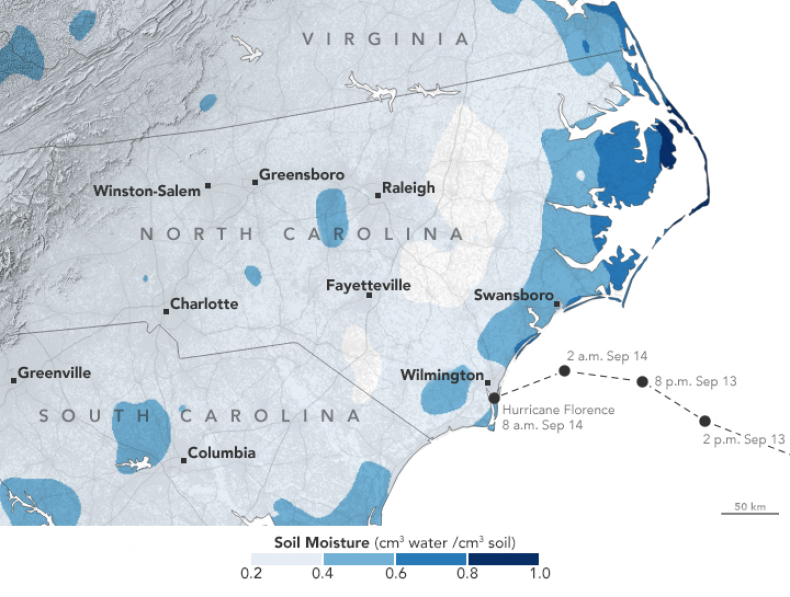 Four instruments were actually used to compile the maps that were provided to FEMA and the National Guard. One from the Global Precipitation Measurement mission, called Integrated Multi-Satellite Retrievals, was used to collect rainfall data that was remotely sensed and then shared.
Other data came from the Copernicus Sentinel-1 satellites that are able to gather information through cloud coverage, so even in less-than-perfect weather, like that after a hurricane, it can collect data. It's able to detect brightness changes, which can happen if the ground becomes more or less reflective, or if it gets covered in something like flood waters, according to NASA.
The information helps the emergency response teams working through the aftermath of a storm like Florence. The data can help them make estimates about the damage that was done in certain areas or see the extent to which the flood waters covered.
It can also help those making rescue efforts see where roads could be potentially flooded or fully washed away. This is particularly important because different parts of the storm brought different conditions.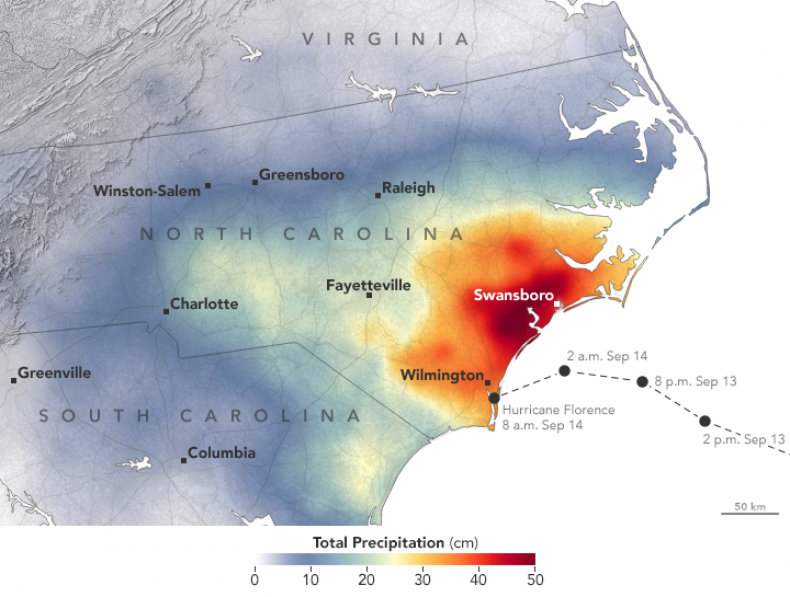 The towns of Elizabethtown and Swansboro both saw about 35 inches of rain through the storm, according to the National Weather Service. The maps provided by NASA's Earth Observatory show the areas of the state where the ground was wettest before the storm and then where the areas that had the highest levels of precipitation.
In those areas, the water had few places to go and in the coming weeks will likely spread out and keep the water levels of the rivers and creeks nearby at a high. Officials are warning that the worst could still be to come.