NASA Scientists Have Developed Room-Sterilization Machine and New Ventilator to Fight Coronavirus
At a media briefing Friday, President Donald Trump met with officials from NASA and the Jet Propulsion Laboratory (JPL) to view some equipment the agencies have designed that could be used in the battle against coronavirus.
Included among the devices were a device that functions as a ventilator, a decontamination unit that could be used in medical facilities and an oxygen hood designed specifically for coronavirus patients.
Information sent to Newsweek by the White House said the presentation was meant "demonstrate the practical benefits NASA provides Americans both on Earth and beyond."
"As part of the whole government approach to combat the coronavirus, a lot of our workforce has been staying at home," NASA Administrator Jim Bridenstine told Trump Friday. "The questions is what do you do with rocket scientists when they stay at home? What they do is they build amazing things."
"NASA's strength has always been our ability and passion—collective and individual—for solving problems," Bridenstine said in a Thursday press release. "All the work being done shows how NASA is uniquely equipped to aid in the federal response to coronavirus by leveraging the ingenuity of our workforce, mobilizing investments made in the U.S. space agency to combat this disease, and working with public and private partnerships to maximize results."
Trump was shown a piece of equipment known as the VITAL Ventilator, which is under review by the Food and Drug Administration for emergency use for patients who exhibit milder symptoms of coronavirus.
"COVID-19 patients, their lungs are not compliant," said Dave Gallagher of the Jet Propulsion Laboratory in California on Thursday. "So you need high pressure. And this is a high-pressure ventilator from day one."
Since the VITAL is constructed from different parts than a standard ICU ventilator, it is expected to be less expensive to produce.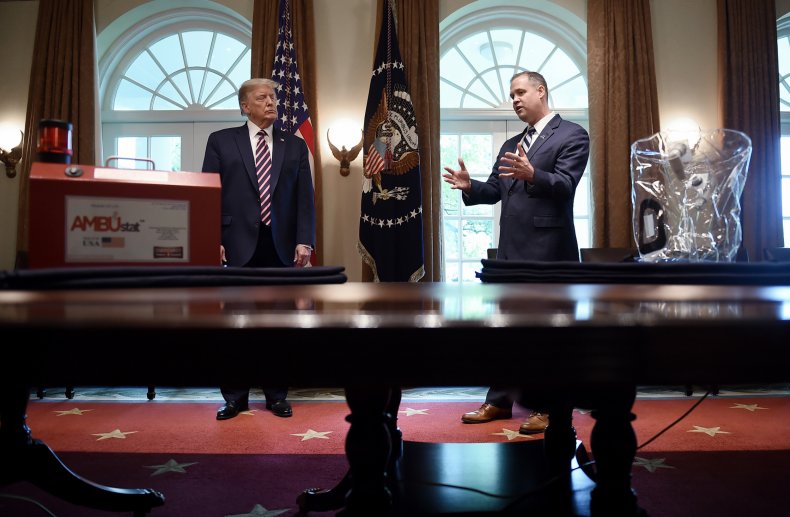 Designed to help treat coronavirus patients showing minor symptoms, the Aerospace Valley Positive Pressure Helmet should reduce the need for ventilators within a hospital setting. Oxygen is forced into the lungs by the helmet, functioning much like a CPAP machine used for sleep apnea.
Bridenstine said the helmet would ensure that patients received 100 percent oxygen while preventing patients from sharing the virus, protecting health care workers.
Already used in certain areas, a machine known as AMBUStat "decontaminates spaces such as ambulances in under an hour and at a fraction of the cost of systems currently in use," read a Thursday statement from NASA.
Bridenstine said Friday the AMBUStat is like a fogger. As the fog spreads throughout an area, it kills all the viruses on the surfaces in the room. When the process is complete, the area is clean and does not require further wiping down.
"Now we want to take it and use it to sterilize entire rooms so schools can open and businesses can open," Bridenstine said.
"We've used it specifically for MERS," Bridenstine told Trump Thursday. "We've used it for Ebola and we believe it's very effective. And we're proving it out right now. We believe it's going to be very effective for coronavirus."
Although the VITAL Ventilator is under consideration for use by the FDA, it is unknown if any of the other devices will be mass-produced and added to the federal stockpile. Newsweek reached out to NASA for comment.