NASA's Moon Rocket Launch Trial Postponed Until After SpaceX Axiom 1 Launch
A crucial test of NASA's Space Launch System (SLS) rocket has been postponed until after a SpaceX launch later this week.
The so-called wet dress rehearsal of SLS is an important test that involves powering up parts of the rocket and launch facilities before pumping the rocket full of fuel—hence the 'wet' part of the name—and counting down for launch. The countdown will then be cancelled shortly before a real launch would take place.
The purpose of a wet dress rehearsal is to demonstrate how a real launch would be stopped if anything were to go wrong that required fuel to be removed from the rocket.
NASA began the launch test last weekend, getting as far as partially loading the rocket's core stage tank with liquid oxygen despite a temperature hiccup.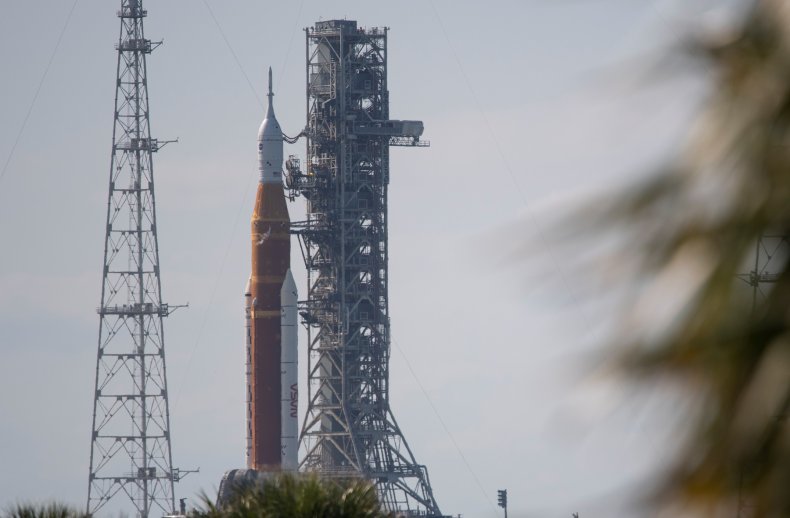 However, the test ultimately had to be scrapped after teams encountered an issue with a panel on the mobile launcher that controlled a pressure release valve from the core stage. Investigations are underway to determine the cause of the issue.
NASA is yet to announce when the launch rehearsal can be continued, but it will have to wait until at least after Friday according to a post-test media teleconference on Tuesday.
Asked when the earliest opportunity for continuation of the launch test would be, Mike Sarafin, manager of NASA's Artemis mission project, said the SLS team was collaborating with other space launch companies waiting to get their own rockets off the ground.
That includes SpaceX, which is due to launch one of its Falcon 9 rockets carrying four space tourists to the International Space Station (ISS) on the Axiom Mission 1 (Ax-1) mission on Friday.
Sarafin said the SLS launch rehearsal team would now "fall in behind them" but did not give an exact date as to when the rehearsal would continue.
"We've got to finish sharpening the pencil on our open work, but we don't anticipate that it'll be too much longer than after the Axiom launch," he said.
Ax-1 will be the first ever entirely private mission to fly to the ISS according to Axiom Space, the company organizing it. The mission will see four civilians fly to the ISS: Michael López-Alegría, former NASA astronaut and Axiom vice president; Larry Connor, a U.S. entrepreneur; Mark Pathy, a Canadian investor; and Eytan Stibbe, an Israeli investor.
The crew will spend eight days on the ISS conducting scientific research and commercial activities. The mission is expected to last 10 days overall.