Trump Signs NASA Act to Send Astronauts to Moon 'and Eventually Mars' for First Time Since 1972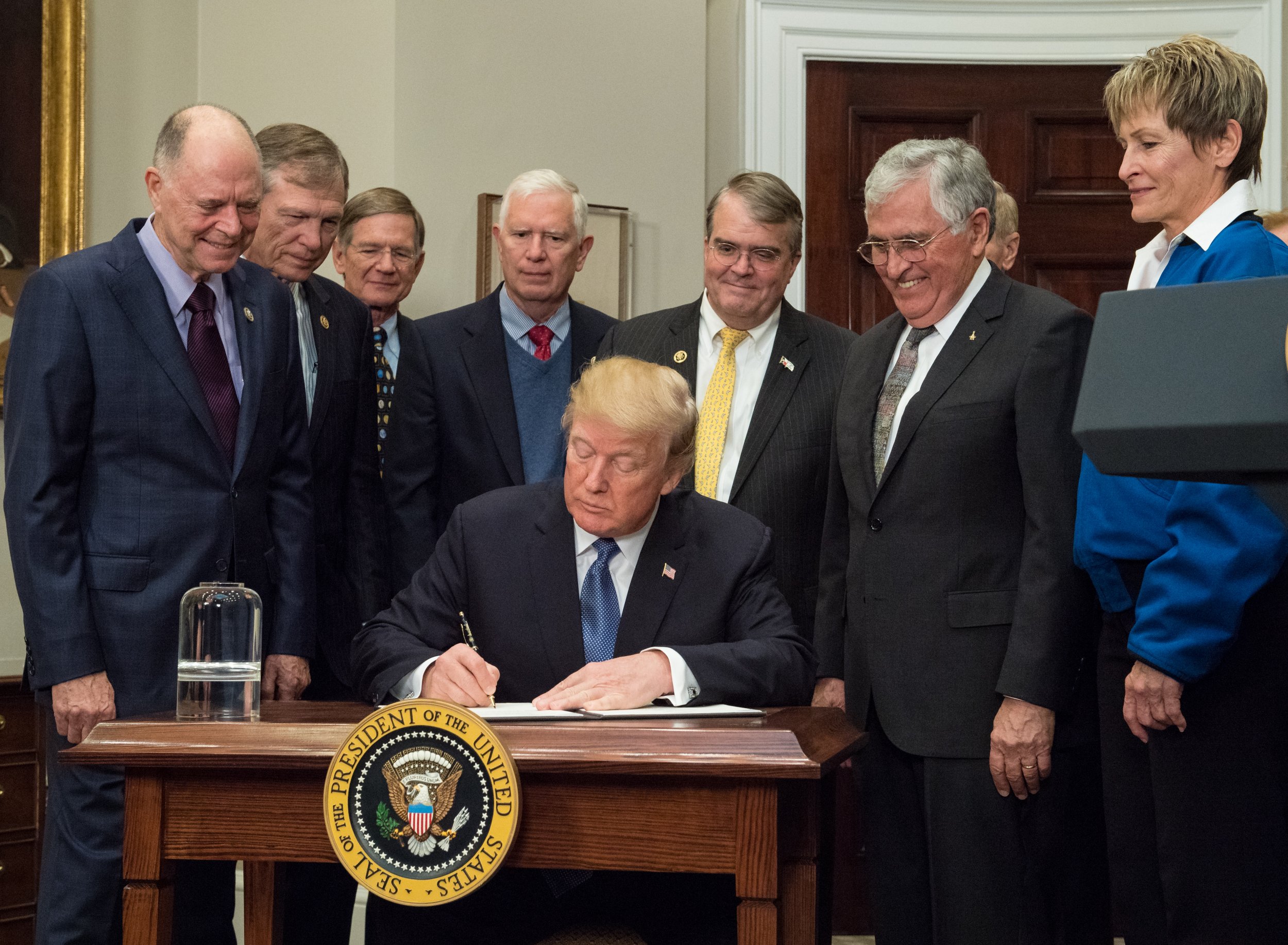 President Donald Trump signed the Space Policy Directive 1, an initiative that plans to send astronauts to the moon for the first time since 1972, and to Mars for the first time in human history. The motion, signed by the president on Monday, is in line with Trump's promise to keep the U.S. at the forefront of the space race.
Trump's signing of the directive refocuses U.S. attention on the stars and authorizes activating NASA administrator Robert Lightfoot Jr. to lead a program to send American astronauts to the moon, Mars and "perhaps someday to many worlds beyond," the president announced during Monday's White House signing, CNN reported. The president vowed that upon American astronauts' next visit to the moon, they will do more than just "plant our flag and leave our footprint," but will use the moon mission to establish a foundation for an eventual mission to Mars and any possible future space travel.
"The directive I am signing today will refocus America's space program on human exploration and discovery," Trump said at the signing. "It marks an important step in returning American astronauts to the moon for the first time since 1972 for long-term exploration and use."
In addition to the promise to take astronauts farther than ever before, the briefing also covered new research that will be conducted on the International Space Station. This includes studying how plants respond to microgravity, a drug to fight against muscle deterioration in space, tools to measure how much energy the sun sends back to Earth and research on orbital debris, NASA reported.
Monday's announcement was held on the 44th anniversary of American astronauts' last moon landing. According to Space.com, part of the reason for our long absence from Earth's closest celestial body is financially based. After the 1970s, NASA's spending was restricted and the administration was limited to only research and scientific missions, not exploration, Gizmodo reported. Now, U.S. space missions focus on activities at low-Earth orbit, and when astronauts go into space they usually visit the International Space Station.
The announcement is in line with Trump's campaign promise to make space travel a priority again under his administration. Of course, Trump isn't the first president since the Apollo missions to voice aspirations to visit the moon and beyond. The Washington Post reported that presidents Ronald Reagan, George H.W. Bush, George W. Bush and Barack Obama have all stated similar goals.