NASA Spacewalk Live Stream: Watch Astronauts Walk Outside International Space Station
The astronauts on the International Space Station are getting some spring cleaning done Wednesday morning.
NASA astronauts on board the station are scheduled to begin their spacewalk around 8:10 a.m. EDT Wednesday to conduct maintenance work on the station for a little over six hours. Astronauts Drew Feustel and Ricky Arnold will suit up and exit through the Quest airlock on the ISS, according to NASA—marking the 50th such spacewalk to occur from the Quest.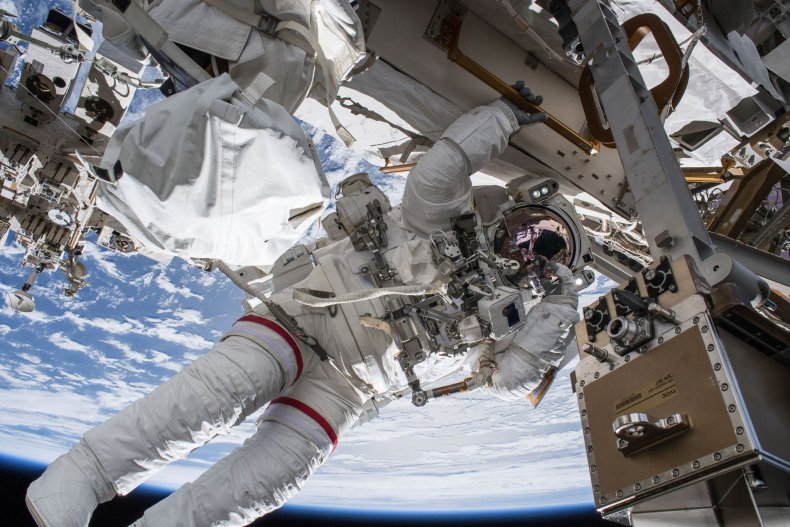 While out in space, the astronauts are expected to conduct a number of improvements and upgrades to hardware and technology on the station. NASA announced the two would help get things in position to upgrade the station's cooling system—one of the larger maneuvers they'll undertake. The astronauts will move the Pump Flow Control Subassembly from a platform that houses spare parts to the Special Purpose Dexterous Manipulator—better known as a robotic arm—on the exterior of the station.
The PFCS is a key component of the stations cooling system and controls the ammonia that flows through it, according to NASA. The plan is that once it is in place, the support team on Earth can then use the robotic arms on the station to install it fully. The old PFCS will be moved to the spare parts platform that the new one was taken from.
In addition to giving the cooling system a boost, the astronauts are expected to add a new camera and a communications receiver to the Destiny Laboratory.
Coverage was expected to begin a couple of hours before the walk, at around 6:30 a.m.
The spacewalk will air on NASA's website Wednesday morning and will also be live on YouTube as well as live here: