NASA Spots 'Spanish Stonehenge' From Space After Drought Reveals Lost Megalith Monument After 50 Years Underwater
NASA has released satellite images showing how a drought that affected several parts of Europe this summer revealed a lost stone monument dubbed the "Spanish Stonehenge," which had been submerged for underwater for half a century.
On Thursday, the space agency's Earth Observatory published two photographs of the Valdecañas Reservoir in Spain that were captured by an instrument known as the Operational Land Imager on the Landsat 8 satellite.
The first—which shows the reservoir at high water levels—was taken on July 24, 2013, while the second was snapped on July 25, 2019, when water levels were much lower after a drought in Spain.
In the second photo, the receding waters have exposed the stone monument (or megalith)—known as the Dolmen of Guadalperal—which has been submerged underwater since 1963, when the Spanish government under the dictatorship of Francisco Franco decided to build the reservoir.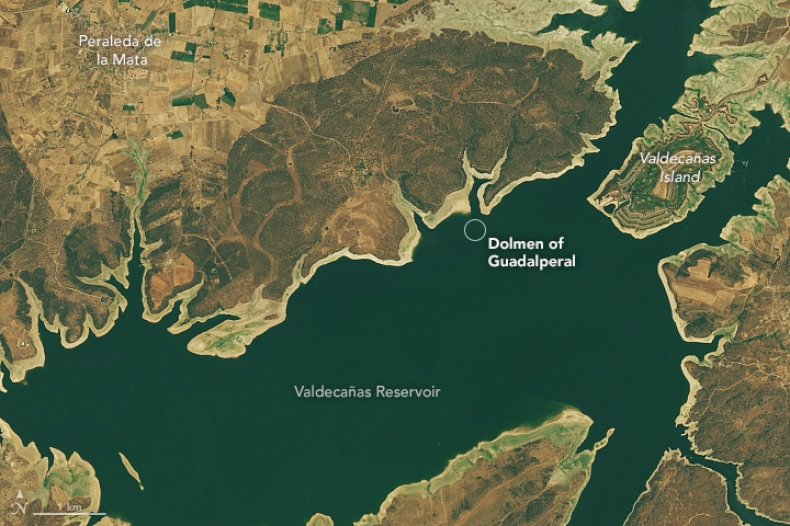 Once the reservoir had been filled in, only the tips of the megalith could be seen sticking out of the water at points when the water levels fluctuated. But a stiflingly hot European summer dried out the lake to such an extent that the entire monument was visible in its entirety for the first time since the reservoir was created.
The continent was hit by two major heatwaves in June and July, smashing temperature records in several countries.
France recorded its hottest day ever—46 C (114.8 F)—near the southern city of Montpellier on June 28 during a heatwave which struck the continent at the end of that month, according to Meteo-France.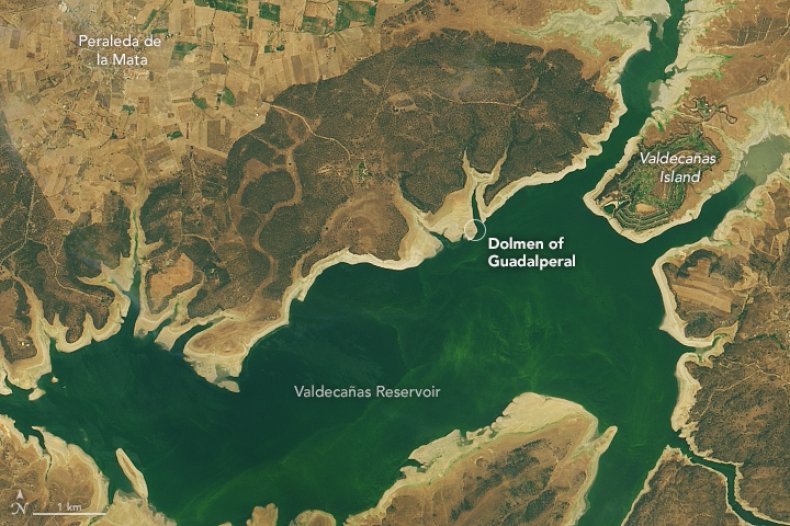 Meanwhile, the Netherlands, Germany and Belgium all recorded their highest-ever temperatures with the mercury reaching 40.7 C, 40.5 C and 41.8 C respectively. The Czech Republic, Austria, Poland, Luxembourg, Andorra and Slovakia all recorded their highest-ever June temperatures.
Spain—a typically hot country—experienced its third-driest June of the 21st century, as well as above average temperatures in July and August.
The Dolmen of Guadalperal is a circular monument consisting of around 150 large granite stones is thought to have been between the third and second millennium B.C.
Archaeologists think that the monument may have originally been constructed as an enclosed space. It may have been some kind of tomb, a location where religious rituals were conducted or a trading hub, given its strategic location next to a river.