Why Did SpaceX Delay NASA TESS Launch?
SpaceX's planned launch of NASA's Transiting Exoplanet Survey Satellite (TESS) has been delayed. The $337 million exoplanet-hunting spacecraft must wait until at least Wednesday before it can blast off.
Due to launch Monday evening, conditions looked good for takeoff, with SpaceX tweeting: "Weather is 80% favorable for today's launch at 6:32 p.m. EDT, 22:32 UTC."
But later that day, SpaceX announced it was delaying the launch for extra testing. "Standing down today to conduct additional GNC analysis," the company wrote in a tweet. GNC stands for "guidance, navigation and control."
NASA's Next Planet-Hunter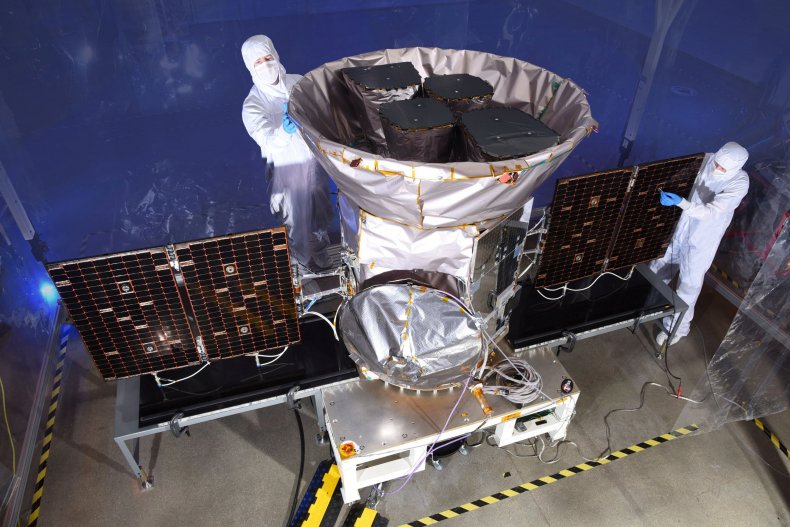 TESS—a spacecraft roughly the size of a washing machine—will search nearby bright stars for signs of planets. It will monitor the light of these stars, looking out for small dips in brightness. This dimming could signal a planet is moving in front of the star.
NASA expects TESS will find tens of thousands of exoplanets. The craft is set to sweep the sky as it orbits the earth for two years. Each orbit will take about 13.7 days.
TESS will take the baton from NASA's other planet-hunting spacecraft, Kepler, which is running out of fuel after almost a decade in space. Kepler has found more than 2,300 confirmed exoplanets over its lifetime.
"One of the many amazing things that Kepler told us is that planets are everywhere and there are all kinds of planets out there," Patricia Boyd, TESS guest investigator program lead at NASA's Goddard Spaceflight Center, told reporters in advance of the scheduled launch. "So TESS takes the next step. If planets are everywhere, then it is time for us to find the planets that are closest to us orbiting bright nearby stars, because these will be the touchstone system."
TESS Launch Delayed for Further Testing
Last-minute delays for testing are not unusual for rocket launches. "Final day launch postponement because someone did a last minute check of something and decided it needed another look is surprisingly common. Always better safe than sorry," astrophysicist Jonathan McDowell, from the Harvard-Smithsonian Center for Astrophysics, commented on Twitter.
Several of SpaceX's past missions have been held back for technical reasons. For example, in late 2017 the company's launch of mysterious government payload Zuma was delayed for additional "assurance work." SpaceX finally launched Zuma in January, but questions remain as to its ultimate success.
TESS will launch on one of SpaceX's Falcon 9 rockets—the same class of rocket that has sent several Dragon capsules to the International Space Station with supplies. A Falcon 9 recently sent sperm up for analysis to the space laboratory.
Assuming the Falcon 9 is good to go, the weather looks reasonably favorable for a Wednesday launch. There is a slight risk of further delay from rising clouds, according a U.S. Air Force forecast. Issued Monday afternoon, the forecast gives less than a 10 percent chance that weather problems will delay the launch further.