NASA is set to launch a rocket that will create colorful artificial clouds over the U.S. East Coast to study part of the Earth's atmosphere. The clouds should be visible from New York down to North Carolina, and as far west as Charlottesville, Virginia.
Live coverage of the mission will start at 8.30 p.m. ET. Viewers can watch the broadcast online below, or via the NASA Wallops Ustream site.
The Sounding Rocket will create luminescent blue-green and red clouds in the sky via vapor canisters that will be released around five minutes after launch—currently scheduled to take place from the Wallops Flight Facility, Virginia, between 9:04 and 9:19 p.m. ET.
Read more: NASA discovers humans have created an artificial barrier around Earth, and it could protect us from space weather
NASA had initially scheduled the launch for Sunday night, but had to postpone it because of boats being in the launch range hazard area. This is the fifth failed launch attempt for the mission, with previous attempts scrapped due to high winds and clouds as well as boats in the hazard zone.
The mission aims to study the ionosphere and aurora—by creating these colorful fake clouds, scientists will be able to visually track the motions of particles in space.
NASA will deploy 10 canisters—each about the size of a soft drink can—at altitudes of between 96 and 124 miles to create the clouds. These canisters will eject "vapor tracers" that form as a result of the interaction of barium, strontium and cupric-oxide.
The clouds pose no risk to people living along the mid-Atlantic coast.
Once the clouds form, scientists will be able work out particle motion over an area far larger than has ever been possible before.
Earth's upper atmosphere extends over 620 miles into space and scientists would extend understanding of this region by studying particle motions. "The movement of neutral and ionized gases are important to understand as they reveal how mass and energy are transported from one region to another. These movements also respond to changes in the sun's activity," the space agency said.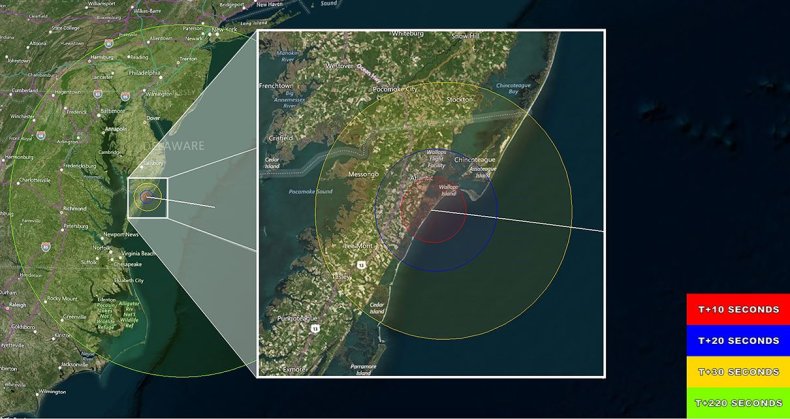 The artificial clouds allow NASA to track these changes: "Vapor tracer payloads are used to measure atmospheric winds and/or ion drifts in the upper atmosphere and ionosphere. They carry small amounts of gas into space in a canister that are then released along a portion of the rocket trajectory.
"The small amount of gas is then visible from the ground. By tracking their motions directly with cameras on the ground (or in an airplane), these tracers make it possible to observe the movements of the upper atmosphere or the ionosphere directly."