NASCAR Driver Fired After Using Racial Slur During Online Quarantine Video Game Event
A live stream video of NASCAR driver Kyle Larson went viral in the past few days and ultimately led to his dismissal from his racing team Tuesday as the audio revealed Larson using a racial slur during an online racing video game.
The 27-year-old Chip Ganassi Racing driver and NASCAR star was fired for his use of the n-word during the iRacing event organized over the weekend amid the United States' coronavirus lockdown. Larson had apologized earlier on Monday as NASCAR initially suspended him and he was ordered to take racial sensitivity training, but Chip Ganassi Racing management later removed him from the team completely.
In the video, Larson could be heard testing his microphone and trying to communicate with the other online drivers after a virtual crash, "You can't hear me? Hey [racial slur]." Several other players in the online racing game could be heard responding with shocked laughter and gasps as they informed Larson, "Kyle, you're talking to everyone bud," before another responded, "Yep, we heard that."
"Damn, he should not have said that," another player chimed in. "Yikes."
Newsweek was unable to reach Chip Ganassi Racing for further comment on Tuesday. Larson drove the Number 42 Chevrolet Camaro ZL1 1LE for the team.
Larson, who has been driving in the NASCAR Cup Series for over seven years and has won multiple top-tier races, apologized Monday in a video statement addressing his remarks:
"Hey, I just want to say I'm sorry last night I made a mistake and said the word that should never, ever be said and it should never be said - I wasn't raised that way and, you know, it's just an awful thing to say," Larson said in a video he posted to his social media accounts. "I feel very sorry for my family, my friends, my partners, the NASCAR community and especially the African American community. I understand the damage is probably unreparable [sic] and I own up to that."
Both McDonald's and Credit One Bank, two of Larson's major corporate sponsors, dropped him in wake of initial reports. His other sponsors included 3M, a company which was recently tapped by the federal government for help manufacturing respirators for COVID-19 patients and Advent Health.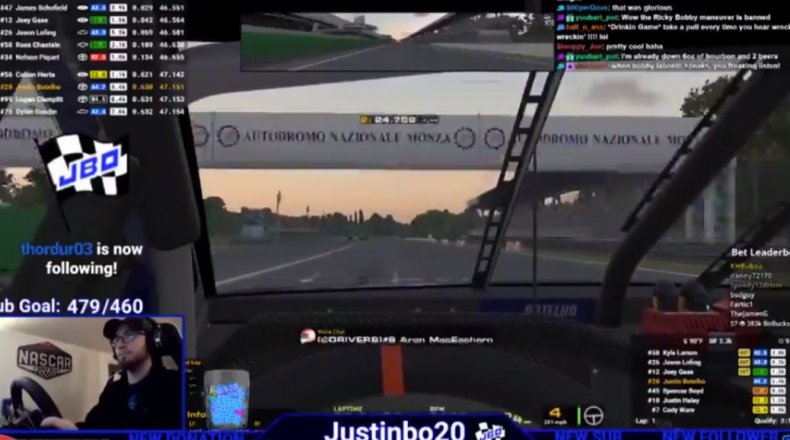 The NASACAR driver's comments were widely condemned by sports pundits and the professional driving community at large, with ESPN host Stephen A. Smith saying NASCAR has a history of "an absence of minority participation in the sport" that was long embraced by the owners, drivers and fans alike.
"It's been something they've been trying to overcome for years," he added.
Smith, however, added that he believes in "second chances" and that the racing league should have accepted Larson's apology, allow him to reform his behavior and thinking, and continue to drive.