NASCAR Star Kyle Busch's Wife Reports Family Safe After Mall Shooting
Samantha Busch, wife of two-time NASCAR Cup series champion Kyle Busch, said on social media that their family was safe after being present during a Thursday shooting incident at Minnesota's Mall of America.
The shopping center in Bloomington, a suburb of Minneapolis, was placed on lockdown shortly after multiple gunshots were fired. Local law enforcement officials reported no one was harmed in what they described as a conflict between two groups inside a Nike store. During the conflict, one person reportedly fired multiple rounds. As of press time, police were still searching for the suspects involved in the case.
A video filmed during the shooting that was shared on Twitter shows Kyle Busch with his son trying to flee the scene. His wife posted an update in her Instagram story that indicated they were unharmed.
"If you are seeing the news about the @mallofamerica we got out and are safe," Samantha Busch wrote. "Praying others inside are too."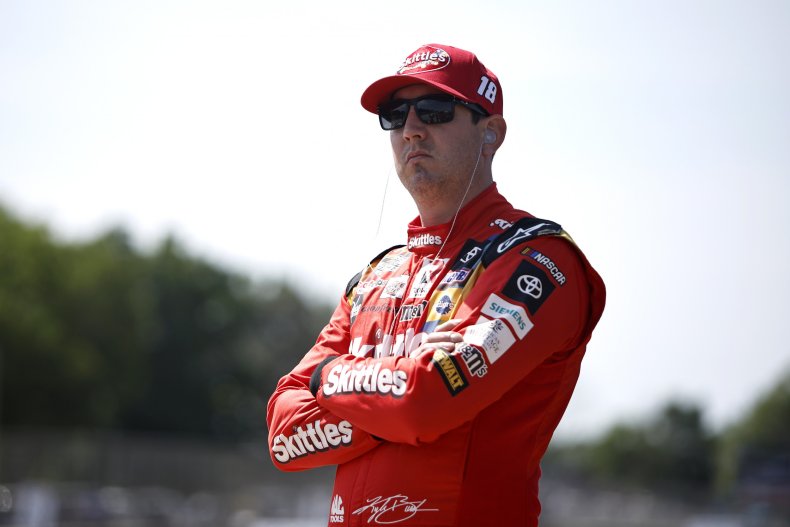 Busch is a decorated driver in NASCAR and holds several records. He is the 2015 and 2019 Cup champion and his 60 Cup wins are the most among active drivers. He currently ranks ninth on the all-time wins list. He's also the all-time record-holder for wins in both the NASCAR Xfinity Series (102) and NASCAR Camping World Truck Series (62).
Outside of racing, Busch is known for his charity work. He founded the Kyle Busch Foundation in 2016. According to its website, the organization works to provide "essential tools for less fortunate children throughout the country." Busch also once appeared on The Oprah Winfrey Show in 2005 after he donated his winning shares from a Cup Series to help those in need after Hurricane Katrina.
The video posted on Twitter that showed Busch at the mall during the shooting, seen below, resulted in many fans asking about the Busch family's safety on social media.
Bloomington Police Chief Booker Hodges said his department believes the shooting was an isolated incident. He also called on the suspects to turn themselves in and described the seriousness of their actions.
"They decided to demonstrate a complete lack of respect for human life," Hodges said of the shooting suspects during a Thursday press conference. "They decided to fire multiple rounds into a store with people."
The Mall of America is the largest shopping mall in the United States and one of the largest in the world. Thursday's shooting was the second such incident at the center in less than a year. On New Year's Eve, two men were injured during an altercation after someone opened fire.
Newsweek reached out to Kyle Busch and the Bloomington Police Department for comment.