NASCAR Drivers Help Bubba Wallace Push Car onto Track after Noose Incident
Thirty-nine of the NASCAR drivers competing in Monday's Geico 500 at Talladega Superspeedway in Lincoln, Alabama came together in support of Bubba Wallace, a driver who was targeted by a racist act at the track one day earlier.
Led by Wallace in his racecar, the drivers helped push the car into position on the track and then stood behind him as the National Anthem played. For a sport that only recently banned the Confederate flag from its venues, the demonstration was an important stance against racism.
On Sunday, NASCAR announced a noose had been found in Wallace's garage stall. Wallace is the NASCAR's only full-time Black driver and has called on the racing league to change some of its policies in light of the protests demanding an end to violence against Black Americans that have stretched across the U.S. in recent weeks.
"Today's despicable act of racism and hatred leaves me incredibly saddened and serves as a painful reminder of how much further we have to go as a society and how persistent we must be in the fight against racism," Wallace said on Twitter Sunday evening. Wallace has been an advocate against systemic racism and police brutality, wearing an 'I Can't Breathe' t-shirt at one race and driving a 'Black Lives Matter' car at another.
Wallace also called for NASCAR to ban Confederate flags at the racetrack, which the league did two weeks ago.
The racing league joined Wallace in condemning the display of racism at his garage stall. "We are angry and outraged, and cannot state strongly enough how seriously we take this heinous act," NASCAR said in a statement, adding that it was launching an investigation into the incident. The FBI confirmed Monday it is also looking into the incident.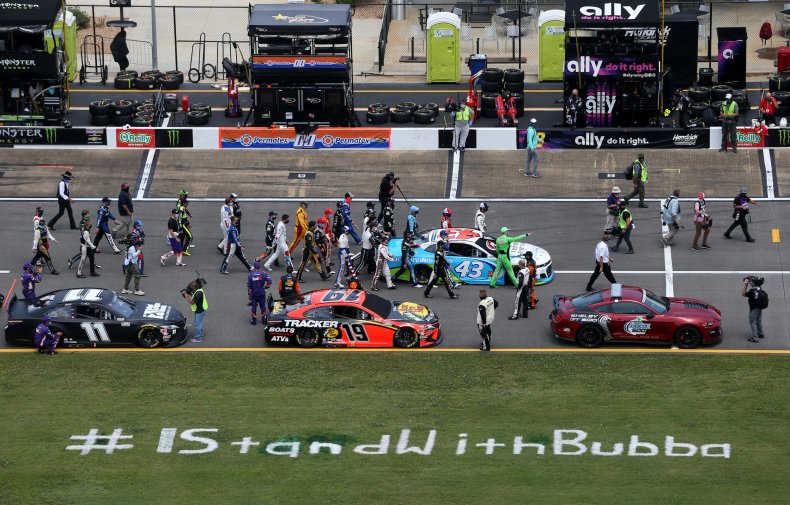 The noose discovery was announced shortly after the Geico 500, initially scheduled to take place Sunday afternoon, was delayed due to rainy weather.
During an interview with CBS Sports on Monday, NASCAR President Steve Phelps said the person responsible for placing the noose in Wallace's garage stall would be "banned from this sport for life."
"There is no room for this at all, and we won't tolerate it," Phelps said. Though the number of people allowed in the garage area has been limited due to continued concerns regarding the coronavirus pandemic, Phelps said it wasn't impossible someone outside the NASCAR organization had found a way inside.
"I don't care who they are," he said. "They will not be here."
Before Monday's race, Wallace shared a photo to Twitter with the caption, "Together." In the photo, Wallace stands in front of his racecar while the other drivers stand behind, waiting to push his car onto the starting grid.
Following Sunday's incident, several drivers announced their support of Wallace, vowing to stand beside him and root out racism within the sport whenever it is found.
"The sick person who perpetrated this act must be found, exposed, and swiftly and immediately expelled from NASCAR," former NASCAR driver Richard Petty, and the owner of Perry Motorsports for whom Wallace drives, said in a statement.
Driver Dale Earnhart, Jr. said Sunday on Twitter, "Hope Bubba wins it tomorrow," while Kurt Busch, who is racing against Wallace in the Geico 500, showed support for his competitor by tweeting "#IStandWithBubba."
The hashtag, which was trending on Twitter on Monday, was also painted onto the grass at Talladega before the race began.
After the drivers helped Wallace push his car into position, he got out of the car and bowed his head over the roof. Petty, who was attending the race in support of Wallace, patted him on the back as the other drivers gathered around Wallace to offer him handshakes, hugs, fistbumps and pats on the back.
Newsweek reached out to NASCAR for comment and will update this article with any response.