NASCAR Bans Confederate Flag From Events, Ends Policy of Requiring People to Stand During National Anthem
NASCAR has helped pave the way for restarting sports in America. From racing with no fans, limiting the number of pit crew members, requiring everyone to wear face coverings and now getting some fans back in the stands, the racing circuit has acted more like a pace lap for all other sports to follow.
NASCAR has now made some of its biggest changes in history that didn't involve actual racing, the cars, drivers or safety equipment. NASCAR has ended its policy that requires everyone on the track to stand and face the American flag with their right hands covering their hearts during the playing or singing of the national anthem. Also on Wednesday, NASCAR announced it would ban the Confederate flag from all of its race tracks.
NASCAR issued a statement about Confederate flags:
"The presence of the confederate flag at NASCAR events runs contrary to our commitment to providing a welcoming and inclusive environment for all fans, our competitors and our industry. Bringing people together around a love for racing and the community that it creates is what makes our fans and sport special. The display of the confederate flag will be prohibited from all NASCAR events and properties."
Removing the anthem policy now opens the door for drivers, team members and even NASCAR officials to peacefully protest during the anthem. This comes in the aftermath of the May 25 death of George Floyd, who died while in the custody of Minneapolis police. Floyd's death sparked protests all over the country, and it forced sports leagues to reexamine their policies on protests during the national anthem.
NASCAR's new policy actually began last weekend prior to the Cup Series race at Atlanta Motor Speedway. NASCAR official Kirk Price, who previously served three years in the U.S. Army, knelt on the track and raised his fist, which drew praise from Bubba Wallace, the only black driver in NASCAR's Cup Series, which is the highest-level of stock car racing.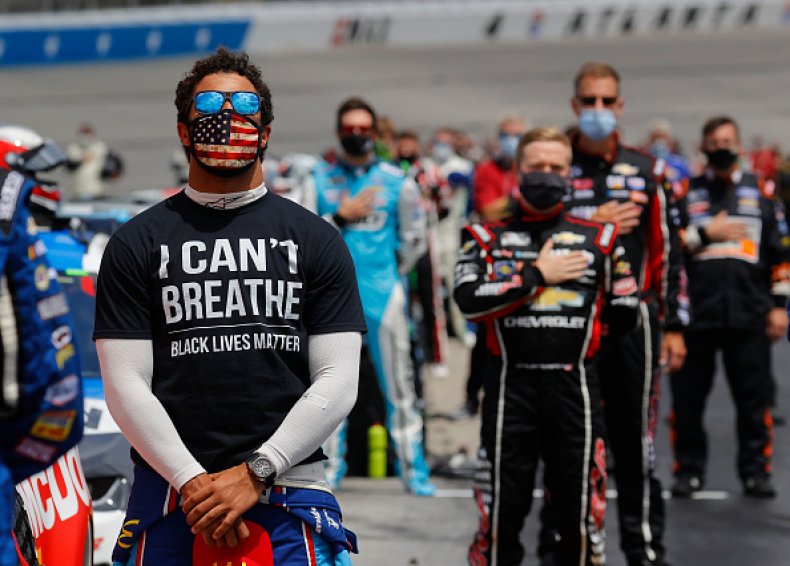 "If I would have seen it, I would have went there and stood next to him, kneeled next to him because it's such a powerful move," Wallace said. "A man, an incredible man, who has served our country, kneeling down. People think it's disrespecting the flag and going against our military, and it's definitely not.
"I was so uneducated what the kneeling meant when it started but now reading about it and what it stands for," Wallace continued. "I'm still doing a lot of learning myself, don't get me wrong, I don't know everything about what's going on in the world but that's what we are trying to deliver the message. Listen and learn to be able to better educate ourselves."
Typically, teams were given a handout prior to the races that had this verbiage near the bottom:
DRIVERS & CREW CHIEFS, please advise all your Team members: Conduct during the playing of the National Anthem, taken from the US Flag Code. When the flag is displayed – all persons should face and stand at attention with their right hand over their heart – persons should remove their headdress with their right hand and hold it at the left shoulder, the hand being over the heart – when the flag is not displayed – all present should face toward the music and act in the same manner they would if the flag were displayed.
NASCAR has long been a sport where its athletes, pit crews and fans show unbridled patriotic enthusiasm, especially during the national anthem, when its race tracks often get flyovers from military aircraft. President Donald Trump and first lady Melania Trump attended the Daytona 500 in February and stood for the anthem on the track.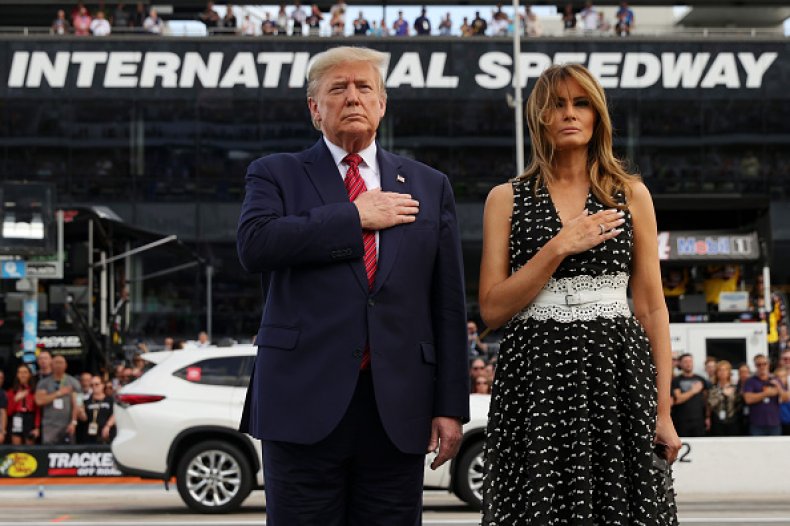 Wallace, who drives the No. 43 McDonald's Chevrolet, said this week he wanted to see the Confederate battle flag banned from NASCAR events, and that he will have "Black Lives Matter" on his car, that will be painted black—with all of his sponsors still on there, of course. On Wednesday, NASCAR announced it will prohibit the Confederate flag.
The next NASCAR Cup Series race will be tonight (Wednesday, June 10) at the Martinsville Speedway. The race will begin at 7 p.m. ET and will broadcast live on FS1.
Wednesday night's race will be a chance to see if NASCAR is turning the corner, in more ways than one.