'NASCAR Heat 3' Esports Tournament Winner Crowned at Miami Event
Esports is moving beyond League of Legends and Dota 2-type games, with smaller genres finding success and bringing new audiences to competitive gaming. The latest esports event, NASCAR Heat Champions: Road to Miami, just wrapped up yesterday by crowning the top racer in NASCAR Heat 3.
As the name of the event implies, the final race of the tournament took place at the Homestead-Miami Speedway. Twelve competitors vied for the checkered flag, with Hunter Mullins pulling away to claim victory.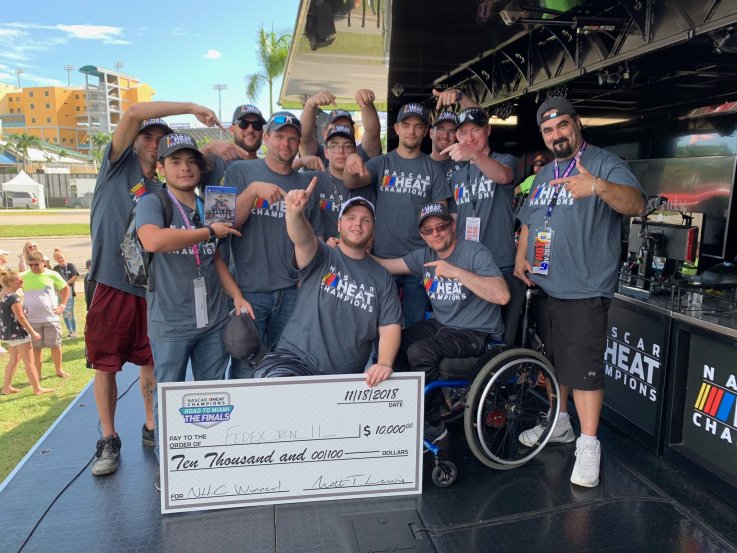 "This is truly a dream come true," Mullins said in a press release. "As an avid gamer, I'm so glad NASCAR and [publisher] 704Games have partnered to make a significant move into esports. I'd like to thank the other drivers I competed against. The race was up for grabs until the very end and I'm just so glad I was the one to cross the finish line first."
Along with proving his skills in NASCAR Heat 3, Mullins also won $10,000 in prize money, an Audeze Mobius gaming headset, a Thrustmaster TX Racing Wheel Leather Edition and an exclusive race weekend package from Homestead-Miami Speedway.
On the heels of the successful event, 704Games has teased a larger one for next year. "NASCAR Heat Champions: Road to Miami was a fantastic event for us," said Ed Martin, President of 704Games, said in the press release. "We had tens of thousands of people competing online during Road to Miami all coming down to this incredible finale. With huge 2019 esports initiatives in the process of being finalized, this was just a taste of things to come."
NASCAR Heat 3 is now available on PS4, Xbox One and PC.
So what do you think? Did you follow along with NASCAR Heat Champions: Road to Miami and watch the finals? What smaller esports leagues and tournaments have you been interested in? Let us know your thoughts in the comments section below.
'NASCAR Heat 3' Esports Tournament Winner Crowned at Miami Event | Gaming