Nashville Bars Hit With Coronavirus Citations Are 'Sick and Tired' of Protest Double Standards
A Nashville bar owner is calling hypocrisy on Mayor John Cooper after health officials hit his establishments with citations for violating Phase 2 guidelines, but protesters were able to demonstrate freely.
More than a dozen Nashville businesses were cited for being out of compliance with new coronavirus public health orders over the weekend. While people socialized in the bars and restaurants, thousands marched through downtown in a demonstration calling for an overhaul of the policing system.
Bryan Lewis, an attorney representing Steve Smith, the owner of Kid Rock's Honky Tonk and Honky Tonk Central, criticized Cooper and Dr. Michael Caldwell, director of the Metro Public Health Department for issuing citations on the same day the protesters gathered. He told Newsweek there is a "double standard" in how officials enforce health ordinances.
The Metro Health Department received a complaint about Kid Rock's on Friday night, prompting Caldwell to pay the establishment a visit on Saturday. He cited the business for serving people seated at the bar and not observing proper social distancing inside the establishment. A fine will be determined during a court appearance.
"This is the epitome of hypocrisy!" Lewis told Newsweek. "This violates my client's due process and equal protection rights under the Constitution."
Phase 2 allows restaurants and bars to operate at 75 percent capacity while maintaining "strict" social distancing. Bar areas must also remain closed and alcohol can only be served to people seated at tables.
Phase 2 also prohibited gatherings of more than 25 people and Lewis told WKRN business owners are "sick and tired" of the "selective enforcement" of health orders.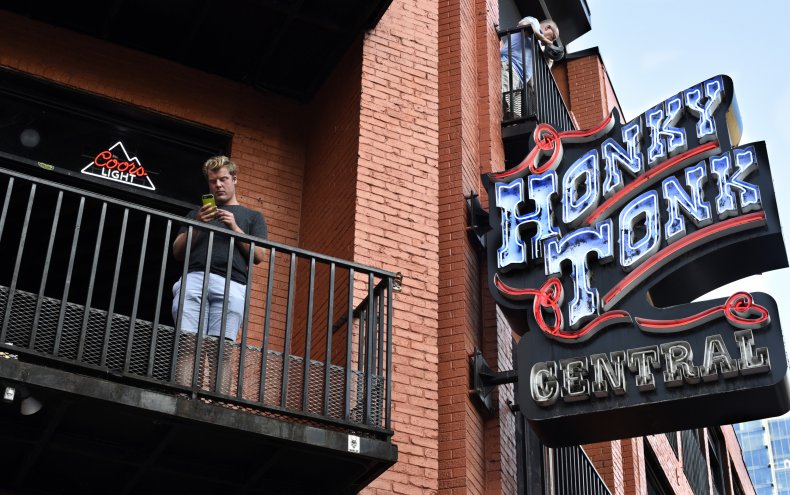 Cooper urged his colleagues to join him at a May 30 rally, calling it a "critical time" for leaders to "show up and listen to black voices speaking out from across Davidson County." Cooper spoke at the rally and ahead of Saturday's demonstration, he issued a statement saying he supports protesters' constitutional right to "peacefully gather and voice their concerns about systemic racial injustice." The mayor encouraged people to social distance and wear face coverings.
On Thursday, Cooper announced the city saw a "slightly elevated" average in COVID-19 cases over the last two weeks. Therefore, he said the city will remain in Phase 2 instead of moving on to Phase 3 that would allow bars serving food, restaurants and commercial and retail businesses to operate at 100 percent capacity.
Newsweek reached out to Mayor John Cooper's office for comment but did not receive a response in time for publication.
Lewis told Newsweek that both he and Smith fully support the protesters' right to assemble and are "horrified with what took place in Minneapolis." He added that there's "no place in society for a rogue officer like Derek Chauvin."
Chauvin, a former Minneapolis police officer, was filmed kneeling on George Floyd's neck, a move prosecutors say caused Floyd's untimely death. The video sparked protests nationwide and calls for justice for Floyd transformed into widespread demands for criminal justice and policing reforms.
Cooper isn't the only politician facing criticism for maintaining strict regulations to prevent the spread of a new coronavirus while simultaneously supporting demonstrations. Pennsylvania Governor Tom Wolf said his decision to join a protest that violated his state's own orders was "inconsistent" but said he wanted to show his support for the eradication of racism.
Moving forward, Lewis told Newsweek they will "vigorously litigate the citations" and explore legal avenues to "stop the illegal and selective enforcement of health ordinances."