Nashville Blast Injures 3, Shatters Buildings, Blows Hydrants Into Tree Tops
An explosion rocked downtown Nashville on Christmas morning, causing immense destruction to buildings and streets nearby while windows and treetops shook along South and East Nashville.
The explosion occurred after a suspicious vehicle blew up outside of an AT&T building. Three people who were taken to the hospital have been reported with injuries so far, according to the Tennessean.
Nashville Mayor John Cooper told local media that roughly 20 buildings near the explosion were damaged by the blast. The impact caused building windows to shatter. "It looks like a bomb went off," he said.
Pictures and videos of the scene depicting flames and smoke as well as structural damage to buildings and streets were shared across social media.
"These are pictures from 2nd Avenue south. Windows were broken out from explosion area to Broadway. Please AVOID this area! Media staging is at 2nd Avenue south and KVB," Nashville Fire Department tweeted early Friday morning.
Phil Williams, the chief investigative reporter of Nashville's broadcast news service NC5, shared a view of the damage from across a river, which showed black smoke filling the air and warehouses with shattered windows.
The news network also released bird-eye view images of the damage taken from a helicopter. Cars appeared charred in photos while streets were completely blackened with soot and debris from the explosion. Building rooftops and entrances were also severely damaged.
Photos of the streets near where the incident took place appeared to be mostly free of pedestrians. However, some people were captured exiting a building while small fires and debris were spread out along the street just a few feet from where they stood.
One video captured the impact of the blast from inside a condominium. A living room is dark and still at the beginning of the 25-second video, but a moment later glass sprays everywhere while the room shakes from the explosion.
"NASHVILLE EXPLOSION from inside a downtown condominium courtesy of @NC5. Metro Police there saying the explosion early this morning was an intentional act. Apparently, a vehicle detonated near 2nd Ave and Church Street by an AT&T data center," the post read.
Country singer Buck McCoy, who lives near the explosion area, shared a Facebook video of the destruction that the blast caused to his home. Water poured from the ceiling while alarms and sirens went off in the background, and the inside of the home was flooded with water. Furniture was also damaged from the blast while ceiling debris and walls were also scattered throughout McCoy's home.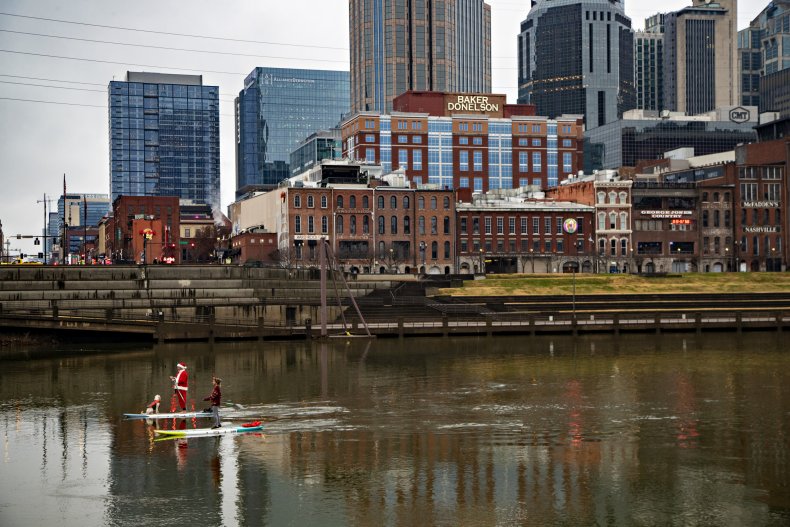 "All my windows, every single one of them got blown into the next room. If I had been standing there it would have been horrible," he said in a statement to Associated Press. "It felt like a bomb. It was that big."
He added: "There were about four cars on fire. I don't know if it was so hot they just caught on fire, and the trees were all blown apart."
In another Twitter post, the Fire Department shared a video of windowless buildings and a street covered with debris and noted that various state agencies were continuing to maintain the area. "Footage from the scene on 2nd Ave North as multiple agencies continue to work and investigate an explosion from earlier this morning," the post read.
Newsweek reached out the the Nashville Fire Department for comment.