Nashville Blast Preceded by Warning Broadcast From Explosive Packed RV
The vehicle that exploded outside an AT&T transmission building in downtown Nashville Friday morning alerted police to oncoming destruction prior to the blast.
A recorded announcement, which warned of an explosive device set to denote, could be heard in early audio clips released after the 6:30 a.m. explosion took place.
During a subsequent press conference on Friday afternoon, authorities said they believe the announcement played from within the vehicle, an RV truck that local police described as suspicious when they first arrived at the scene.
No suspects had been officially implicated in the incident roughly 7 hours after it occurred.
The Federal Bureau of Investigation and Bureau of Alcohol, Tobacco, Firearms and Explosives joined local and state agencies amid their inquiry Friday morning. Matt Foster, an assistant special agent with the FBI who heads the bureau's Nashville office, said authorities were not ready to disclose any details about potential leads during the afternoon's press conference.
The morning's explosion damaged vehicles and structures that surrounded its origin, and left the RV largely destroyed. Don Aaron, a spokesperson for the Metro Nashville Police Department, told reporters on Friday afternoon that authorities did not know if anyone was inside the truck at the time of the blast.
"So, I can't tell you, at this point, whether there's a potential for a fatality in that scenario," Aaron said.
William Swann, who leads the Nashville Fire Department, confirmed three individuals were transported to nearby hospitals for "minor" injuries sustained during the explosion. Fire department personnel continued to conduct a sweep of buildings in Nashville's downtown area, many of which are commercial, to identify which are structurally sound and locate any individuals who might still be inside.
Authorities deployed explosion detection dogs in the hours that followed the morning's blast. During the afternoon update, they called the move a precautionary measure and said no additional threats were recognized.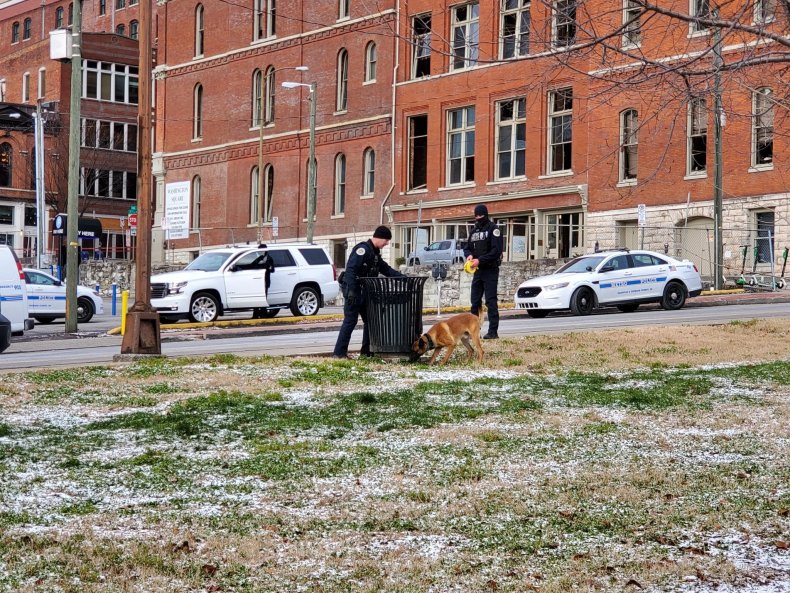 Nashville police were called to the explosion site about an hour before the actual blast, responding to a report claiming that shots were fired near 2nd Avenue, a strip of the city's downtown neighborhood frequented by tourists and home to residents as well.
Upon hearing the recorded announcement indicating that an explosion would soon take place, law enforcement officials quickly evacuated buildings in the immediate vicinity.
On Friday, Federal, state and local officials said their respective agencies intend to dedicate all resources necessary to determine the source of the blast and identify those responsible.
In a statement emailed to Newsweek, a White House spokesperson said, "President Trump has been briefed on the explosion in Nashville, Tennessee, and will continue to receive regular updates. The President is grateful for the incredible first responders and praying for those who were injured."
Officials are asking anyone with information about the incident to submit what they know to the FBI. Individuals can report tips online at www.fbi.gov/nashville, or over the phone at 1-800-CALL-FBI.