Nashville Bombing Suspect Possibly Driven by 5G Conspiracy Theories: Ex-FBI Official
Frank Figliuzzi, former assistant director for counterintelligence at the FBI, said it's possible the Nashville bomber acted in response to 5G conspiracy theories.
"We're living in an incredibly politically charged environment," said Figliuzzi on CBS News' Face the Nation Sunday. "There's tremendous dangerous polarization and it's being fueled by social media conspiracy theorists out there."
Figliuzzi continued: "I'm aware that there are groups and individuals who seem to think that 5G technology might be the cause of COVID, that technology is generally is targeting us. You'll find anything imaginable and unimaginable online, and it may be that this is partially what drove this individual."
When asked if he is concerned about other people acting out in response to these theories, Figliuzzi urged investigators to be on the lookout.
"All of that increases the possibility of a copycat operator," said Figliuzzi. "And we've got to be extremely vigilant as we move into the next couple of weeks.
The FBI is looking into whether the suspect at the center of the Nashville Christmas Day bombing, Anthony Quinn Warner, acted in response to 5G conspiracy theories.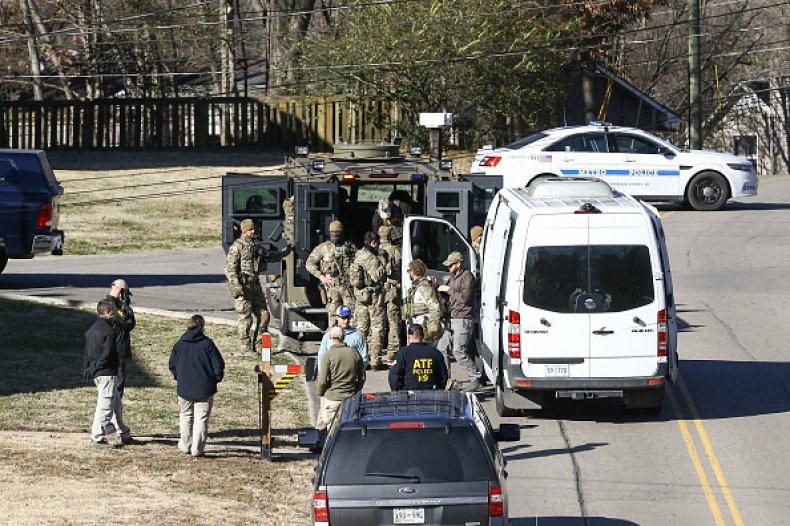 Conspiracy theories surrounding 5G spread earlier this year, as some speculated that the technology somehow contributed to the spread and cause of the coronavirus. The baseless theory caused people to attack 5G mobile phone masts in the U.K.
Steve Fridrich, a real estate agent based in Nashville, contacted the FBI and said he previously worked with the suspect.
In an interview with local Nashville television station WSMV, Fridrich confirmed agents asked him if Warner had paranoia about 5G technology.
"Nice guy. You know, he was a techie guy—don't mean anything negative about that," said Fridrich. "He would just do this thing and leave. He didn't bother anybody."
Investigators are trying to establish a motive for the explosion. Some speculate the blast was likely a result of a suicide bombing, as reported human remains were found in the RV following the explosion.
Senior law enforcement officials previously confirmed to Newsweek that investigators are set to take a DNA test from Warner's mother to determine whether the remains found belonged to him.
"Assuming this is the mother of the bomber, the FBI labs are in 48-72 hour turnaround for confirmation," one of the senior law enforcement sources previously told Newsweek.
Newsweek reached out to Figliuzzi and the FBI, but didn't hear back in time for publication.