In Nashville Bombing, Suspect's Father and AT&T Building May Be Key Clues
Records show the Nashville bombing suspect's late father worked for BellSouth, a telecommunications company that merged into AT&T in 2006, before his death in July 2011 at age 78. The blast on Christmas morning detonated outside an AT&T building, injuring three people and causing service outages that have affected customers and 911 operations.
Two senior law enforcement officials who have seen the investigation reports confirmed to Newsweek on Saturday that federal investigators were searching the home of Anthony Quinn Warner, 63, who's considered a suspect in connection with the December 25 bombing. The officials requested anonymity because they were not authorized to speak about the case on the record.
A LexisNexis report on Anthony Warner, obtained by Newsweek, showed that he was born in January 1957, is 63 years old, located at 3724 Bakertown Road and 115 Bakertown Road in Nashville—the address authorities began searching on Saturday. The report listed Charles B. Warner and Steven L. Warner as potential relatives of the suspect, and an obit on The Tennessean confirmed that Charles Warner was survived by his sons, Steve and Tony Warner.
A separate LexisNexis report on Warner's father, obtained by Newsweek, showed that a Charles B. Warner worked at BellSouth before his death on July 5, 2011. Two of the three email addresses listed under Warner's father were also connected to BellSouth.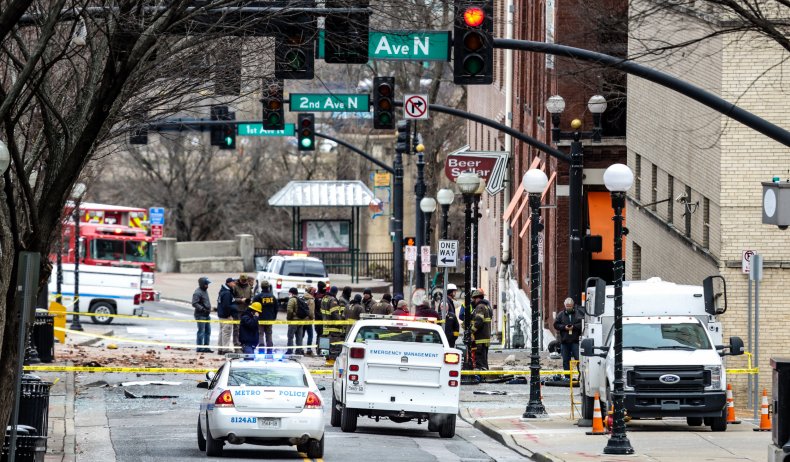 On Friday afternoon, police said the RV arrived on Second Avenue North at 1:22 a.m. local time. The vehicle was situated outside an AT&T transmission building. The bomb, detonated at around 6:30 a.m., damaged the AT&T building, causing service outages to residents in the area, including to emergency lines.
"The fact that the father worked in the same company is definitely a lead investigators would pursue," a senior law enforcement official told Newsweek on Saturday evening when asked about the suspect's father's connection to AT&T.
"They're definitely pulling the dad's employment record to see if there is any nexus between this bombing and his employment," the source added. "In an investigation of this magnitude it would be logical to see if there is a nexus between adverse employment action of the father, and the location of where the bombing took place."
Officials have not yet publicly identified a motive for the bombing or the suspect.
Officials previously confirmed that possible human remains were located at the scene of the incident, and an investigation into an Antioch house, in suburban Nashville, commenced on Saturday.
Earlier on Saturday, the two senior law enforcement sources told Newsweek that federal investigators will swab Warner's mother to determine a match to the possible remains found in the RV. If her DNA is determined to be linked to the remains found in the RV, one law enforcement official said, the blast is likely to have been a suicide bombing.
"I would say, in order to identify the human remains, it's likely a family member of Mr. Warner would be asked to provide DNA. This will most likely be done by the FBI, who is the lead investigative agency," one of the senior law enforcement sources told Newsweek. "Assuming this is the mother of the bomber, the FBI labs are in 48-72 hour turnaround for confirmation."
During a Saturday press conference, U.S. Attorney Don Cochran said that it's still unclear whether there is just one or several suspects involved in the blast that left three people injured in downtown Nashville. Federal, state and local investigators are following up on over 500 leads reported over the past 24 hours.
Cochran described the incident as a "cowardly bombing on Christmas morning" after law enforcement indicated that it was intentional.
Nashville Chief of Police John Drake assured residents that the city is now "safe." John Cooper, the city's mayor, has implemented a curfew in the downtown area until Sunday to limit public access to the crime scene as the investigation continues.
The search at a home connected to Warner on Bakertown Road in Antioch, a neighborhood in Nashville, commenced just before 11 a.m. local time.
Neighbours told The Tennessean that an RV, resembling the vehicle involved in the blast, was seen outside the location over the past two weeks. A Google street view image, taken May 2019, showed a similar vehicle in the driveway; however, it was not present at the location on Saturday when authorities arrived.
A search for Anthony Warner in historic Davidson County criminal records show that a male born on January 17, 1957, who would now be 63 years old, was arrested and charged with a felony offense linked to possession of a controlled substance on January 29, 1978.
Update 12/26/20 10:46 p.m.: This story has been amended to clarify that NexisLexis listed both 3724 Bakertown Road and 115 Bakertown Road as addresses for Warner. Officials searched 115 Bakertown Road on Saturday.