Nashville Flooding Drone Video Shows Vast Swathes of Tennessee Underwater
Drone footage (above) of the flash flooding in Nashville, Tennessee, has been released as the city was hit with heavy rain this week.
The National Weather Service (NWS) said that many rivers and creeks were at or near their highest level since 2010, a year that witnessed floods that killed 21 people across Tennessee and caused around $1.5 billion worth of damage in Nashville.
Nashville Fire Department said that more than seven inches of rain fell in the Metro Nashville Davidson County area during late Saturday, early Sunday. That is the second-highest two-day rainfall ever recorded.
A flash flood warning remains in place for parts of Davidson County until 9.30 a.m. local time Monday.
The flooding in Nashville resulted in four deaths and hundreds of water rescues in the county.
Seventy-year-old Garry Cole from Nashville's body was recovered from a car that had been submerged by flooding in a Walmart parking lot.
Two others, a 46-year-old woman and a 64-year-old man, were found dead at a homeless camp.
The body of a fourth suspected flood victim, 65-year-old Douglas Hammond, was found on a golf course at Nashboro Village. Authorities suspect he exited his car and fell into the high water from a creek that runs through the golf course.
Nashville Mayor John Cooper signed an executive order declaring a local state of emergency and said on Twitter: "We send our deepest sympathies to the loved ones of the four Nashvillians who died in last night's flooding.
"Metro's first responders have worked tirelessly following the city's second-highest ever two-day rainfall, which flooded neighborhoods across the county."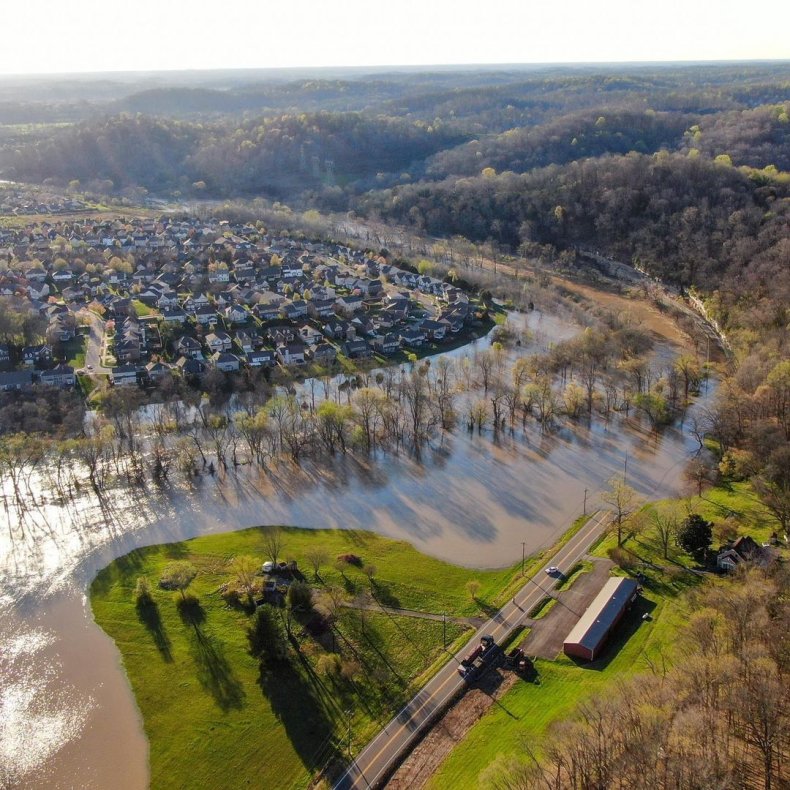 Tennessee Gov. Bill Lee said: "We are saddened by the loss of life caused by last night's devastating flooding. Our thoughts are with those displaced by this storm, and we thank all of our emergency responders for their tireless work overnight."
Nashville Fire Department is urging motorists not to drive through ponding water as just two feet of moving water can sweep a vehicle away. Motorists are also urged not to drive around barricades on roads of emergency vehicles blocking roads.
Late on Sunday night, NWS Nashville said: "Cooler and calmer is the motto tonight. Most area rivers and creeks have crested, while a handful are about to crest. Receding water is expected over the next day or three."
Then, early on Wednesday, NWS Nashville said: "I bring you mostly good news regarding the forecast. Today, we can expect sunny skies. Following a frosty start, temperatures will warm into the 60's most areas.
"Tomorrow promises to be even warmer. Then the next weather system moves in Tuesday night and hangs around on Wednesday."