Nashville Mayor Says Rebuilding After Bombing Could Take Years, Emergency Declaration Needed
Nashville mayor John Cooper said that rebuilding his city in the aftermath the Christmas Day bombing could take a few years, while two damaged buildings will require demolition and 10 have been deemed unsafe for use or entry.
In an interview posted Friday evening by local outlet News 2, Cooper said in reference to the city's Second Avenue: "We've committed and have to deliver on rebuilding it back better, with a look and feel that is consistent with the city that we want to have. But that probably is a job that's gonna be measured maybe in years."
Authorities identified the suspect in the bombing that occurred in front of an AT&T building as 62-year-old Anthony Quinn Warner. DNA of human remains from the blast scene later matched that of Warner's.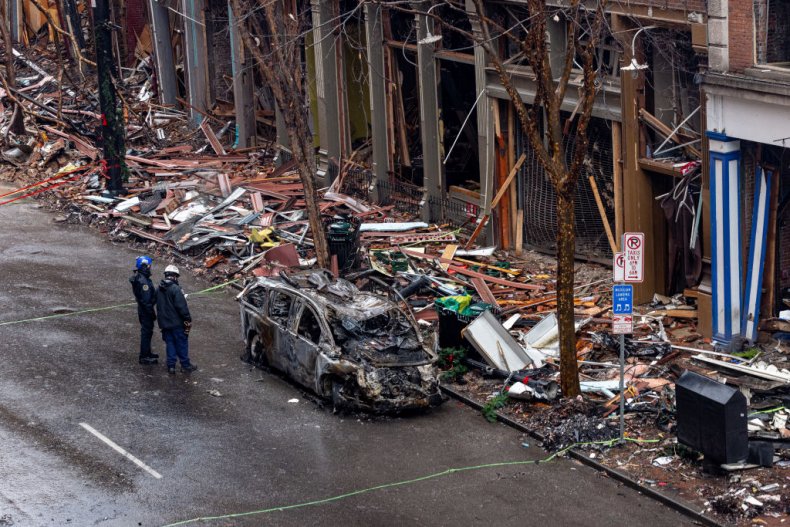 "Anthony Warner is the bomber. He was present when the bomb went off, and he perished in the bombing," U.S. Attorney Donald Cochran said at a press briefing last weekend.
The explosion in downtown Nashville on December 25 emanated from an RV that had earlier issued an audio warning to evacuate the area. Police had arrived to the scene upon initial reports of shots being fired in the area around 5:30 a.m., prior to the blast, which injured three people.
No motive has yet been determined behind the incident. The Metropolitan Nashville Police Department released a video of the moments leading up to the blast.
The blast resulted in extensive damage to nearby businesses. It also disrupted cell phone coverage and hospital and police services systems across Tennessee, as well as in parts of Kentucky and Alabama.
Meanwhile, Nashville is waiting for President Donald Trump to sign an emergency declaration that would provide federal funding to help in the the city's rebuilding. Cooper also added during his News 2 interview that he is waiting for more details about the bomb and has been given little information about it.
Additionally, as reported by The Tennessean on Saturday, Metro Nashville Codes Inspectors shared the addresses of 10 buildings on Second Avenue that have been considered either unsafe for occupancy or entry. They are:
134 2nd Ave N
160 2nd Ave N
166 2nd Ave N
170 2nd Ave N
176 2nd Ave N
178 2nd Ave N
184 2nd Ave N
131 2nd Ave N
144 2nd Ave N
177 1st Ave N
According to the inspectors, two buildings of the more than 40 surveyed will require demolition because they sustained enough damage to be deemed beyond repair.
Newsweek reached out to Cooper's office for additional comment.