Nashville officials were briefly reluctant to release the low number of COVID-19 cases deriving from bars and restaurants in the city, according to emails between the Metro Health Department and Mayor John Cooper's office.
The emails between the two offices were erroneously reported by Fox 17 News in a now-retracted story and broadcast in a segment Wednesday night. Newsweek picked up the story on Thursday morning, but that afternoon the mayor's press secretary Chris Song released a statement saying that the TV station's report was aired with "limited information and without context."
"The Mayor's office and the Metro Public Health Department remain committed as always to providing timely and transparent information that helps inform our local media and all Nashvillians in the fight against COVID-19. And we're grateful to all the residents and business owners in Davidson County for their hard work and dedication to our ongoing COVID-19 response," the statement said.
According to Song, the mayor's office sent an email on June 29 asking Metro Public Health staff to "share the results of its contact tracing investigations to help identify the sources and spread of COVID-19 in Davidson County to help guide an appropriate policy response. Up to that point, Metro Public Health had typically tracked infections to broader categories of sources – such as workplace, community, household, and travel – but the Mayor's office requested more specific sourcing, including bars, large gatherings, and weddings, as examples based on national trends."
Fox 17 News originally reported that, on June 30, contact tracing conducted by the MHD found construction sites and nursing homes were the cause of most Nashville coronavirus cases. Both categories had over 1,000 cases tied to each of them. At that time, only 22 cases were traced back to bars and restaurants.
"This isn't going to be publicly released, right? Just info for Mayor's Office?" Leslie Waller from the health department wrote on June 30.
The TV station reported Senior Advisor Benjamin Eagles' response: "Correct, not for public consumption."
Fox 17 News mistakenly concluded that the emails they obtained proved a "cover-up" of Nashville's coronavirus data by Cooper and the MHD, creating backlash on social media.
In their statement, the mayor's office also said that the MHD epidemiology notified the city's coronavirus task force that clusters were connected to Nashville bars on June 27, leading to the city "temporarily closing bars and other businesses and venues with a high risk of COVID-19 spread" on July 3.
On Friday, the mayor's office released another statement regarding a press release on July 2, in which the Chair of the Metro Coronavirus Task Force Dr. Alex Jahangir said that there were "at least 30" Davidson County residents that tested positive for the coronavirus linked to 10 bars and restaurant locations. The statement said that Fox 17 News was present at the press conference.
A month later, Tennessee Lookout reporter Nate Rau asked the health department about rumors circulating that only 80 cases resulted from the city's bars and restaurants.
Rau asked: "The figure you gave of 'more than 80' does lead to a natural question: If there have been over 20,000 positive cases of COVID-19 in Davidson and only 80 or so are traced to restaurants and bars, doesn't that mean restaurants and bars aren't a very big problem?"
As a result, Metro Health Department Official Brian Todd asked five other health officials via email for guidance. "Please advise how you recommend I respond," he wrote.
An unnamed sender, whose contact information was cut out from the original emails provided to Fox 17, responded: "My two cents. We have certainly refused to give counts per bar because those numbers are low per site, and there are data release standards prohibiting the release of a total count that is less than 10 per small geographic area... We could still release the total though, and then a response to the over 80 could be because that number is increasing all the time and we don't want to say a specific number."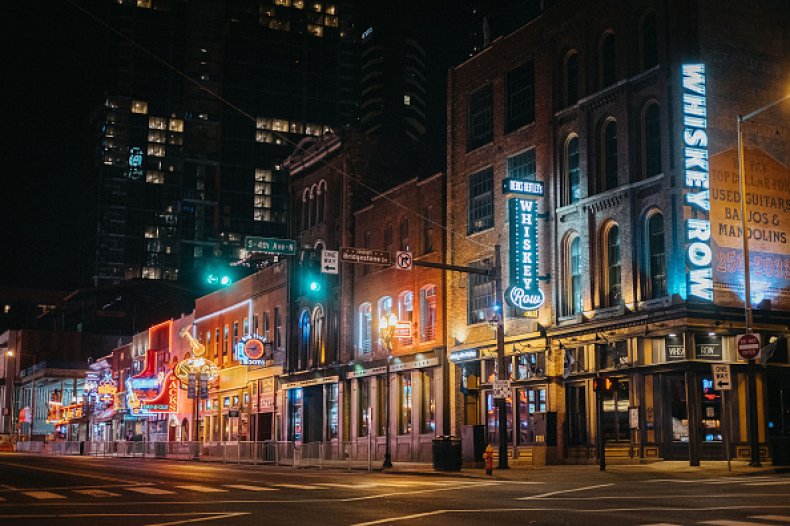 The MHD did not answer Newsweek's requests for comments or verification. Newsweek also reached out to Fox 17 for comment.
In a story published August 4 by the Lookout, the MHD confirmed Rau's data, saying "more than 80 cases" were identified by contact tracing. As Rau's story noted, the number is an estimate as not all cases were able to be traced and some individuals, such as tourists, live outside Nashville's Davidson County and therefore might not be reported back to the local health department.
Emails from July 29, sent by Eagles to several city officials, asks for guidance on releasing data to the public, including "what is our policy for sharing numbers of cases from bars or other specific industries?"
In response, Gill Wright, the Associate Medical Director for the MHD, says there is no issue with releasing the number of cases connected to bars and schools, but that he would refrain from releasing the names and numbers of those establishments.
"Releasing the names of bars or schools, especially when there haven't been many cases, makes it possible to identify the individual/s that were positive and HIPAA [Health Insurance Portability and Accountability Act] says you can't provide any information that may help identify an individual," Wright wrote.
Later in the email, he added: "Additionally, providing exact numbers in the case of 2 or 3 people at one bar could violate HIPAA since someone might be able to determine who the individuals are."
Like many businesses across the country, bars and restaurants in Nashville were closed as the COVID-19 pandemic took hold in March. While some restaurants and bars that served food were able to reopen at 50 percent capacity in May, as the city moved through its phased reopening, capacity and restrictions lessened. The city is currently in a modified phase two, allowing for a maximum of 25 patrons indoors and 25 outdoors at restaurants and seated-only service at both restaurant and bar counters.
Last month, the Nashville Convention and Visitors Corp. estimated that the city's businesses have lost $2.4 billion so far in visitor spending during the coronavirus pandemic and are reportedly losing $100 million every week, according to the Tennessean. Cooper sent a letter last week to Tennessee Governor Bill Lee to request an additional $82.6 million in COVID-19 relief to assist Nashville's tourism industry, music venue, small businesses and expand social resources.
"In its first year, our administration has demonstrated its ability to prudently and swiftly address Nashville's legacy financial challenges as well as deploy CARES Act funds (CRF) received to date," Cooper wrote in a September 8 letter. "However, Nashville requires a robust, speedy federal and state response in order to effectively jumpstart its economy and the economy of the entire state along with us."
He later added: "Critical local services are overwhelmed while Nashville's ability to meet those needs is impeded by insufficient local tax revenues generated by Nashville's previously booming hospitality and entertainment economy."
"Nashville has made significant progress with our COVID-19 response as a result of these timely, data-driven public health decisions taken earlier this summer," the mayor's office said in Thursday's statement. "Nashville's 7-day percent positive rate peaked at 17.1 percent on July 9th. It is 5.1 percent today. Our 7-day rate of new cases peaked at 64.7 per 100,000 residents on July 13th, which is now 15.6 per 100,000 residents as of this morning. These metrics have allowed for incremental, important adjustments to our local economy that are helping more Nashvillians quickly and safely get back to work."
Update (09/17/20, 5:28 p.m.): This story has been updated with a statement from Mayor Cooper's office, as well as emails provided by his office to offer clarity on the city's decision regarding coronavirus numbers connected to bars and restaurants. The headline to this story has also been changed to reflect the information provided in the statement.
Correction (9/17/2020, 6:10 p.m.): This article previously inaccurately shortened the Health Insurance Portability and Accountability Act to the acronym HIPPA. It has been amended to the correct HIPAA.
Update (9/19/20, 3:14 p.m.): Fox 17 News has issued a retraction of their original report and this story has been adjusted accordingly.
Uncommon Knowledge
Newsweek is committed to challenging conventional wisdom and finding connections in the search for common ground.
Newsweek is committed to challenging conventional wisdom and finding connections in the search for common ground.