Nashville Police Chief To Retire After Calls For His Resignation
Steve Anderson, chief of the Metro Nashville Police Department (MNPD) in Tennessee, is expected to step down after the conclusion of a national search for his replacement. Anderson had become the subject of criticism for his policies, with some calling for Anderson to step down.
Anderson spent 10 years as Nashville's chief of police, but some lawmakers said he was resistant to change, making any effort toward police reform difficult. In June, 15 members of Nashville's City Council, out of 40 council members total, signed a resolution asking for Anderson to be removed. Anderson is expected to remain in office until October's presidential debate, slated to take place at Belmont University.
"Over the next several months, my office will organize input from the entire community as we find the right leader for this next chapter of community safety in Nashville," Mayor John Cooper said in a Thursday press release announcing Anderson's retirement. Cooper referred to Anderson a "thoughtful and effective leader."
Mayor Cooper did not confirm that Anderson's retirement had anything to do with public sentiment.
"People are allowed to retire," Cooper said. "People would like to twist that in any different direction conceivable, but people are allowed to retire. All cities have to have a new era in how we do things."
Newsweek reached out to the Metro Nashville Police Department for comment. This story will be updated with any response.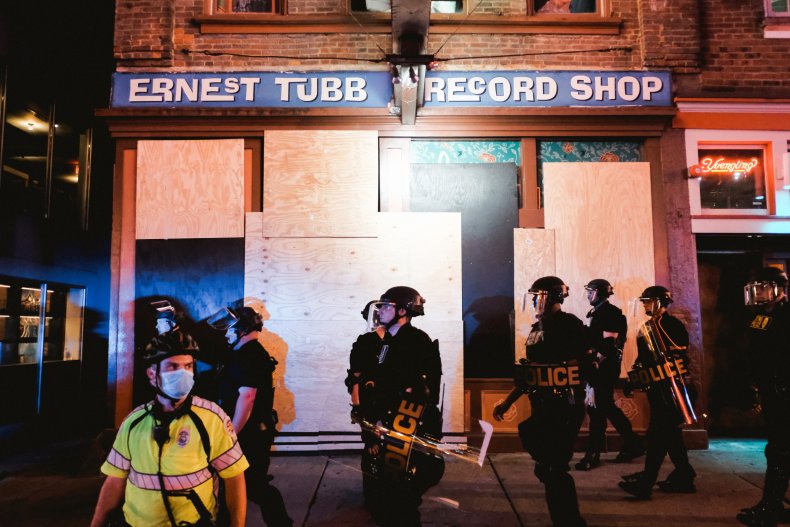 Calls for police reform laws have grown in volume since the death of George Floyd at the hands of Minneapolis police officers in May. Floyd's death sparked a nationwide wave of protests against racism and police brutality. In the resolution calling for Anderson's resignation, city council members cited warrants issued by the NPD for the arrests of activists Justin Jones and Jeneisha Harris.
Jones and Harris allegedly were involved in damaging a police car during Nashville protests in June. Jones tweeted that the charges were "politically motivated, and false." However, the arrest warrants were revoked before the evening's protest was scheduled to begin, citing the discovery of new information.
"The state of TN is trying to silence my activism," Harris tweeted after the warrants were recalled, "but it won't happen. You can jail the revolutionary but can not jail the revolution."
In the resolution, city council members said the warrants against Jones and Harris were "unjustly issued" and that "this troubling event should cause Nashvillians to reflect on how our community is policed."
Tennessee's state chapter of the American Civil Liberties Union also called in June for Anderson to step down. "Chief Anderson's approach to policing raises serious concerns about his willingness to examine structural racism and participate in the conversation that is required to reimagine policing and public safety in Nashville," the ACLU said in a statement.
Nashville police also faced criticism in 2017 and 2018 after white officers shot and killed two black men in separate incidents. Former officer Joshua Lippert resigned after shooting Jocques Clemmons in 2017 after a chase stemming from a traffic stop. However, Lippert was cleared of all charges.
In 2018, Nashville officer Andrew Delke shot Daniel Hambrick in the back during a foot chase. While Delke claimed Hambrick had a weapon and the shooting was justified, prosecutors say Delke should have followed a different course of action. Delke was charged with first-degree murder and is currently awaiting trial.