Nashville Suspends Bus Service Citywide as 'Precautionary Measure' After Explosion Downtown
Nashville's public transportation service suspended bus services citywide as a "precautionary measure" on Friday, following an explosion downtown.
"WeGo Public Transit will suspend all bus service and WeGo Central will be closed beginning at this time. We are currently assisting customers who are downtown and elsewhere to get to their final destinations," WeGo Public Transit wrote in a press release. "This is a precautionary measure made by law enforcement to conduct on-going investigations and protect the public. Normal operations should resume tomorrow morning unless law enforcement directs us otherwise."
The announcement from WeGo comes shortly after the Metro Nashville Police Department reported an explosion linked to a vehicle in the downtown area of the city at around 6:30 a.m. local time this morning.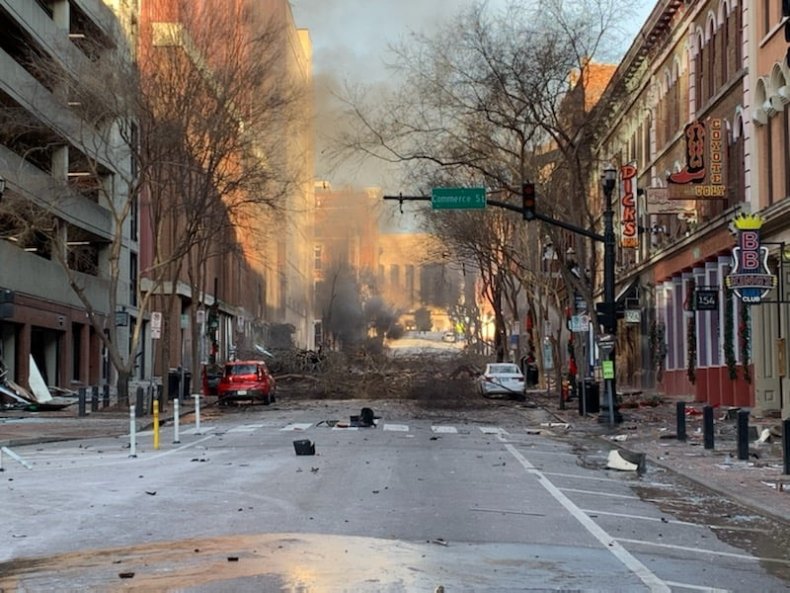 According to a tweet from the Metro Nashville Police Department, authorities believe that the explosion "appears to be an intentional attack."
"Early this morning, an explosion occurred in downtown Nashville around Second Avenue and Commerce Street. Federal, state and local law enforcement partners are on the scene to investigate what we believe was an intentional act," Tennessee Governor Bill Lee wrote in a tweet following the incident.
"We will supply all of the resources needed to determine what happened and who was responsible. Please join @MariaLeeTN and me in praying for those who were injured and we thank all of our first responders who acted so quickly this morning," Lee wrote in a subsequent tweet.
In an email sent to Newsweek, the FBI said that, "FBI Memphis, in coordination with our state and local partners, is taking the lead in the investigation of the explosion in Nashville, TN."
According to the Tennessean, police responded to a call of shots fired near 2nd Avenue, when they discovered a suspicious vehicle. Metro Police spokesperson Don Aaron told the Tennessean that authorities notified the department's bomb squad unit, but while they were on their way, a "significant explosion" went off.
The explosion knocked one officer to the ground and hospitalized three individuals, according to the Tennessean.
Many photos and videos were posted across social media showing the aftermath of the explosion.
"NASHVILLE EXPLOSION from inside a downtown condominium courtesy of @NC5," Twitter user Jason Whitely of WFAA-TV wrote on Twitter. "Metro Police there saying the explosion early this morning was an intentional act. Apparently, a vehicle detonated near 2nd Ave and Church Street by an AT&T data center."
News Channel 5 in Nashville shared several photos of the area where the explosion went off.
"Here's a look at Second Avenue from Sky5 after police say a vehicle exploded early Friday morning," they wrote in a tweet.
In an email sent to Newsweek, White House Deputy Press Secretary Judd Deere wrote, "President Trump has been briefed on the explosion in Nashville, Tennessee, and will continue to receive regular updates. The President is grateful for the incredible first responders and praying for those who were injured."
Newsweek reached out to WeGo Public Transit for comment but did not receive a response in time for publication.