Nashville Teacher Told to Quit for Protesting In-Person Learning Will File Complaints
The head of Nashville, Tennessee's largest teachers union said she plans to file formal complaints against a local school board representative who suggested that educators quit their jobs if they do not support a broad return to in-person learning.
Amanda Kail, president of the Metropolitan Nashville Education Association and an English as a second language teacher at Metro Nashville Public Schools (MNPS), encouraged community members to do the same in one of several social media posts shared over the weekend.
An earlier message posted to Kail's Facebook account, in which she advocated for school-reopening policies that prioritize public health during the coronavirus pandemic, sparked an adverse response from MNPS Board of Education member Fran Bush.
"Enough of your bull! We are going to open in person soon. Either you want to teach or quit your day job with MNPS, I am sick of your tactics and your agenda!!" Bush wrote in the post's comments section.
Initially, Kail's message read, "Stop it. Stop saying your priority is to 'reopen schools.' Start saying it's to make sure students and school employees are safe. Period."
"Our kids deserves [sic] better than this and they will not be held as pawns to your demands," Bush continued, before engaging in arguments with other teachers and parents who expressed their support for Kail's perspective in additional comments.
Many of their remarks acknowledged the heightened risks of coronavirus transmission among students and school staff members that would inevitably accompany in-person classroom instruction. Rachael Elrod, vice chair of the MNPS Board of Education, denounced Bush's conduct, noting that "any harassment, threats, or taunting of our teachers or staff by board members is unacceptable."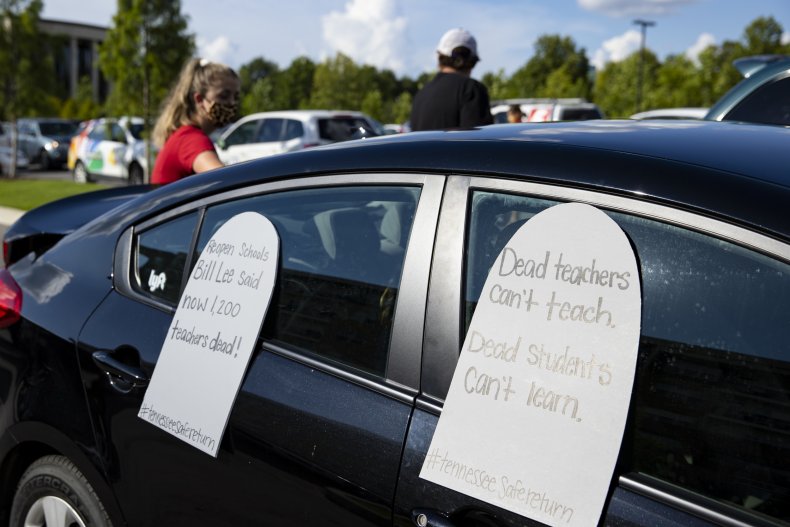 Kail previewed her intent to file complaints against Bush with Nashville's Board of Ethical Conduct in a subsequent message shared on Sunday evening. At the time, the union president said, she aimed to file them on Monday.
"It is unacceptable and disgraceful that a school board member should use her position of power to bully, harass, and threaten teachers," Kail wrote, urging others who felt inclined to respond as she had. "To file a complaint about the statements made by MNPS school board member Fran Bush (Franchata Goodrich-Bush) on my previous post, please email every member of the school board with your comments."
As Nashville officials grapple with the city's coronavirus outbreak, education leaders have adopted a cautious approach to reinstating in-person learning procedures. Despite Tennessee Governor Bill Lee's recent push for the widespread reopening of classrooms, Nashville's public schools network will not begin its phased return to physical instruction until virus metrics indicate it is safe to do so.
Newsweek reached out to Kail for further comment but did not receive a reply in time for publication.