Nashville Tennessee RV Explosion 'Intentional Act' Say Police, Downtown Evacuated
A massive explosion that authorities believe was intentional has rocked downtown Nashville, causing damage to several buildings and prompting evacuations on Christmas Day.
The Metro Nashville Police Department said an explosion linked to a vehicle occurred at 6.30 a.m. on Friday outside The Melting Pot restaurant at 166 2nd Avenue in downtown Nashville.
Three people were hospitalized with injuries, The Tennessean reported.
In a statement on Twitter, Tennessee Governor Bill Lee said authorities believe the explosion was "an intentional act."
"Early this morning, an explosion occurred in downtown Nashville around Second Avenue and Commerce Street. Federal, state and local law enforcement partners are on the scene to investigate what we believe was an intentional act," he said.
"We will supply all of the resources needed to determine what happened and who was responsible. Please join@MariaLeeTN and me in praying for those who were injured and we thank all of our first responders who acted so quickly this morning."
The FBI is reportedly leading the investigation.
Police responded to reports of a suspicious vehicle parked outside the AT&T Building, which is colloquially known as the Batman building, at around 6 a.m., according to The Tennessean.
Officers alerted the department's hazardous devices unit on arrival. The unit was en route to the scene when the explosion occurred.
The police department has yet to elaborate further, but a news conference is expected later on Friday.
Meanwhile, the Nashville Fire Department (NFD) posted photos from the scene on social media and urged people to avoid the area. "Windows were broken out from explosion area to Broadway. Please AVOID this area!" the department said.
"There is an incident involving an explosion. This is an active scene," a spokesperson for the NFD told Newsweek. "There are no additional details to provide at this time," the NFD spokesperson added.
WTVF reporter Chris Davis shared videos and photos obtained from the scene:
Earlier, WKRN reporter Nickelle Smith, citing the Metro Nashville Office of Emergency Management's district chief said a parked RV had exploded near the intersection of 2nd Avenue and Commerce Street.
A bomb squad is reportedly on the scene and working to preserve evidence and investigate reports of more explosive devices in vehicles.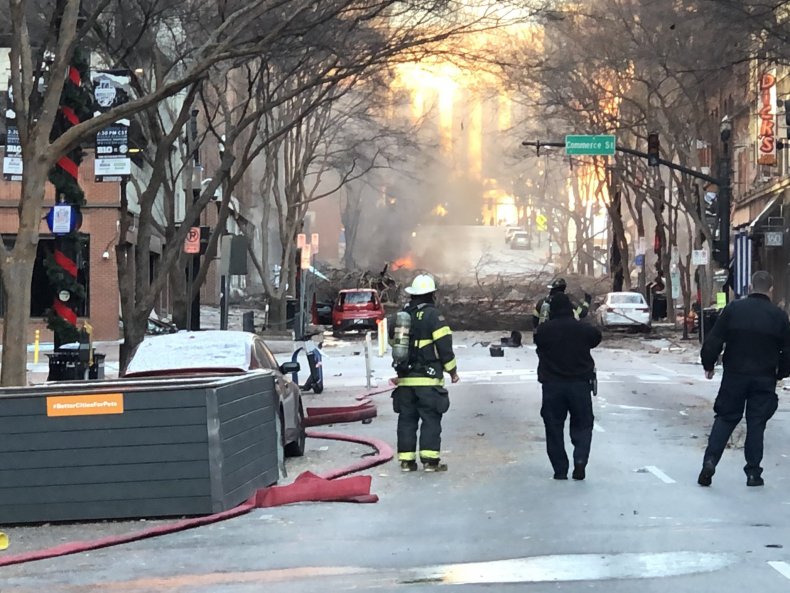 Jason Steen, the editor of website Scoop Nashville, tweeted that one building had collapsed after the blast. He reported on Twitter that firefighters were retreating after the incident and that all personnel were accounted for.
"A structure is on fire downtown - searching for victims ongoing - several people walked out of upper residences on their own. preparing for multi-casualty incident, triage being staged on-site," Steen tweeted. He added that most people appeared to have only sustained minor injuries.
In a later tweet, Steen said the Nashville Fire Department was evacuating two further blocks and advising people to stay away from all vans and trucks on the street due to the "possibility of more explosions."