Nashville Tornado Pictures Show Mass Destruction, Collapsed Buildings as 19 People Killed by Deadly Twister
Nineteen people have reportedly died and many more have been made homeless after a tornado struck parts of downtown Nashville, including Germantown, which is among some of the hardest hit parts of the city.
Emergency responders are on the scene to help people who report injuries after Tuesday morning's severe weather storm, while officials attempt to assess the damage caused.
Tennessee Emergency Management Spokeswoman Maggie Hannan announced the death toll has jumped to 19 as rescue efforts continue, The Tennessean newspaper reported.
Chief of Police Steve Anderson said two people killed in Nashville were hit by debris on McFerrin Street—a woman died on the scene, while a man died after arriving at a local hospital.
The fire department is responding to approximately 40 structure collapses across town, while Metro Schools will remain shut on March 3. However, unless otherwise stated, polling stations for Super Tuesday will remain open.
"I think many of us are grateful to be alive and worried about what tomorrow brings," councilman Brett Withers, who represents District 6, told News Channel 5.
"Main concern is people's safety," he added. "We'll encourage people if they can to get to and stay in a safe place."
The tornado was called by the National Weather Service at approximately 1 a.m. local time. Severe weather warnings were issued for much of the surrounding area and residents are currently being advised to stay in and avoid downed lines for their own safety.
According to the Tennessean, the strong winds downed power lines and almost 16,000 Nashville Electric Service (NES) customers were left without power in the early hours of Tuesday morning.
An update from the Nashville Police Department confirmed some 47,800 customers were without power as of 5 a.m. local time.
Lanes were blocked heading north on Cockrill Bend Boulevard and west on centennial. Main Street in East Nashville was closed as of 1.30 a.m. local time.
Damaged homes have been reported in East Nashville and Donelson. There are also reports (and photos) of fallen trees and collapsed buildings.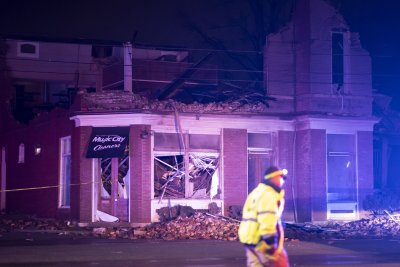 Steve LaNore, the Chief Meteorologist of KXII-TV, says the twister looks to have caused "hundreds of millions" in damage to parts of the Tennessee capital.
"A big deal—it hit downtown hard and at least two other sections of the metro area," he tweeted.
Sam Shamburger, Lead Forecaster at National Weather Service Nashville, shared an extended clip he filmed of the tornado as it comes into view.
"You can clearly see the debris cloud and power flashes as it approaches then passes just north of downtown," he tweeted.
Jude Redfield, the Morning Meteorologist For WDRB News, retweeted another clip of the tornado, pointing out the narrow funnel eight seconds in.
Several residents have taken to Twitter to share videos and images of the tornado and the damage it caused.
"Thinking of those without shelter and whose homes were destroyed tonight," said one Twitter user. "This is our building in Germantown."
"Tornado missed us by 20 ft in East Nashville," said another sharing a before and after of a nearby building.
Country singer and songwriter Olivia Lane shared a clip of the tornado as it swept through Nashville.
Rebecca Cardenas, a reporter at WSMV, shared photos of two local eateries (Burger Up and The Juicery) that were wrecked by the winds.
"I hope everyone is alright," said musician Alex Marshall, sharing pictures of the destruction.
"Hundreds of people in Germantown are homeless right now after an apartment complex here took a direct hit from this tornado," Chris Conte, NC5 reporter, tweeted.
Former cheerleader Robb Fowler shared a picture taken 2 miles from his house.
"Tornado touched down in the Germantown neighborhood in Nashville about an hour ago," another resident tweeted. "Completely ripped through the neighborhood."
This article has been updated as new information has come in.